Life - a celebration: Toby Peach's one-man show catches the eye in the Edinburgh Fringe programme
The Eulogy of Toby Peach depicts the writer's journey with Hodgkin's lymphoma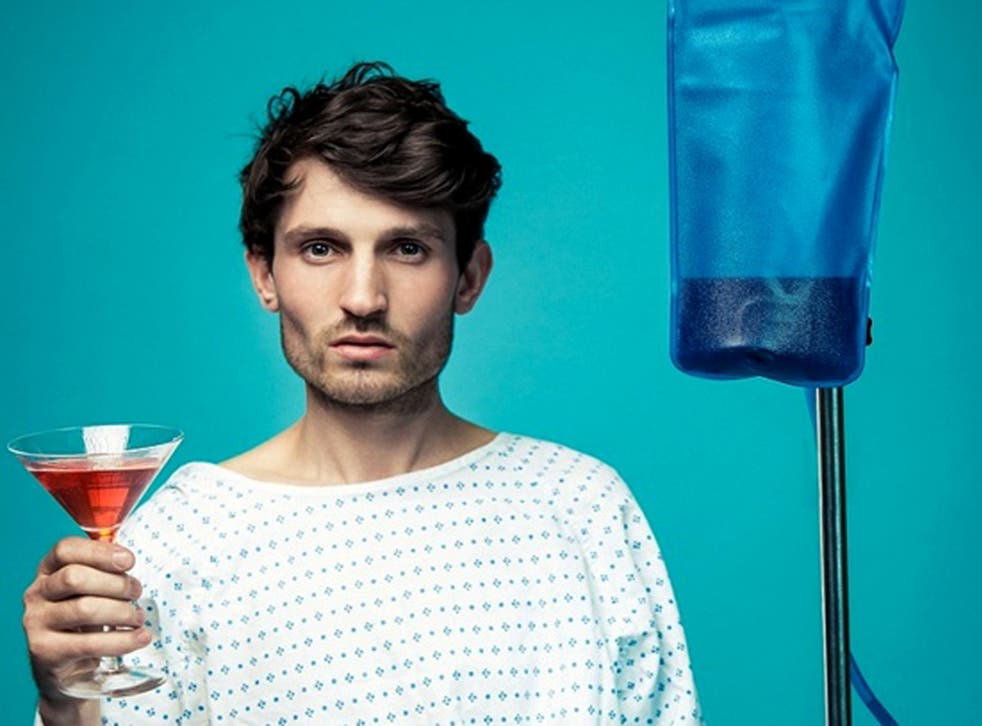 The Edinburgh Fringe has proved a fertile hunting ground for this column in the past couple of weeks, and with a month to go until curtain up I can't promise that there won't be more Out There stories lurking in the 400-page-plus festival programme.
The one that caught the eye this week is called The Eulogy of Toby Peach, a one-man show that tells "the true story of Toby's journey with Hodgkin's lymphoma, which he faced at the age of 19 and again at 21". Putting aside my distrust of the word "journey", I asked Peach, who is now four years in remission, what we might expect from an hour in his company.
"Cancer is a solo show," he says. "It's not a foreign entity entering your body, it's just you. I was at drama school when I got my diagnosis so I wrote the show that way and now I'm performing it that way. I believe that making the subject accessible is the way to make young people – who see the word everywhere but don't think it relates to them – aware. So, we do some cocktail making, looking at the fun mixture of chemicals that go into chemotherapy; I take people to the Willy Wonka factory of stem cells, to celebrate the machine that saved my life; and we choose my funeral playlist," he says.
"It's important for artists to discuss things we don't want to discuss," he continues. "Every time I don't feel like talking about cancer, I remember there is a 20-year-old somewhere unable to leave their room." Will the show make me laugh and cry? "Yes, but the aim is to leave people feeling exultant about life." Finally, what's the one song that's always on your funeral playlist? "Easy. 'Another One Bites the Dust'."
The Brit parade
If there is an art to writing the kind of book that feels most comfortable in the smallest room in the house, the writer Fraser McAlpine might have just created a masterpiece of the form with Stuff Brits Like: A Guide to What's Great About Great Britain (published this week. Ever aware that "if this were a blog, the comments section would blaze with outrage and correction", McAlpine has opened his work – which contains sections on "Dunking Biscuits", "Conkers" and "Apologising Needlessly" (see below) – with a chapter called simply "Pedantry".
"The question 'Which chair should I sit on?' is a prime target for pedants to leap at and suggest 'On which chair should I sit?' as the correct alternative," he writes. "This will then provoke other pedants to point out that the preposition rule gets in the way of conversational speech and that people should be less persnickety about grammar in general, so long as the meaning is understood. This will then provoke a further point of pedantry because in Britain the word is pernickety. And that's when everyone realises there are no more chairs."
Has McAlpine been eavesdropping on an average day in The IoS office?
Just's desserts
If "apologising needlessly" (see above) is a British trait, no one has told Ellen Petry Leanse, a "business leader, entrepreneur, Apple and Google alum", who recently posted a piece on LinkedIn about the "one word that can damage your credibility".
Apparently, we thrusting types should stop using the word "just", which, according to Leanse, is "a 'permission' word – an apology for interrupting, a shy knock on a door". So, Leanse and her team stopped using it and – voila! – "we felt a change in our communication – even our confidence".
Excuse me while I tune in to Radio 4's A Minute, while listening to "One of Those Things" and reading Kipling's So Stories. Hell, I'm not a pretty face, you know.
Quiet riot
On 25 January I reported on the redevelopment of London's West End around the proposed Crossrail terminal at Tottenham Court Road. I mentioned in passing the loss of live music venues such as the Astoria and the Metro and now a film-maker called Tali Clarke has documented the last days of the legendary 12 Bar Club – which gave early gigs to Adele, the Libertines, Jeff Buckley and, er Keane – in a film called A Riot of Our Own.
The one part of the story that Clarke was not allowed to film was the court case to kick out the squatters who had holed up in the doomed building. "There was a really powerful moment when a homeless man called Dan stood up to speak about modern-day sacred spaces," Clarke says. "Just as we wouldn't recklessly bulldoze a church, he said we shouldn't be eradicating these spaces and displacing the communities there. He brought tears to my eyes."
'A Riot of Our Own' is available on YouTube now
No rhyme or reason
Another in a regular series of limericks based on recent events:
English football's once more a contender,
Laura Bassett is quite some defender,
The team's on a roll,
(Let's forget that own goal),
And support them regardless of gender.
Twitter: @simmyrichman
Join our new commenting forum
Join thought-provoking conversations, follow other Independent readers and see their replies