Has Covid made us a more considerate nation? Come off it – just look at all the litter left behind in parks
It would be nice to think that after the pandemic we would see a 'new, more considerate Britain' – but the reality would seem to be a green and pleasant municipal park, covered in crisp packets and strewn with beer cans and disposable barbecues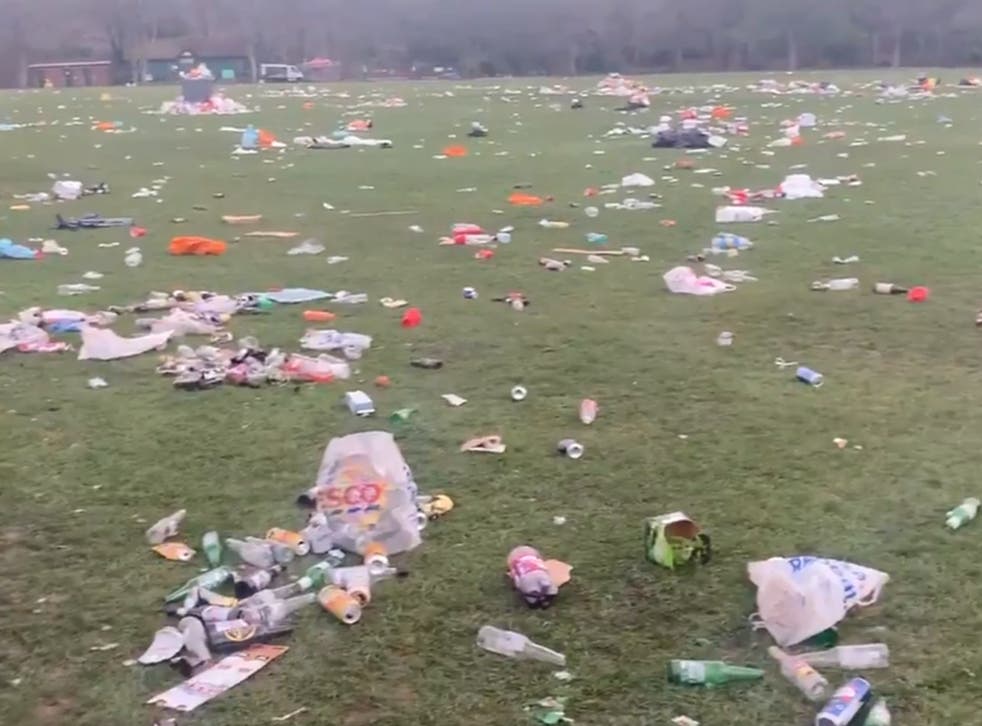 A pandemic is the sort of thing that tends to get your life into some sort of perspective. The word "life" being the point, really, because, even if one has been fortunate enough to have dodged the virus thus far, we all know people who haven't. It is like the casualties in the two world wars, something that has touched every street, every family, one way or another.
So it seems almost in bad taste to start whingeing on about litter, and I mean of course the mass trashing of public spaces in recent days, but it's no less offensive just because people are celebrating the end of a nightmare.
This is because the nightmare isn't actually over, and the young people gathering in what looks to be close proximity must be spreading the virus a bit and thus prolonging the national agony.
Plus, it is very unlikely that they'll have had the vaccine; and are thus placing themselves in some danger. I can well understand the relief that lockdown us being eased up, but can't really cope with the painful irony of people copping a possibly fatal dose of Covid just when they were drinking a toast to their deliverance.
The figure of one million people suffering from long Covid ought to make us all sober up a bit, sometimes literally.
Read more:
The trauma of the last year, with its revival of community spirit and sincere pouring out of emotions, and thanks to the front line workers who've put their lives on the line, might have made us a kinder, gentler nation.
Maybe a new Britain, one that takes that extra moment to be considerate to others and indeed the environment we all share and supposedly cherish might arise from the wreckage of the plague, like St Paul's Cathedral did (sort of) centuries ago.
It would be nice to think that, but the reality would seem to be rather less attractive, and rather more selfish: a green and pleasant municipal park instead covered in crisp packets and strewn with beer cans and black patches of earth where the disposable barbecues were.
The new normal, then, will not be so different to the slovenly old order. Which, in a way, even though we might wish it were different, is reassuring; human nature is healing.
Register for free to continue reading
Registration is a free and easy way to support our truly independent journalism
By registering, you will also enjoy limited access to Premium articles, exclusive newsletters, commenting, and virtual events with our leading journalists
Already have an account? sign in
Register for free to continue reading
Registration is a free and easy way to support our truly independent journalism
By registering, you will also enjoy limited access to Premium articles, exclusive newsletters, commenting, and virtual events with our leading journalists
Already have an account? sign in
Join our new commenting forum
Join thought-provoking conversations, follow other Independent readers and see their replies