The casual, bloody violence inflicted on two lesbians on a London bus is just a glimpse of British homophobia
It's nothing new. But yet it's undeniable that austerity, pro-Leave propaganda and Tory rule have created a toxic environment, one where fascism, hate and toxic masculinity can flourish unchecked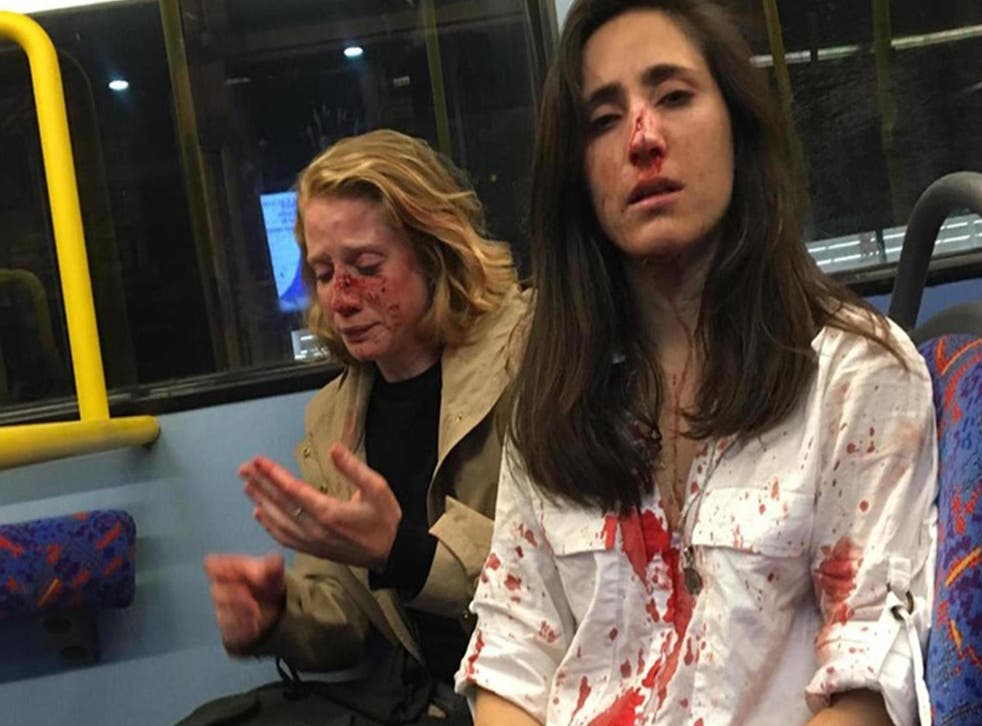 When the images of Melania Geymonat and her girlfriend Chris showed up on my Facebook feed yesterday, I was surprised to realise I felt nothing but numbness.
I scanned their faces to see if they were friends of mine, or friends of friends; in London, you're only ever a couple of mutuals away from each other. I didn't recognise the couple, bloodied and traumatised after being gaybashed on a London bus, but I registered the dazed look of aftershock on Geymonat's face, staring into the camera.
I wondered who had taken that photo – was it a friend? A concerned stranger? An insensitive voyeur? I wondered whether they'd asked for permission to document that moment, an image of profoundly personal pain destined for public consumption.
I wondered if anyone stood up for the couple. I fantasised, briefly, about what my girlfriend and I would've done had it been us on that bus, faced with a pack of lecherous, violent misogynists demanding we put on a show for their gratification. I felt a vague sense of sadness for the couple, and a fleeting admiration for Chris, who'd stood up to face her attackers before the violence turned physical. Then I scrolled on, unwilling to give the assault any more thought.
Today, news of the attack is unavoidable. As Geymonat's testimony and that horrendous crime scene image proliferate across my networks, I watch my community react with all the usual, predictable responses: disgust, anger, shock, weariness. How could this happen in London, one friend asks? It happens all the time, answers another. He speaks from experience: he was attacked twice last month in his home borough, while holding hands with his boyfriend.
UK news in pictures

Show all 51
It's a familiar cycle, this communal grieving we do when faced with the reality of queer life. Few of us, if any, can say we're unfamiliar with the cruel and casual violence of strangers – and sometimes loved ones – who revile us. I won't list the instances I've endured, or the traumas my friends and loved ones have survived. The world does not wont for testimony.
What I will say is that the many who are linking this attack to Brexit are correct to do so. Homophobia isn't a new scourge, but hate crimes have rocketed since the referendum. Austerity, pro-Leave propaganda and Tory rule have created a toxic and hostile environment, one where fascism, hate and toxic masculinity can flourish unchecked. And its little wonder our attackers feel emboldened when we look at the example Theresa May and her government are setting.
In March, Number 10 publicly outed Vote Leave intern-turned-whistleblower Shahmir Sanni in a move that many – including Stonewall – were quick to condemn. Despite claiming she's softened her views on issue like gay adoption, May has continued to send vulnerable, gay asylum seekers to their deaths on chartered flights. Her colleagues are no better; earlier this week, Conservative leadership hopeful Esther McVey publicly sided with the homophobic campaigners in Birmingham attempting to revive Section 28.
Queer people know homophobia. It's a fact of our existence. We tell our young people things get better, but the truth is more complicated than that. For all the progress we've made, thing are worse, and will worsen exponentially while the Tories – and their orange-faced friend across the pond – continue to enjoy power. If #MeToo has reminded us that women alone cannot solve misogyny, the same is true for homophobia.
Straight people: you have immense privilege. Do better. Speak up for us. Advocate for us. Give your money and your time to our causes. Show us you see us all year round, not just during Pride month. We cannot – and should not – have to do this alone.
Register for free to continue reading
Registration is a free and easy way to support our truly independent journalism
By registering, you will also enjoy limited access to Premium articles, exclusive newsletters, commenting, and virtual events with our leading journalists
Already have an account? sign in
Join our new commenting forum
Join thought-provoking conversations, follow other Independent readers and see their replies