Be honest, Sajid Javid — we have the money to tackle knife crime but your party would rather spend it elsewhere
A billion quid to secure the support of the DUP or £1.6bn to bribe poorer areas and their MPs into voting for the prime minister's flawed Brexit deal — all of that became suddenly available. But will the recent London stabbings prompt a similar response?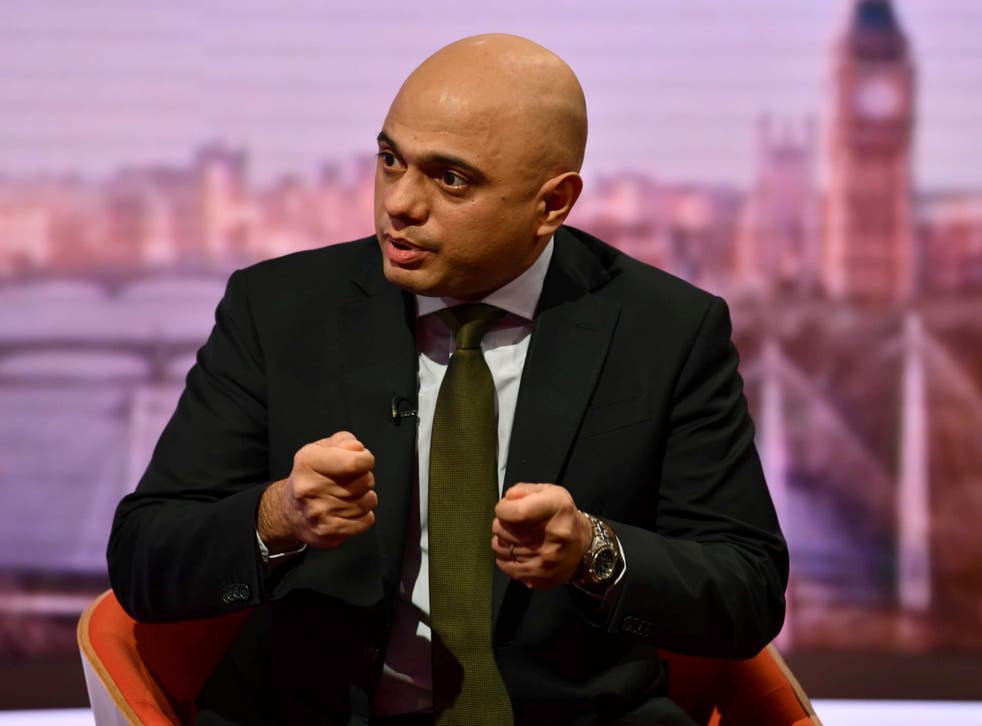 The home secretary, Sajid Javid, says that the present wave of knife crime "can't go on", although his apparent confidence is contradicted by the reality of a problem that shows no sign of abating.
Statistics from a range of agencies paint a bleak picture.
NHS data indicates that the number of children aged 16 or younger who received treatment after being attacked with a blade or other sharp object rose by 93 per cent between 2012-13 and 2017-18.
Figures from the Home Office show that the overall number of offences involving a knife or sharp instrument rose from a little over 25,000 in the year to March 2014, to just over 40,000 in the year to March 2018.
Between January and November of last year 272 people across the UK were fatally stabbed.
After the death of 17-year-old Jodie Chesney on Friday night, the total number of homicides in London alone so far this year stands at 18. Another individual is fighting for his life after being found with stab injuries last week in Enfield.
Meanwhile, the weekend murder of Yousef Ghaleb Makki near Altrincham, Greater Manchester, and the recent killings of three teenagers in Birmingham demonstrate that the phenomenon is not confined to the capital. Indeed, police have investigated 269 knife crimes in Birmingham in 2019 to date – and 492 across the West Midlands region as a whole.
The most recent deaths have caused particular shock: Makki was killed in a leafy suburb where, as a local councillor put it, "this is not something that happens"; while Chesney, who had been socialising with friends in a park, was apparently stabbed in the back in what appears to have been a random attack. Official investigations are under way of course.
BikeStormz Ride Out against knife crime London 2018

Show all 21
However, politicians saying they are determined to act is hardly new. As the figures show, knife crime has been growing as a problem for a good five years. Whenever there is a notable spate, or an especially unusual murder (as if some of them are too run of the mill to worry about), we get the same hand-wringing. What we don't see is much in the way of action.
The former commissioner of the Metropolitan Police, Lord Hogan-Howe – who fronts a Channel 4 programme on the subject this evening – has made clear his view that much of the blame for the grim trend can be laid at the door of austerity. There are 20,000 fewer officers in England and Wales now than there were in 2010; insufficient numbers, argues Hogan-Howe, to tackle drug gangs which are increasingly reaching their violent tentacles across the country.
If policing cuts have been significant, those experienced by youth services have often been brutal: council funding fell by 62 per cent between 2008-09 and 2016-17. No wonder that young people are getting drawn onto the streets and into trouble.
The approach to knife crime in Scotland has been much-heralded, with the Scottish government having treated it as a public health issue, not simply a matter for the criminal justice system. Convictions for carrying "an article with a blade or point" halved in the decade to 2017; and of the 39 fatal stabbings involving young victims in that year, none were in Scotland. Plainly there are lessons to be learnt further south.
Fundamentally, though, changing the narrative on the use of knives (especially by youngsters) will only happen if the government is prepared to spend money – on policing, on youth services, and on developing a more holistic method to stemming the madness.
The public spending purse strings are still being held tight, so we are told, which means of course that extra funding for anything other than the bare essentials is hard to find.
Well, unless the government needs a billion quid to secure an alliance with the DUP, that is.
Or £1.6bn to bribe poorer areas and their MPs into voting for the prime minister's flawed Brexit deal.
Or £33m to settle a legal claim by Eurotunnel after a minister botches his attempt to prepare for a no-deal departure from the EU.
Or an extra £467m to sort out the mess created by the same minister when he tried to part-privatise the probation service.
Support free-thinking journalism and attend Independent events
Which brings us neatly back to the issue of rising knife crime and the bleak reality that government cost-cutting not only ends up costing the taxpayer more dosh, but costs people their lives.
Ultimately, Sajid Javid is wrong. The stabbings very much can go on: and they will unless the government takes decisive action, making money no object.
Register for free to continue reading
Registration is a free and easy way to support our truly independent journalism
By registering, you will also enjoy limited access to Premium articles, exclusive newsletters, commenting, and virtual events with our leading journalists
Already have an account? sign in
Register for free to continue reading
Registration is a free and easy way to support our truly independent journalism
By registering, you will also enjoy limited access to Premium articles, exclusive newsletters, commenting, and virtual events with our leading journalists
Already have an account? sign in
Join our new commenting forum
Join thought-provoking conversations, follow other Independent readers and see their replies