After Luxembourg made all public transport free, could the UK do the same? Perhaps – but only on certain days
The measure would undoubtedly be good for the environment but could have the effect of putting a strain on our already overstretched infrastructure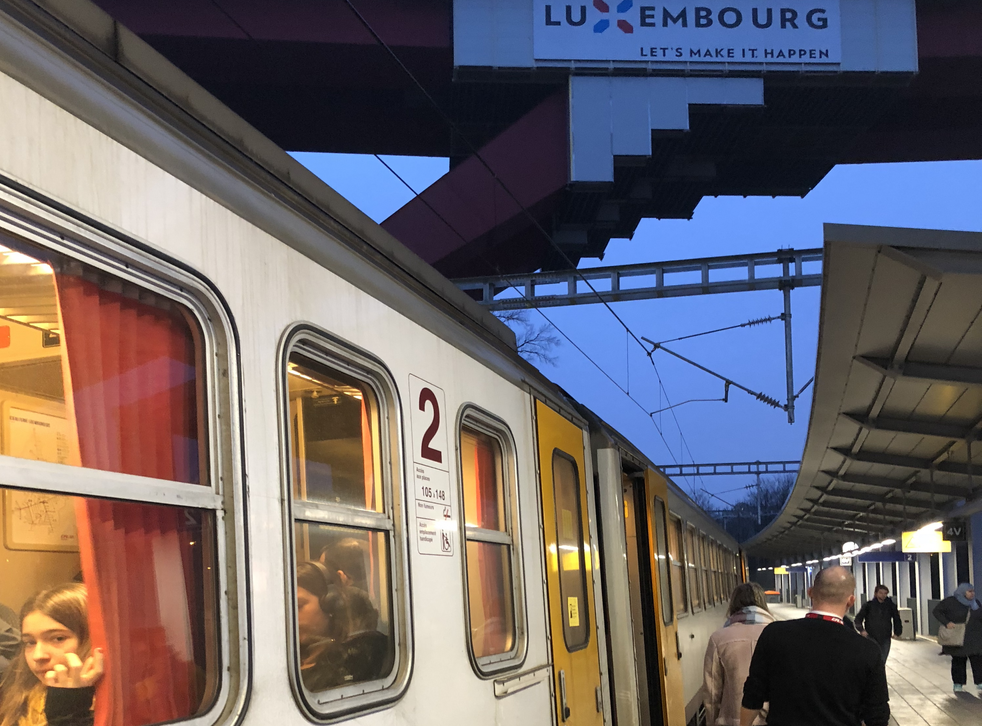 The 7.20am train from Diekirch in east-central Luxembourg to the small nation's capital leaves with 90 per cent of its seats empty. By the time it has stopped a dozen times to pick up more commuters, most of the places are filled.
My ticket cost €2 (£1.80) (I declined the option of paying a euro more for first class), which entitled me to unlimited public transport throughout Luxembourg for two hours. I could continue from the city to the Belgian border, or to the symbolic village of Schengen on the Moselle where the Grand Duchy meets France and Germany.
The other option described in English on the ticket machine was an all-day pass that would allow me to hop on and off any train, bus or tram in the 999-square-mile land (that's the same as Oxfordshire).
How can they run a railway – let alone buses, trams and the shiny new funicular connecting the rail line with the high-rises of Kirchberg in the north of the capital – on those sorts of fares?
The simple answer: they can't. Ticket revenue amounts to barely 3 per cent of the cost of public transport in Luxembourg. For every euro travellers like me spend on tickets, taxpayers add a subsidy of about €30.
The incoming coalition government, of centrist, leftist and green parties, has vowed to abolish fares altogether – making Luxembourg the first nation in the world to do so.
Motorists will be enticed from overcrowded roads, the thinking goes, to a fleet of trains, buses and trams that, outside rush hours, carry lots of fresh air and few people. Eliminating fares, even if they are as nominal as a couple of euros, removes one of the barriers to travel: having to battle with a ticket machine. So occasional travellers will become more frequent passengers, making trips to museums, cafes and shops, which will boost Luxembourg's already impressive GDP.
For a small, very rich nation it is a bold and timely move. But could it work in Britain?
Rail passengers are preparing for the annual "kick in the teeth" as both the RMT union and the mayor of Manchester, Andy Burnham, describe the impending 3.1 per cent New Year fares rise.
Imagine if, instead, fares fell to zero and ticket checks disappeared. Whether you were heading from Woking to Waterloo for work, or Falkirk to Forres for fun, you would just turn up and go.
Just think of the benefits. Many people drive because it makes financial sense compared with the high cost of rail fares. A switch to the trains will immediately improve the environment.
Some car commuters would abandon their vehicles altogether, reducing congestion and handing back the streets to pedestrians and cyclists. Britain could become a beacon of sustainable transport.
Yet to the great relief of the taxpayers who would have to make up the loss of £10bn in ticket revenue (and many commuters who can't imagine any more passengers climbing aboard the 7.40am from Woking to Waterloo), transport nationwide that is free at the point of use would be completely unworkable in Britain.
The infrastructure is so overstretched that any substantial reduction in fares would make rush-hour trains even more unbearable: like it or not, price serves to dampen demand.
Sure, fares on British trains are frequently rubbish at optimising capacity; successive governments have failed to deal with the absurd ticket specifications baked in during privatisation. But the frequent complaint of hard-pressed commuters, that fares are too high and trains are too crowded are, in harsh logical terms, mutually exclusive.
Move away from the daily horrors of commuting to London, Birmingham, Manchester and Leeds, and consider inter-city travel. It would look ridiculous with no fares.
Business travellers from Manchester or Liverpool to Euston will soon be paying £350 for a standard class day return – but this is a lesser evil compared with the possibility that they might not even be able to board the train. And since many people pay for the trains through their taxes yet never or rarely go by rail, increasing the annual burden by roughly £160 for everyone living in Britain would be downright unfair.
Free transport has a future in Britain, but it will never cover the whole country. There is one UK location where buses and trains have been free for many years: around Heathrow Airport.
To keep a Iid on local car journeys, buses are free from Hatton Cross to Harlington Corner. And Britain's most expensive train, the Heathrow Express (fare £25 for a 15-minute ride), suddenly becomes the cheapest (£0 for a five-minute ride) when it transfers passengers between terminals.
In time, city transport will become a civic-funded amenity just like bin collections and street lighting. Already, ticketless travel on Saturdays and Sundays could work wonders in reducing traffic congestion and boosting the quality of life: the mayor of Manchester might want to try it as an experiment one weekend. In a decade or two, with sufficient investment in capacity, central London could become a free travel zone.
But we might just find that the prospect of fare-free travel fails to lure people away from the sanctity of their cars (or their Ubers). Back in Luxembourg, at the big intersection outside the Grand Théâtre, traffic is crawling and tempers are flaring. The drivers have an almost cost-free alternative, yet still they vote for personal mobility. Even when it involves lots of immobility.
Register for free to continue reading
Registration is a free and easy way to support our truly independent journalism
By registering, you will also enjoy limited access to Premium articles, exclusive newsletters, commenting, and virtual events with our leading journalists
Already have an account? sign in
Join our new commenting forum
Join thought-provoking conversations, follow other Independent readers and see their replies