Male power and a sense of impunity is at the heart of all child abuse rings
Rotherham is high on Ukip's target list, and it has tried to make political capital out of the scandal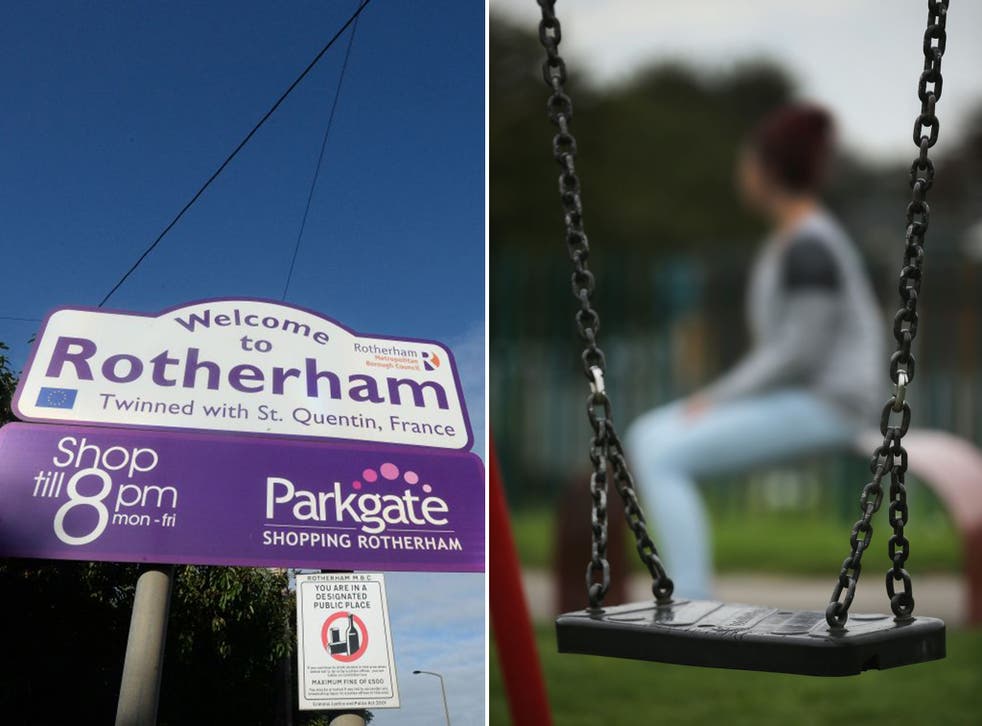 Why have so many men of Pakistani origin been involved in sexual abuse of under-age girls? It's a fair question, as long as we also ask why sexual abuse flourished among famous men (all of them white) in the entertainment industry in the 1960s, 1970s and 1980s. In the case of Jimmy Savile – famously photographed with Margaret Thatcher, the Prince of Wales and the Beatles – it took decades for his crimes to be exposed.
In Rotherham, only a handful of men have been convicted of abusing girls despite a report last summer which identified 1,400 victims. Last week, the Government sent in commissioners to run the town, after a second damning report identified a culture of bullying, sexism and cover-ups at the council.
Also last week, the former glam rock star Gary Glitter was convicted of sex offences, including the attempted rape of an eight-year-old girl. Savile is the most prolific of the group of celebrity child-abusers, with a list of at least 450 victims. His friend and fellow-DJ Ray Teret is in jail after being convicted last year of assaulting girls as young as 12. Several other famous men from the period, including Rolf Harris, are also serving jail sentences.
It's clear in retrospect that these men exploited power and treated their victims with contempt, while considering themselves untouchable. Much the same could be said of men of Pakistani origin who abused under-age girls much more recently; they had greater status than their victims and went unchallenged in a political culture which feared accusations of racism. Labour is at fault here for embracing men who manifestly don't support gender equality, leaving it to Asian women's organisations to challenge the misogyny endemic in some British-Pakistani communities.
In pictures: White Flowers Campaign to support child abuse victims

Show all 10
What makes this issue toxic – and some people on the left reluctant to discuss it even now – is the anti-immigration rhetoric of the popular press and Ukip. Nigel Farage turned up at his party's office in Rotherham on Friday to "cut a ribbon", which isn't a ceremony that happens frequently in the town. Rotherham is high on Ukip's list of target seats and it isn't the first time the party has sought to make political capital out of the child sex scandal; last year a Ukip poster suggested there were "1,400 reasons why you should not trust Labour again".
Child sexual abuse used to be hidden but victims (male and female) are now emerging in staggering numbers, along with a realisation that certain conditions allow it to flourish. It's an issue that needs to be addressed by the inquiry into historic allegations of a Westminster paedophile ring. What unites these men is gender, power and a sense of impunity, a combination that can turn up anywhere. Despite what Ukip wants you to think, sexual abuse is about culture, not race.
Register for free to continue reading
Registration is a free and easy way to support our truly independent journalism
By registering, you will also enjoy limited access to Premium articles, exclusive newsletters, commenting, and virtual events with our leading journalists
Already have an account? sign in
Register for free to continue reading
Registration is a free and easy way to support our truly independent journalism
By registering, you will also enjoy limited access to Premium articles, exclusive newsletters, commenting, and virtual events with our leading journalists
Already have an account? sign in
Join our new commenting forum
Join thought-provoking conversations, follow other Independent readers and see their replies