Marine Le Pen has more of an appeal to left wing voters than pollsters would like to admit
In a contest against neoliberal Fillon and former investment banker Macron, traditional socialist voters may get behind the Front National leader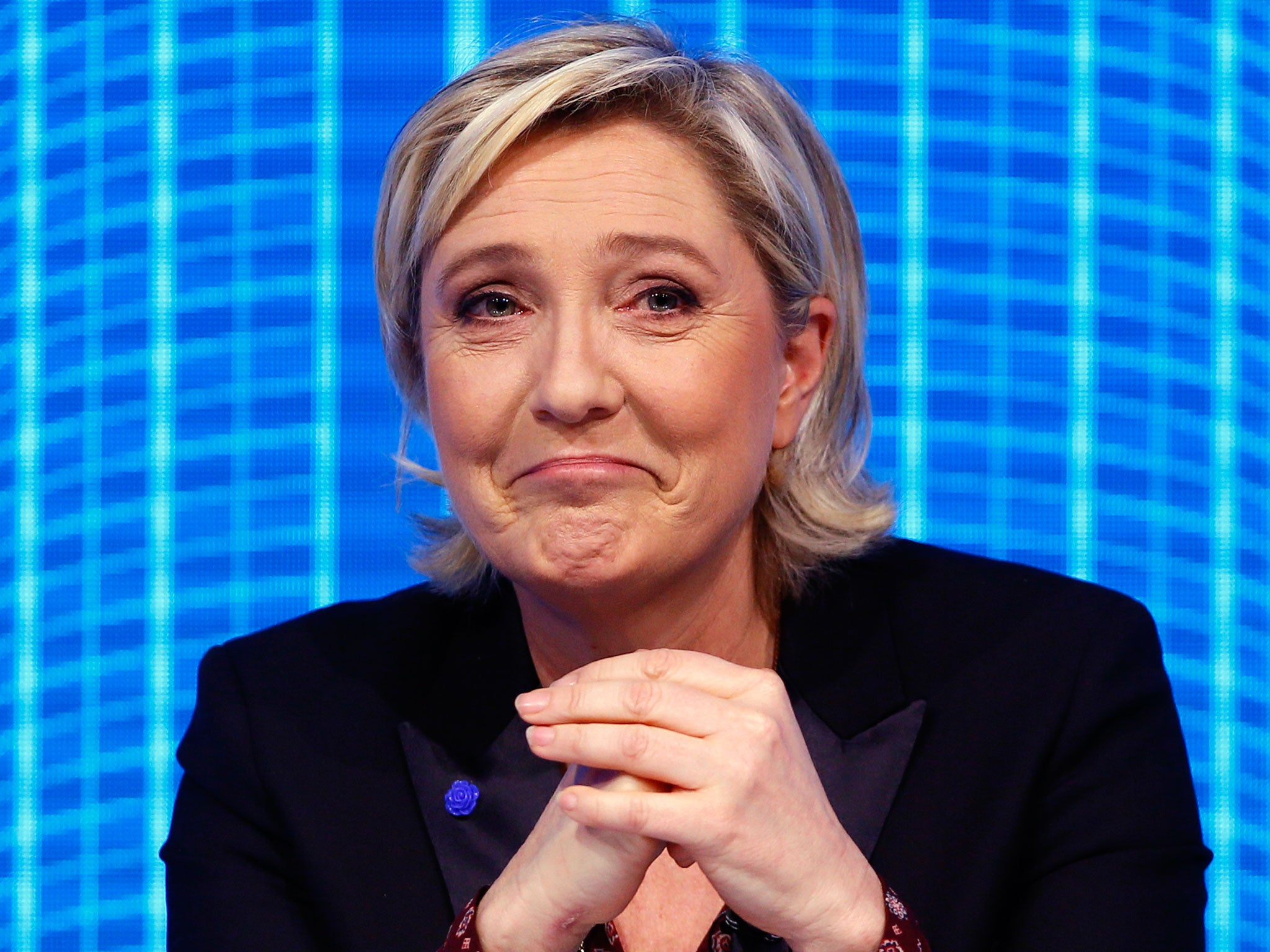 Having failed to anticipate Brexit, the Trump Victory, or even the selection of François Fillon and Benoit Hamon as the Republican and Socialist candidates and the rise of Emmanuel Macron and his En Marche party, unchastened pollsters and analysts are confident that Front National's Marine Le Pen will not gain the French Presidency.
She will, they believe, go through to the run-off but be defeated in the second round by a moderate centre right or centre left candidate. They rely on history. In 2002, Jean-Marie Le Pen (Marine's father) went through to the second round but was defeated by Jacques Chirac, with the support of his opponents who could not bring themselves to vote for the controversial Front National candidate. But the past is not an accurate predictor of the future.
Marine Le Pen's chances are much stronger than believed.
First, the scandal following allegations that Fillon's family had been paid money for non-existent work, the failure of Manuel Valls to gain the socialist nomination as expected and a potential alliance between the French Socialist and the far left all highlight that unexpected developments could influence the result.
Marine Le Pen launches presidential campaign with hardline speech
Second, in a runoff between Le Pen and either Fillon or Macron, the assumed migration of the defeated centre right or centre left votes to opponents of the Front National ignores the policies of the candidates.
Economically, Le Pen promises to reverse globalisation and shield domestic industries from competition to benefit French workers. She promises increased welfare spending and a lower retirement age. Her 'France First' foreign policy is based on increasing defence spending, reducing immigration and restoring national identity. She is unequivocally anti-EU and opposes the single currency.
Le Pen's economic policies are close to that of the centre left. In a contest against Fillon, who advocates cutting 500,000 civil-service jobs, reducing government services, labour market de-regulation, a higher retirement age and longer working hours, traditional socialist voters may support the Front National. In a contest against Macron, En Marche's policy of tax cuts and labour-market reforms may assist Le Pen. Fillon and Macron's support of globalisation, the EU, greater European economic integration and immigration increases Le Pen's appeal to French nationalists from both the right and left of the political spectrum.
Third, Le Pen appeals to the idea of a grand French renewal and the rejection of traditional politics.
Fillon and Benoit Hamon, until recently considered unlikely to make the run-off given the collapse of support for the Socialists, are representatives of a decayed political system, riddled with corruption and repeated failure. Former conservative President Nicholas Sarkozy promises of "rupture" in 2007 disappointed. He is to stand trial over allegations of illegally financing his failed 2012 re-election bid. Current President Francois Hollande's presidency failed in its attempts to revive the economy and is seen as weak on security and immigration.
Emmanuel Macron, a former civil servant and investment banker, is a product of elite French schools and the École Nationale d'Administration (ENA). He appeals to economically and socially mobile, young and internationalist French men and women but may struggle to overcome widespread French discomfort with financiers.
Le Pen, in contrast, has positioned herself as an outsider. The sanitised new National has shed elements of its controversial past, such as racism and anti-Semitism. Le Pen may be able to exploit a large and seemingly irreconcilable division between establishment candidates and their audience to her advantage.
But even if Le Pen fails to be elected, her platforms are likely to be influential. In the second round of voting, Fillon or Macron may try to outflank Le Pen by moving closer to her positions on sovereignty, immigration and Europe. Like David Cameron, they may offer the French electorate a referendum on immigration and France's membership of the euro and the EU with unpredictable results.
If Le Pen wins, then France may withdraw from the euro and re-denominate its debt in new French Francs. France's departure from the single currency, attempts to limit free movement of people across European borders and its assertion of economic and political sovereignty will pose an existential challenge to the EU. Under Fillon or Macron, there will be, consistent with recent centre right or left governments, no radical change despite lip-service to the contrary.
Ultimately, no candidate will deal decisively with economic realities. Despite platitudes, none of the contenders have articulated a clear plan to address France's sclerotic growth, high debt, persistently weak public finances, poor competitiveness, or the need for major structural reforms of labour markets, regulations and the public sector. Even the Front National's policies blame external factors for French problems. The problem is that France remains a relatively prosperous country. For the moment, the French believe that costs of maintaining the status quo are less than the pain of reform.
Irrespective of the result, the 2017 French election will drive increasing uncertainty. It will be in the form of a sudden break (Le Pen) or prolonged decay (Fillon or Macron). Either way, the volatility will manifest itself in value of the euro and European debt securities.
Satyajit Das is a former banker. His latest book is 'A Banquet of Consequences' (published in North America as The Age of Stagnation to avoid confusion as a cookbook). He is also the author of 'Extreme Money and Traders, Guns & Money'.
Join our commenting forum
Join thought-provoking conversations, follow other Independent readers and see their replies