Italy's new deputy prime minister has ended up in a public argument with Mario Balotelli about race – what a sign of the times
In many ways, Mario Balotelli is the symbol of Italy today: not just its football team but its society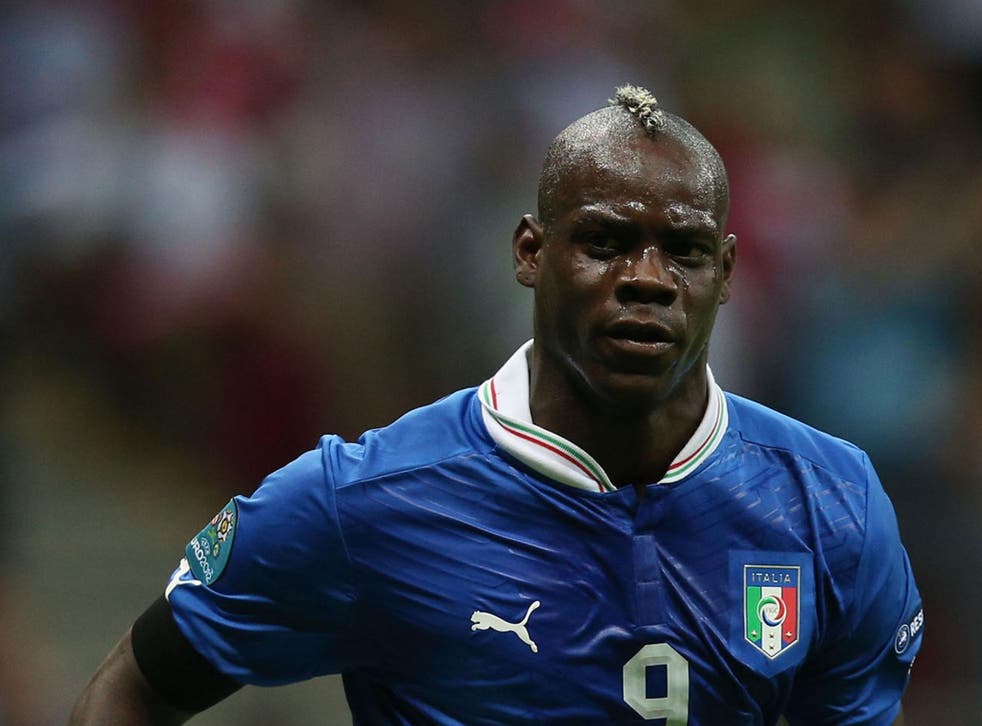 In Italy, politics and football exist in a state of mania. The country that brought you Silvio Berlusconi and Giulio Andreotti saw a betting scandal in 2012 and the 2006 "Calciopoli" fiasco, as the country was in the process of winning its fourth World Cup. This year, though, has hit new levels of chaos, with the rejection at the polls of the political class in favour of the upstart Movimento Cinque Stelle and rebranded Lega Nord, along with the national team failing to qualify for the 2018 World Cup in Russia.
Though there is no World Cup and a government, for now, has been formed, the two worlds refuse to leave the spotlight. This week, Italy forward Mario Balotelli, the most prominent black player to ever appear for the Azzurri, suggested the country needed to do more to integrate African migrants.
"It could be an important sign for all those migrants who come to Italy and see me, originally from Africa, become captain of the national team," he said. Later in the week, he added that he felt it was unjust that though he was born and raised in Italy, as the son of migrant parents, the law prevented him becoming an Italian citizen until he turned 18.
This prompted a response from the newly installed deputy prime minister, Lega leader Matteo Salvini, who claimed: "The captain should be representative… I hope the manager doesn't choose the captain for sociological, philosophical or anthropological reasons."
Salvini followed up by tweeting "ius soli" (right of the soil or right to citizenship to those born in a country) was not his priority, "nor that of Italians". Balotelli, in turn, when asked by a journalist where he'd be playing next season, responded "where Salvini decides". In a last swipe, Salvini wished the player luck on Twitter in "chasing the ball".
Italy has always had a complex relationship with race. It is still a young country with few historical ethnic minority communities and the phenomenon of "campanilismo" or attachment to one's hometown exacerbates differences in identity acutely. It should not pass without notice that the Lega's original purpose was to gain political separation for the north from the south.
Race relations have been especially strained by the migration crisis of the past few years. Even former foreign minister Angelino Alfano, a vocal supporter of German chancellor Angela Merkel, said he felt Italy had been "abandoned" by its EU neighbours following cuts to the Mare Nostrum programme. Germany's reversal of its open-door refugee policy, meanwhile, has left tens of thousands trapped in Italy, a country without the resources to deal with them alone.
In January, 18-year-old Italian Pamela Mastropietro was murdered and dismembered (four men are under investigation in connection with the killing, including one man who has been charged.) Days later, an Italian fascist shot several African migrants in an alleged "revenge attack". In the same month, a parliamentary candidate from Lombardy, Attilio Fontana, claimed the "white race" faced extinction in Italy. He was later elected as an MP for the Lega, Salvini's party.
Meanwhile, Balotelli's comments echo the feelings of many people of African descent in Italy. He himself has been on the receiving end of awful racism. Growing up, he has spoken about how he often wasn't allowed to play with other boys because he was black. Fans of Juventus, when Balotelli was at rivals Inter Milan, used to sing gleeful chants about his death. Monkey chants and bananas aimed at him are commonplace. Last week, a banner appeared during a match between Italy and Switzerland which read: "My captain has Italian blood".
Revealed: The complex and wonderful world of Mario Balotelli

Show all 4
Professionally, a case for Balotelli being Italy captain cannot be made. He is the man who won a Champions League with Inter at 19, bulldozed his way through Germany in the European Championship two years later and teed up that assist for that title-winning goal in the dying embers of the 2011-12 Premier League season.
He is the same player Jose Mourinho and Steven Gerrard labelled "unmanageable'", the same player who missed a team meeting to watch Formula 1. He is also the player who set fire to his house when an impromptu firework display from his bathroom window went awry and who came to blows with his mentor Roberto Mancini, so exasperated was he by his player's insubordination.
He is prodigiously talented, but endlessly disappointing. With a poor attitude and a worse temperament, it is not for nothing that he has been sold in disgrace by both Milan clubs, Manchester City and Liverpool. Whether based on his ability or character, such a man cannot lead a national team.
And yet, in many ways, Mario Balotelli is the symbol of Italy today: not just its football team but its society. He has failed, so far, to reach his ceiling as a player, finding himself at French also-ran club OGC Nice. Unwanted and unfancied, he has been forced to make his way abroad, like so many other talented twenty-somethings in a nation where youth unemployment is over 30 per cent. He is immature, conflicted and erratic and mirrors the fractured politics (and politicians) of Italy. Like his country, he is paralysed by an inability to progress. And like his country, he has seen racism and prejudice on an unacceptable scale in the past few years. Both stand at a crossroads.
Salvini said on radio last week that "every country has the prophet it deserves". Whether Italy's prophet turns out to be "Super Mario" Balotelli or himself, one feels that those words will end up ringing true.
Join our new commenting forum
Join thought-provoking conversations, follow other Independent readers and see their replies