The Independent's journalism is supported by our readers. When you purchase through links on our site, we may earn commission.
Allowing women to take the abortion pill at home would be a great first step for Matt Hancock – and for the NHS
Women, after taking the pill in a clinic, have to race home before their miscarriage starts. They often suffer heavy bleeding and cramping before they get there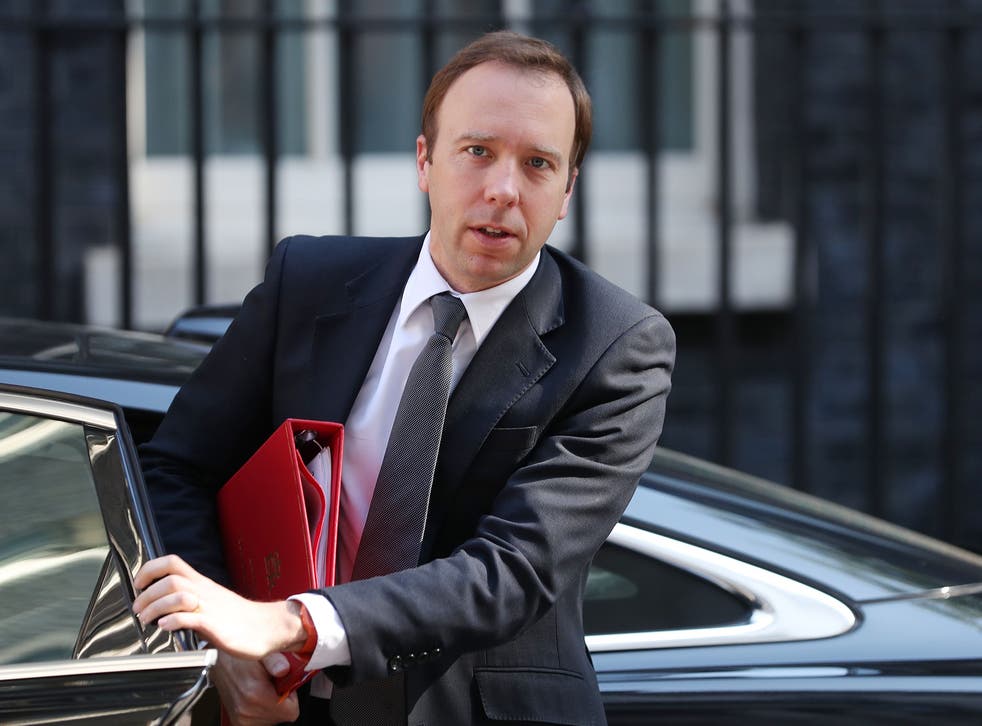 Let's get straight to the point. Women need the new health secretary, Matt Hancock, to act now.
If he wants to reverse the damage caused by his predecessor to women's health and to the NHS in general, he needs to move quickly. Another cabinet reshuffle is only around the corner.
Hancock has big bad shoes to fill. Jeremy Hunt – the man who insisted on widening his remit to include social care in January, then scuttled off to the Foreign Office seven months later – drove junior doctors to strike against their low pay and working conditions, oversaw the memorandum of understanding which allowed the Home Office to use previously confidential patient information to target illegal immigrants, and resisted calls to make a very simple change that would transform many women's lives: allowing them to take an abortion pill at home.
There is room for cheer, however. In his first speech on the job this week, Hancock outlined his top priorities for the NHS, including allocating £412m "to improve technology in hospitals and to give more patients access to health services at home".
We can only hope that self-administering mifepristone and misoprostol at home will be included. Because we know what happens when it isn't. It means that women, after taking the pill in a clinic, have to race home before their miscarriage starts. They often suffer heavy bleeding and cramping before they get there.
In the open letter to Hancock, a woman said how the cramps were so bad that she had to book a hotel room on her way home. Claudia Craig wrote in The Independent that she almost fainted in a taxi and collapsed as soon as she was through her front door. The current system is not only endangering women's lives, but is also an unnecessary burden on the NHS.
Hancock has already received an open letter from more than 50 MPs calling for him to change the policy. One of them is his colleague, Sarah Wollaston, a former GP and the chair of health and social care select committee.
Also calling for change are the heads of the Royal College of Obstetricians and Gynaecologists, the Faculty of Sexual and Reproductive Healthcare and the British Society of Abortion Care Providers.
Will Hancock take heed? His voting record doesn't inspire hope. He has consistently voted to reduce welfare spending, privatise the NHS and repeal the 1998 Human Rights Act. Remember, it was thanks to this law that Northern Ireland's strict anti-abortion stance was found to violate the European Convention on Human Rights in 2015. It's a situation that still hasn't been resolved.
And if one wanted a clue as to how Hancock deals with tricky matters, take a look at his smartphone app. It has this odd, repetitive glitch, whereby he only answers questions of his choosing.
He likes to comment on local success stories, such as the Guides and Scouts, but stays silent on some of his past decisions, such as deciding to drop the second half of the Leveson Inquiry.
Northern Irish women protesting anti-abortion laws take illegal pills

Show all 8
We've seen incredible momentum on women's rights recently, particularly reproductive rights. Ireland voted to legalise abortion (it is still technically illegal in Northern Ireland), Northern Irish women were granted free abortions on the NHS, and Scotland and Wales moved to allow women to self-administer the pills at home. We've also had Ealing Council establish the UK's first safe zone to stop protesters waving placards in women's faces as they walk into the Marie Stopes clinic.
But as we can see in the US, even a massive, federal law such as Roe v Wade is at risk of being brought crashing down. It just depends on who is in power.
Critics say that handing out pills will just create an "on-demand" attitude towards abortion. But that's not demonstrably untrue. Access to free, legal and safe abortion statistically reduces the number of unwanted pregnancies and unsafe procedures, particularly for poorer women.
No matter if the pills for early termination are bought illegally online, or whether they're being flown in by drone or swallowed in front of police in protest, people who are desperate will find always find a way.
So, Hancock, we know you've inherited a terrible mess, but now is your time to shine. You can update the good news on your app, and we will thank you for it.
Register for free to continue reading
Registration is a free and easy way to support our truly independent journalism
By registering, you will also enjoy limited access to Premium articles, exclusive newsletters, commenting, and virtual events with our leading journalists
Already have an account? sign in
Register for free to continue reading
Registration is a free and easy way to support our truly independent journalism
By registering, you will also enjoy limited access to Premium articles, exclusive newsletters, commenting, and virtual events with our leading journalists
Already have an account? sign in
Join our new commenting forum
Join thought-provoking conversations, follow other Independent readers and see their replies