If Trump meant what he said about immigration, Melania's parents wouldn't have become US citizens this week
If it's not a big deal for Melania and her parents to take advantage of chain migration, why does her ham-fisted husband seem to think it's such a big deal when other people do it?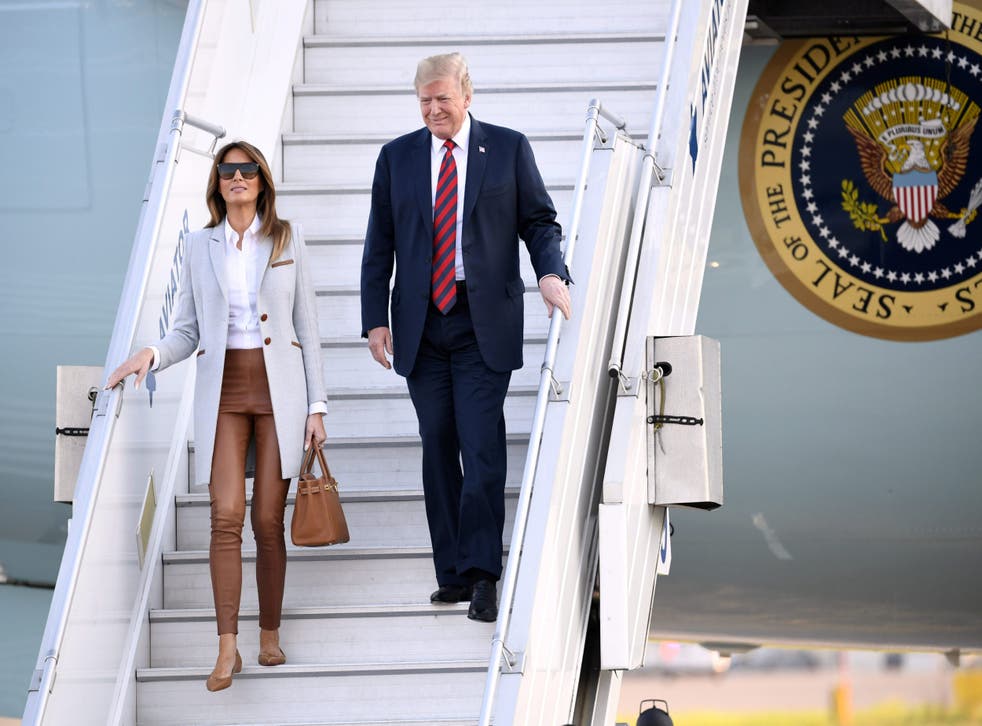 The US immigration process is a complete and utter nightmare. A lot of nationalist pigs, neo-aristocrats and conservative talking heads love to prattle on about how easy us foreigners have got it – but the truth is, earning the right to live and work in another place can be years upon years of stress-inducing and nonsensical, bureaucratic hell.
Then again, sometimes it's all about who you know, right?
That's what I think is the only real reason Viktor and Amalija Knavs were granted US citizenship on Thursday. I mean, don't get me wrong: I'm sure the Slovenian couple are fantastic individuals who'll use their skills and unique life experiences to add their own special zing to America's wonderful melting pot of diverse colours and creeds. That's what our country is all about, and the Knavs' claim to citizenship has got a long and perfectly reasonable legal precedent under America's policy of "chain migration".
George W. Bush 'disturbed' by current US immigration debate
What's chain migration, you might be asking? It's essentially just a loaded term boisterous politicians use to describe the provision of legal status to immigrants based on family reunification. So, that means if your dad, sister or Aunt Marge live in America, you can normally claim the right to go and live there, too. It's generally a pretty fair and benevolent way of treating people – although you probably do get the odd piss-taker.
And that's exactly why Donald Trump has launched an all-out war on chain migration. In his State of the Union address in January, the Teflon Don called chain migration a threat to the American economy, American security and our collective future as a nation. He told us he was going to implement harsh new rules limiting chain migration to stop all the piss-taking nepotism going on in our country, and protect us from those dirty foreigners cheating the system to snag an easy green card and bomb us to bits.
By the way: this was a couple months before he started locking cute foreign toddlers in cages, if you're searching for a point of reference here.
If Trump gets his way and closes America's chain migration pathways, elderly couples like Viktor and Amalija Knavs simply would never have gotten the chance to live out their golden years in the United States.
You've got that right: Melania Trump's parents have just gained American citizenship through the process of chain migration. It looks like the first lady's sponsorship is what ultimately landed her parents with a set of green cards, and you know what? There is nothing wrong with that. Those are the rules, a lot of people can do it and America's got plenty of space for a couple of 70-something Slovenians. It's not a big deal.
'Families belong together' protests over Trump immigration policy

Show all 8
Then again, if it's not a big deal for Melania Trump and her parents to take advantage of chain migration, why does her ham-fisted husband seem to think it's such a big deal when other people do it?
Okay: at this point, nothing about Donald Trump and his incredibly huge set of hypocritical testicles should be able to shock us anymore. The man pledged to "drain the swamp" and end the unfair nepotism safeguarding America's elite political class – and within a couple of weeks of taking office, his crazy rich son-in-law was running the White House and his inexperienced daughter was given a governmental carte blanche.
Donald Trump is totally shameless and self-serving. He doesn't care about what's fair for you or what's fair for America – all the guy cares about is how he can make a quick buck and cheat the system for his own personal gain. Time and time again, Republicans have turned a blind eye to the blatant hypocrisy at play here because they'd rather swim laps in a grimy swamp that's laced with discrimination than queue up and pay admission for a relatively clean, council-run lido like the rest of us.
America was founded on the idea that we're all equal. It's a nation that was built by foreigners, and we don't have room for discretionary immigration policy. So Donald Trump needs to either deport his elderly in-laws or shut his goddamn mouth about everybody else's in-laws – because nobody (not even the president of the United States) deserves to have their cake and eat it too.
Register for free to continue reading
Registration is a free and easy way to support our truly independent journalism
By registering, you will also enjoy limited access to Premium articles, exclusive newsletters, commenting, and virtual events with our leading journalists
Already have an account? sign in
Join our new commenting forum
Join thought-provoking conversations, follow other Independent readers and see their replies