Michael Gove is an environmental disaster waiting to happen
This is a man who voted for the fracking nightmare and tried to wipe climate change from the national curriculum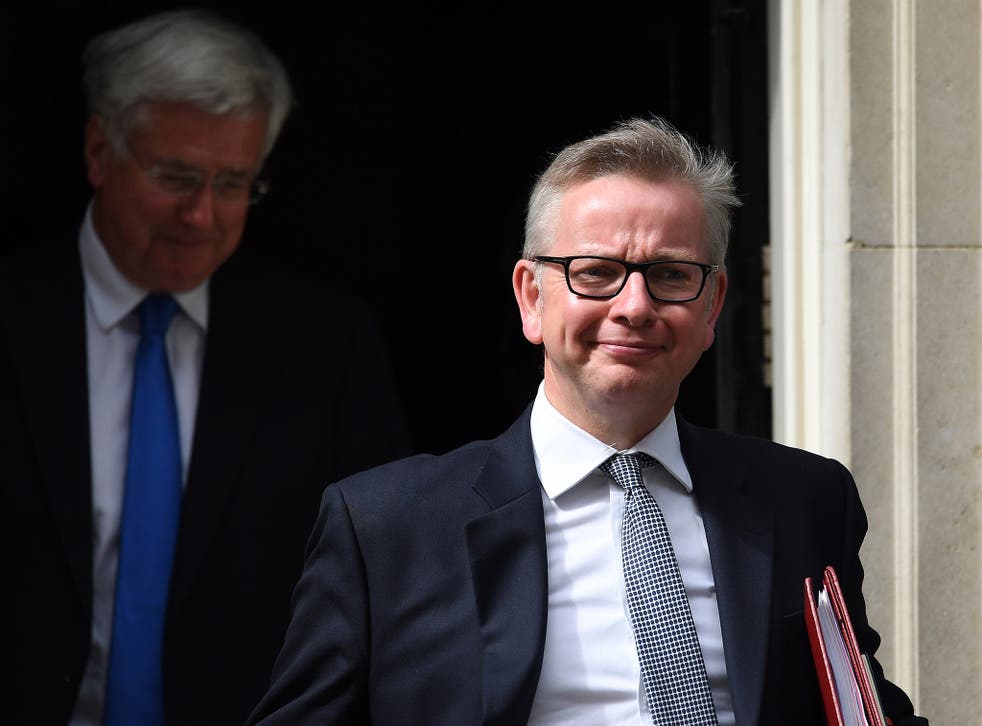 It's hardly worth putting this sentence into words, but here goes: Michael Gove is not the most popular British politician. After a disastrous stint as Education Secretary, followed by a botched and, quite frankly, absurd leadership bid; his reputation lay in tatters. And yet, after six months in the political wilderness – and as is all too often seen in the Old Boys Club of Westminster – privilege and ego have resulted in Murdoch's protege (and Trump's latest admirer) being rewarded: yesterday, Michael Gove was made Secretary of State for Environment and Rural Affairs.
It is hard to think of many politicians as ill-equipped for the role as Gove. This is a man who voted for the fracking nightmare; for putting a tax created to discourage fossil fuels on clean, renewable energy; and against putting our climate targets in line with our international responsibilities. A man who wants to see the fox-hunting ban lifted; who supports the scientifically-illiterate, never mind cruel and callous, badger cull; and who, despite apparently being a "shy Green", tried to wipe climate change from the national curriculum.
More recently, Gove has been a cheerleader for ditching EU environmental laws designed to protect many of our most precious and wildest places. Much of the UK's environment safeguards come from Brussels, and, with Brexit negotiations set to start imminently, Gove's inclination to burn what he calls "EU red tape" is particularly concerning. He can't be trusted to ensure vital safeguards are transferred into UK law during the Brexit process.
Theresa May to form new government with DUP support
The Prime Minister's decision to include Gove in her Cabinet is self-serving: drafting in a Brexiteer to defend the hard and dirty Brexit the public rejected last week. But it also demonstrated just how far down the political agenda the environment has fallen; that someone who has repeatedly shown such disregard for the environment is now in charge of the Government portfolio for it. Alone, this should be a cause of great concern for those of us who care about the environment. Placed in the bigger picture, it is truly frightening.
We have just emerged from a general election campaign that was almost environment-free. With bio-diversity in free-fall, the threat of an extreme Brexit, and accelerating climate change, it is sad that the environment has been conspicuous in the past seven weeks only by its absence. It received almost no mention in the leaders' debates, and was glossed over in the manifestos. In the Conservative manifesto air pollution was mentioned just once, despite the fact that the current crisis facing our country is linked to 40,000 premature deaths a year.
UK news in pictures

Show all 50
The vote last week stripped away the Conservative Party "strong and stable" rhetoric to lay bare a party on its knees. As the results trickled in it quickly became apparent that if the environment was absent during the Conservative campaign, it would be in jeopardy under their Government. Theresa May's plans to prop up her slender majority with the climate-change denying DUP places the party in a worrying position of authority. The DUP's past Environment Secretary, Sammy Wilson, has gone so far as to call the Paris Agreement "window dressing for climate chancers".
In the US, meanwhile, Donald Trump has made clear his intention to push the environment to the back of the political queue by pulling the US out of the Paris Agreement. It is a sad reminder of the times we are living through that one man can take the most powerful nation in the world out of the single most important treaty that exists today.
Of course Gove's appointment as Environment Secretary is the most recent threat to our environment – and that is why it is more important than ever to have a strong green voice in Parliament to defend it. The environment is the ultimate source of all we do, everything we make and use, and we must stand up for its future or we risk losing our own.
Caroline Lucas is co-leader of the Green Party and MP for Brighton Pavilion
Register for free to continue reading
Registration is a free and easy way to support our truly independent journalism
By registering, you will also enjoy limited access to Premium articles, exclusive newsletters, commenting, and virtual events with our leading journalists
Already have an account? sign in
Register for free to continue reading
Registration is a free and easy way to support our truly independent journalism
By registering, you will also enjoy limited access to Premium articles, exclusive newsletters, commenting, and virtual events with our leading journalists
Already have an account? sign in
Join our new commenting forum
Join thought-provoking conversations, follow other Independent readers and see their replies