Mike Pence is now the only thing standing between madness and sanity
Trump's style could not be more different from Pence's. To call the President-elect disruptive and contrarian might be compliments, were it not for the narcissism and bombast, the bloated but egg-shell fragile ego, and the reckless disregard for truth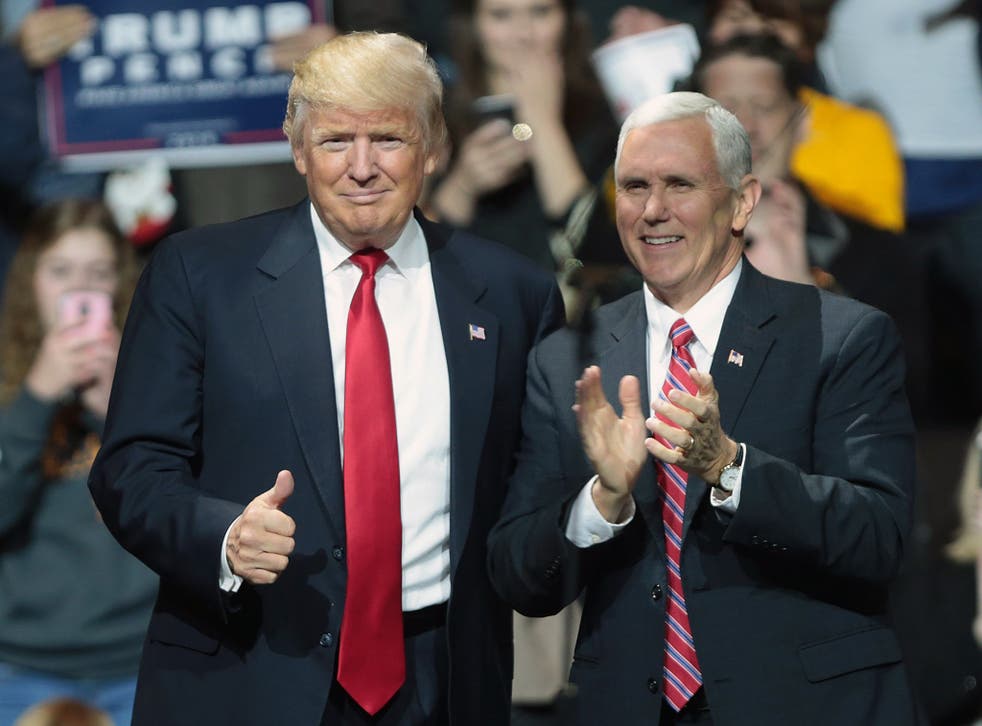 The mad Tweeter high above Fifth Avenue continues to fire away, trashing the US intelligence agencies, extolling Julian Assange and calling the new minority leader in the Senate "the head clown" for having had the temerity to warn the Republican President-elect to expect no help from Democrats when it comes to dismantling and replacing Obamacare. He even found time to mock Arnold Schwarzenegger, his replacement as host on Celebrity Apprentice for his poor debut ratings figures this week. So sails America's ship of state.
The Tweeter of course gives no press conferences at which he might explain himself more fully – we haven't had one of those in six months now (although some sort of event is promised for next week). Instead, just a torrent of 140 character missives that, were it not for their contradictions and downright mendacity, might charitably be described as a stream of consciousness.
Even at this late stage of the transition, you can't quite believe the whole thing is real, that the nightmare will not soon be over and you'll wake up on the sunlit and tranquil Obama uplands. But it is true. Work on the inauguration parade viewing stands along Pennsylvania Avenue is almost complete. And on January 20 those still unbelievable words will ring out: "I Donald John Trump do solemnly swear..."
World reaction to President Trump: In pictures

Show all 29
Amid this Trumpian mayhem, however, there is one small voice of calm and moderation. It belongs to Mike Pence, the incoming Vice President. Pence, a former Congressman and governor of Indiana, started out as a bit of an afterthought, his boss claiming every inch of available limelight.
But as the campaign has progressed, he has become an ever-more significant figure. Today, 10 days before America plunges into its utterly unscripted future, he has become something even more precious for a confused and disoriented Republican party (not to mention the rest of us): a rare, indispensable mooring rope between Trump and the known political world.
It's a transition ritual to speculate just how influential an incoming VP will be. In truth, they all are, ever since 1976 when Jimmy Carter gave unprecedented power and access to his deputy, Walter Mondale. The fashionable comparison right now is with the George W. Bush/Dick Cheney tandem, when a raw incoming chief executive chose to rely heavily on a wise and seasoned second-in-command, who had been a cabinet officer, senior White House official and Congressman, and knew Washington like the back of his hand.
Arnold Schwarzenegger hits back at Trump with Lincoln quote
Mike Pence fits this bill nicely. He served in the House of Representatives for 12 years until 2013, making enough of an impact for some to see him even then as a potential Republican White House contender. Instead he went back to his native Indiana, serving a term as governor before Trump picked him as his running mate and thrust him onto the national stage.
But Pence could prove an even more pivotal figure than Cheney did, 16 years ago. He's not just a bridge between lunacy and sanity. More mundanely, he seems set to be the liaison between Trump's White House and Capitol Hill, two bodies that – as events last week again showed – are as mutually suspicious as they are inclined to cooperate. As such he could be one of the most indispensable and therefore powerful vice presidents in history.
That thought will not reassure liberals. Pence may be a nice guy, as much liked personally by the Congressional Democrats who knew him as by Republicans. But he's as conservative as they come. "A Christian, a conservative and a Republican, in that order," is how he once described himself. His record as governor bears that out: In 2015, Pence signed a "religious freedom" bill for Indiana which legally protected businesses in the state that didn't want to cater for same-sex weddings. Last year he signed one of the country's toughest abortion laws – so strict that a federal judge temporarily blocked it on the grounds that it probably violated the constitution.
Outwardly however Pence looks the part. With his crinkled silver hair, he seems more presidential than his boss, even though at 57 he's 13 years younger. He certainly behaves more presidentially, deftly explaining away some of Trump's outbursts and sidestepping others when the two have serious differences – on the Russian hacking controversy for instance, where Pence is no fan of Russia and Vladimir Putin. There's also an understated media-savviness in his finely timbered voice, perhaps dating to Pence's pre-Congress days as a conservative radio host, when he dubbed himself "Rush Limbaugh on decaf."
Trump's style, of course, could not be more different. To call the President-elect disruptive and contrarian might be compliments, were it not for the narcissism and bombast, the bloated but egg-shell fragile ego, and the reckless disregard for truth – traits which, to judge by the number of tweets he sends, his looming new responsibilities have done nothing to diminish. It's all a million miles from the down-to-earth Midwestern normality of Mike Pence.
How the relationship will evolve in office is impossible to say. Trump by instinct is a delegator, a businessman who makes the big calls and leaves others to work on the details and read the fine print. That would appear to offer much scope to Pence. Then again, other personalities might emerge; Jared Kushner for instance, Trump's son-in-law and Ivanka's husband, who seems set for some role in the West Wing, or Steve Bannon, Trump's special adviser, of Breitbart fame.
Or of course Pence could fall out with the boss, especially a boss like Trump who likes to make sure the glory is his, and especially if Pence starts to be seen as de facto anchor of the administration. Bush junior and Cheney eventually grew apart, as did Bill Clinton and Al Gore before them. But who knows? The whole thing may have been worked out in advance, as a White House variant of the good cop/bad cop routine: Trump the bully living by threat, Pence the nice guy who tells everyone he didn't really mean it. And right now, Republicans (and America) have never wished more for a nice guy.
Register for free to continue reading
Registration is a free and easy way to support our truly independent journalism
By registering, you will also enjoy limited access to Premium articles, exclusive newsletters, commenting, and virtual events with our leading journalists
Already have an account? sign in
Join our new commenting forum
Join thought-provoking conversations, follow other Independent readers and see their replies