Mike Pence goes to Munich to soothe the nerves of America's allies. He is unlikely to succeed
Trump's first choice to replace national security adviser Michael Flynn at NSC demurs, leaving 'shit sandwich' for someone else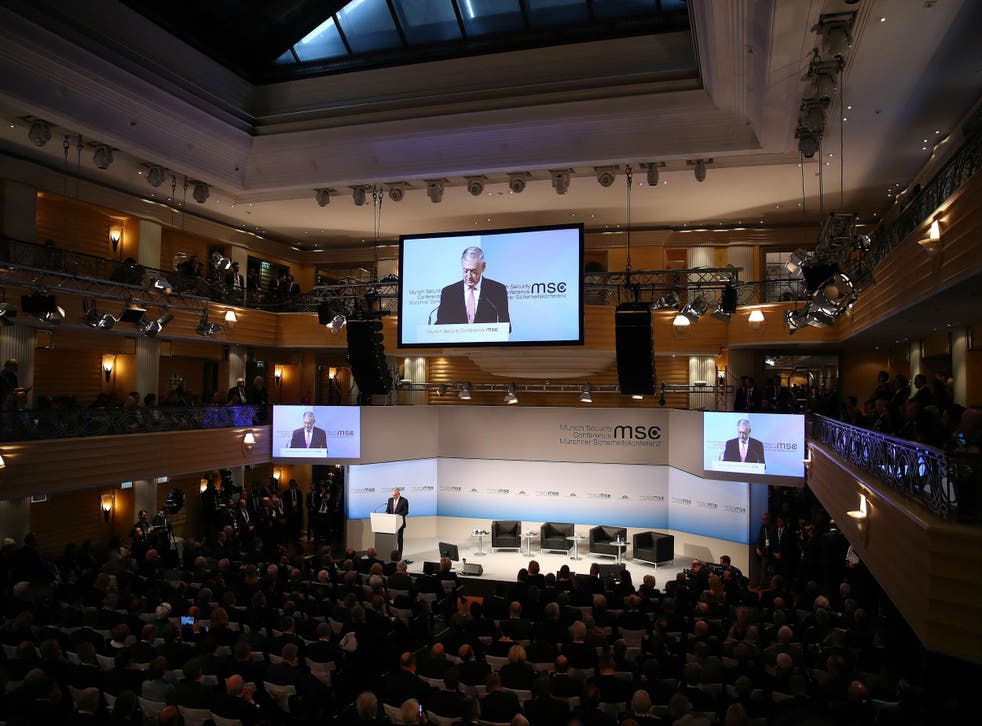 A word-cloud from a background briefing to journalists by White House officials on the eve of Mike Pence's trip to this weekend's Munich Security Conference, his first foray abroad as Vice President, would have REASSURE in bold at its heart. COMMITMENT also popped up a lot.
"The first theme is reassurance," the briefer, an unnamed "foreign policy adviser", offered. "We're there to reassure Europe's role both as our indispensable partner and the commitment to our allies. He wants to reassure folks ... we're going to be with them as well, so reassurance in that sense, if they need to hear it."
Damage control better describes what everyone bar President Donald Trump has been engaging in in recent days. Jim Mattis was at it at Nato in Brussels this week. Nikki Haley, the new US envoy at the United Nations, has been doing her bit. The same task fell to Secretary of State Rex Tillerson who spent part of the week at the G20 foreign ministers huddle in Bonn.
That the world, and the allies in particular, are in need of soothing hardly needs saying. They look at America and see a superpower flailing. A superpower being steered by successive 140-character outbursts by a President drawn more to Twitter than diplomacy.
The evidence is everywhere. Some is trivial like the failure of anyone to think of booking Mr Tillerson a room in Bonn. While his counterparts found convenient digs in the city, he was forced to commute 40 minutes from a faded country hotel attached to a hot springs favoured by wheelchair-bound octogenarians seeking a cure.
But the State Department falling down on navigating Expedia is the very least of it. Ultimately it is the US president, guided by his national security adviser, who holds the tiller on American foreign policy. Pence must persuade the roughly 80 foreign and defence ministers who are also headed to Munich – as well as the leaders of Nato, the UN and the EU – that his boss has his hands on it and has some clue of the course he is taking and not just swishing it around in the surf fecklessly to see where the ride takes him – and us.
Nowhere does the notion of this White House being a "fine-tuned machine", as Mr Trump put it on Thursday, look more daft than in foreign policy. When Michael Flynn was fired as national security adviser this week, we learned the Mr Trump had found out about his December phone calls to the Russian ambassador just a few days after his swearing in in January. That was when he presumably "lost trust" in Flynn. So he hasn't really had a national security adviser at all yet.
What does it say, meanwhile, that the man he then expected to take the job, retired Navy Vice Admiral Robert Harward, currently the top executive at Lockheed Martin, the giant defence contractor, opted instead to turn it down? How rude. But an anonymous friend said it was because he was afraid he was being handed a "shit sandwich". Harward might quite reasonably have looked at the Good Ship Trump and concluded it was already beyond saving. Why row out there, if, before long, he and everyone else in the NSC might soon be swimming for shore?
In a subsequent Twitter message, Mr Trump declared that he still had a deep bench of options. "General Keith Kellogg, who I have known for a long time, is very much in play for NSA – as are three others," he touted on Friday morning. Even he knows that reassurance is now required.
But Pence is on a mission impossible, not least because of doubts as to his own standing in the White House. "I don't think any of our allies will question for a second as to whether the vice president is speaking on behalf of the administration and in conjunction with the president on any matter," another top administration official advised in the briefing to journalists.
Oh, but they will question it. The reason Trump gave for booting Flynn was that he had lied to the Vice President about his speaking about US sanctions on Russia in those chats with its ambassador. But it was two weeks after the Justice Department first informed the Oval Office of the problem before anyone thought to fill in the Vice President. So is Pence part of Trump's inner circle or isn't he? Does he know any better than anyone else what the President is thinking?
And if he doesn't, what about everyone else? Over and over, the other foreign policy appointees have articulated positions that directly contradict their president. One day after Trump said at a press conference with Benjamin Netanyahu that he was not wedded to a two-state solution with the Palestinians, Ms Haley in New York said the opposite. "The two-state solution is what we support. Anybody that wants to say the United States does not support the two-state solution – that would be an error," she told reporters at the United Nations. Confusing.
Trump last month again beat up on the Nato alliance as "obsolete". Yet Mattis declared in Brussels that Trump has "strong support for Nato" and assured Secretary General Jens Stoltenberg that "the alliance remains a fundamental bedrock for the United States". Confusing also. Tillerson meanwhile said in Bonn that Trump was committed to UN efforts to end the war in Syria. In other words: ignore all his talk of taking an approach more aligned with Russia, which has been focused foremost on defeating the enemies of Assad.
Russia and Trump is, of course, the scariest issue of all. No one knows what is going on there. We may yet see the job of investigating the exact relationship between the Trump campaign and the Kremlin handed to an independent commission or special prosecutor in Washington. Who knows what it might find? Could it conceivably be that Trump himself actively encouraged Russia to hack into Democratic Party servers? That would take us into impeachment territory.
Trump's credibility deficit matters. His press conference included statements that were demonstrably untrue. If he lies, or self-deludes himself, about the margin of his November victory, how is the world to take him seriously on any subject? It is not reassuring that Trump is not alone in offering truths more slippery than wet soap. Standing beside Tillerson in Bonn, his Russian counterpart, Sergey Lavrov, bluntly averred: "You should know we do not interfere in the domestic matters of other countries."
In Munich they will want to know what Trump means to do about Russia now. The New York Times reveals that Moscow has deployed a cruise missile violating the 1987 INF treaty that bans land-based American and Russian intermediate-range missiles. What will be the US response? And more broadly, and urgently: how certain now is the US security guarantee that its allies, in Europe and also in Asia, have relied upon for the past 70 years?
"If we hope to save the INF treaty or, at a minimum, defend ourselves and our allies from Russian nuclear coercion, then the United States and its allies must respond to Russia's latest and most blatant transgression," warns Matthew Kroenig, a senior fellow at the Brent Scowcroft Centre on International Security at the Atlantic Council.
"I inherited a mess," Trump declared on Thursday. What terrifies most of those headed to Munich is that the new American President is instead creating one. Messrs Pence, Tillerson and Mattis will strive to dispel that unfortunate impression. But they will do so in the full knowledge that their efforts could all be undone with a single visit by the president to his Twitter account.
Register for free to continue reading
Registration is a free and easy way to support our truly independent journalism
By registering, you will also enjoy limited access to Premium articles, exclusive newsletters, commenting, and virtual events with our leading journalists
Already have an account? sign in
Join our new commenting forum
Join thought-provoking conversations, follow other Independent readers and see their replies