Emmanuel Macron could be the antidote to the rise of the far right in Europe
Munich Security Conference showed that even those populists with only a relatively small share of the vote can shape debate in pressuring mainstream parties to adopt different policy agendas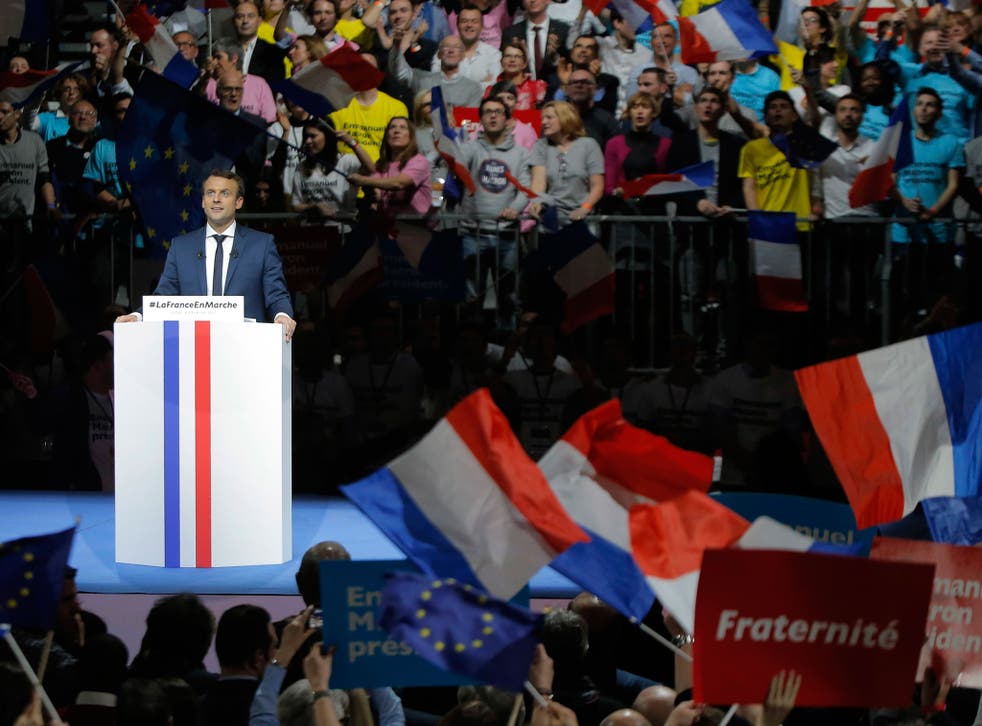 The annual Munich Security Conference concluded on Sunday after discussions among a first-class international line up, including US Vice President Mike Pence, German Chancellor Angela Merkel, and Russian foreign minister Sergei Lavrov. Unusually for this event, the focus was on domestic policy as much as international relations. Debate centred on growing concern outlined in the Munich Security Report 2017 that especially with Donald Trump's election, "the world is facing an illiberal moment... across the West and beyond" and in a post-truth age.
With populist groups now part of government in around a dozen Western democracies, this theme is a fitting one for such an important event given that Europe in 2017 is the primary test bed for whether anti-establishment forces will continue to make political ground. Starting with the Netherlands next month, where polls indicate the far right Freedom Party will emerge as the largest single party, mainstream politicians are under pressure from insurgents championing eurosceptic, anti-immigrant platforms.
However, while it is left and centrist parties bearing the brunt of this battering, the Munich conference has highlighted that a key political dividing line is increasingly "less between left and right but between a liberal cosmopolitan pole and a populist or even xenophobic authoritarian one". In this dichotomy, it is populist parties making the running by dismissing pluralism, liberalism and cultural modernisation, and revolting against what they perceive as threats to the nation state, including international institutions such as Nato and the EU.
UK news in pictures

Show all 50
A good case in point is National Front leader Marine Le Pen in France, currently leading the polls. She has questioned the need for Nato in the 21st century, asserting that it now exists to serve "Washington's objectives in Europe", and called instead for closer ties with Russia. She has also called for a French referendum on the country's EU membership – if she pulls off an upset victory this spring, it would be a more savage blow to the bloc than Brexit, not least given France's eurozone membership.
The conference also highlighted that even those populists with only a relatively small share of the vote are sometimes exerting a defining influence by shifting debate or pressuring mainstream parties to adopt different policy agendas. This is exemplified by Germany where incumbent Angela Merkel is presently tipped to win power again but is facing her toughest ever election fight and could yet lose out. This is partly because of growing support for the far-right Alternative for Germany party, a group founded in 2013 as an anti-euro body. It has led opposition toward the Chancellor's immigration policies and is polling around 15 per cent across France with seats in more than half of state legislatures.
However, there do appear to be limits to the spread of this conservative breed of anti-establishment politics. For instance, December's presidential election in Austria saw the convincing defeat of the Freedom Party leader, Norbert Hofer, who would have become Europe's first far-right head of state since 1945.
In France, support is on the rise for an insurgent, albeit of a liberal centrist stripe, in presidential candidate Emmanuel Macron, who is now second in polls behind Le Pen. Macron, whose top aides complained this week that he is being targeted by negative, fake news reports spread by Russian state-controlled media, is a 39-year-old former cabinet minister, who is pro-EU, and running as an independent.
His rise partly reflects a vacuum of power in the political centre ground created by scandals surrounding centre-right François Fillon's candidacy; and also the fact that the Socialists have chosen far-left contender Benoit Hamon. Should Macron get through to the run-off election in May (in which the two candidates with the largest votes from the first round in April go head to head), polls indicate he could win handsomely if the other candidate is Le Pen. One survey last week suggested most voters would rally around him and that he could win as much as 63 per cent, although such polls should be taken with caution at this stage of the race.
Marine Le Pen launches presidential campaign with hardline speech
The next few weeks will tell if the "Macron bubble", as some critics call it, has staying power. For now at least he is proving a foil to far-right populists by positioning himself against the old left and right and rejecting traditional "class politics" through his new "En Marche" political movement.
What Macron's success also appears to underline is that politicians of the centre ground benefit from having an optimistic, forward-looking vision for tackling complex, long-term policy challenges such as tackling stagnant living standards and re-engaging people with the political process, to help build public consensus and confidence around solutions to them. Tackling these first-order challenges is a significant hurdle that centrist politicians across much of the world are widely perceived to have failed on, helping give rise to perceptions of a broken process and that democracy itself is failing.
This has fuelled the rise of more extreme populist politicians with the often half-baked, damaging agendas they champion. Contrary to what some of this ilk assert, there is no "silver bullet" agenda that can address, overnight, challenges such as stagnant living standards.
Instead long-term concerted efforts are needed to better address these issues through a range of educational, home affairs, economic and other policies. Collectively, as Macron appears to appreciate, such an agenda can move towards demonstrating more effectively how a fair, inclusive democratic politics can help overcome or ameliorate the multiple challenges that many people are experiencing in a world changing fast in the face of globalisation.
Taken overall, forthcoming European elections will test the limits to which there are still buffers to the spread of far right anti-establishment politics in Western democracies and beyond. The key race to watch will be in France where an insurgency victory by Macron would be a fillip to liberal, centrist politics despite his rejection of the political establishment in the country.
Andrew Hammond is an Associate at LSE IDEAS (the Centre for International Affairs, Diplomacy and Strategy) at the London School of Economics
Join our new commenting forum
Join thought-provoking conversations, follow other Independent readers and see their replies