Don't tell me Nabra Hassanen, the Muslim girl who was kidnapped outside a mosque and murdered, was a victim of road rage
Nabra had a trifecta of hated identities: she was Muslim, black, and a woman – all three of which are identity groups that experience heightened marginalisation, discrimination, and violence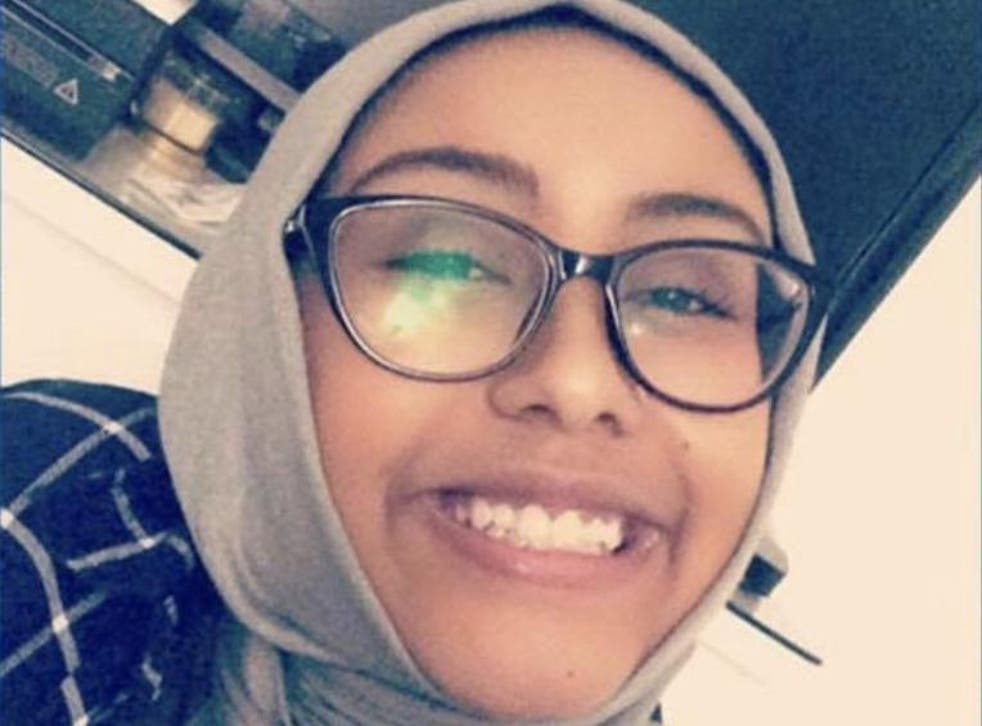 On Father's Day, Mohmoud Hassanen spent the day at the mosque.
It's not unusual for Muslims to spend extra time at the mosque during Ramadan, our holy month, which is in its last – and most sacred – days.
Hassanen spent Sunday in the mosque not for Ramadan prayers, but to pray for the safe return of his daughter, sixteen year old Nabra Hassanen, who went missing in the early morning hours after leaving the mosque to enjoy a pre-dawn meal with a group of friends.
Nabra never made it home safely. Her body was found in a pond later that afternoon. She had been brutally beaten with a baseball bat, abducted and then beaten with a bat again, this time to death.
World news in pictures

Show all 50
Darwin Martinez Torres, a native of El Salvador, who was in the country without documentation, has been charged with her murder. The police have stated they're not investigating it as a hate crime, but as a "road rage" incident. According to police, Torres exchanged words with a teenage boy in Nabra's group before driving his car over the curb towards them, then catching up with them as they fled, chasing them with a metal baseball bat. The police say there's "no indication" that racial or ethnic slurs were exchanged.
That doesn't mean it wasn't a hate crime.
Nabra's parents both believe that Nabra's murder was a hate crime, with her father saying he's "100 percent sure" Nabra was murdered for being Muslim.
All of the teens were believed to be wearing traditional Islamic clothing, and the girls in the group were wearing hijabs and abayas, making them visibly identifiable as Muslims.
Nabra had a trifecta of hated identities: she was Muslim, black, and a woman – all three of which are identity groups that experience heightened marginalisation, discrimination, and violence.
There are reports that prior to coming after the teens with a bat, Torres yelled at them and threw beer bottles at them. Torres didn't specifically target the bicyclist he had an argument with; he tried to attack the entire group of 15 teenagers – a brazen move, considering he was alone. It's believed that Nabra fell while fleeing, and he was able to catch her; if that's the case, it was purely by opportunity that it was Nabra who was murdered and not one of the other teens. He didn't just hit Nabra once then abandon the attack. He abducted her and assaulted her again. This suggests something deeper-seated than being angry over an argument with a random teenage boy on a bicycle.
To say that Torres committed the crime because he was "angered" is to try and normalise something completely abnormal: anger is normal; beating someone with a baseball bat, abducting them, and throwing their body in a pond is not.
Finsbury Park attack: What do we know?
Several right-wing conservatives on social media – who are generally notoriously anti-Islam and anti-Muslim – discounted the idea that Nabra's murder had anything to do with Islamophobia. This is because a Latino male committed the murder, as if Torres being a minority – and someone here undocumented – precludes him from harbouring anti-Muslim hate. Some have flat-out accused the media of having an "addiction" to "fake Islamophobia."
Yet hours after Nabra's body was discovered here in the United States, in Finsbury Park, Muslims on their way home from prayers were targeted in a "potential" terror attack, allegedly committed by a man who said he was going to "kill all Muslims."
Tell me again how Islamophobia doesn't exist.
Hate crimes against Muslims are higher today than they were after 9/11. Reports from the FBI for 2015 reveal a seven per cent increase in hate crimes overall, while anti-Muslim hate crimes have skyrocketed, increasing by 67 per cent. There's also reason to believe that the FBI's data on hate crimes may be grossly underreported.
A newer report from CAIR, the Council for American Islamic Relations, the largest Muslim civil rights advocacy in the United States, reports that anti-Muslim incidents were up by 57 per cent in 2016.
The American Civil Liberties Union (ACLU) has documented over 150 anti-mosque incidents across America since 2005, with more than 130 of these incidents occurring in 2016 & 2017 alone.
Nabra's vicious murder must be examined within the context of that data – Islamophobia, anti-Muslim extremism, and anti-Muslim violence is real and we cannot dismiss it.
To deny that Islamophobia and anti-Muslim violence is a real – and dangerous – occurrence is to try and deny, discredit, and silence the experiences of Muslims – particularly women – in the West, who face violence because we are Muslim.
Accusing Muslims of "playing the victim" when we talk about our valid concerns and experiences is another often-employed silencing tactic. We don't choose to be hated, targeted, discriminated against – or murdered.
For those of us who live in fear of becoming a hashtag every time we leave our homes, Nabra's murder is a heartbreaking reminder of what we already know: the hatred is real, and it has deadly consequences.
Rest in peace, beautiful Nabra.
Azmia Magane is the chief of staff at Muslim Girl, the largest website for Muslim women in the West.
Join our new commenting forum
Join thought-provoking conversations, follow other Independent readers and see their replies