Nature Studies: If we lose the curlew, we lose the sound of the British wilderness
Their call has been described as the essence of the wilderness, but it may soon fall silent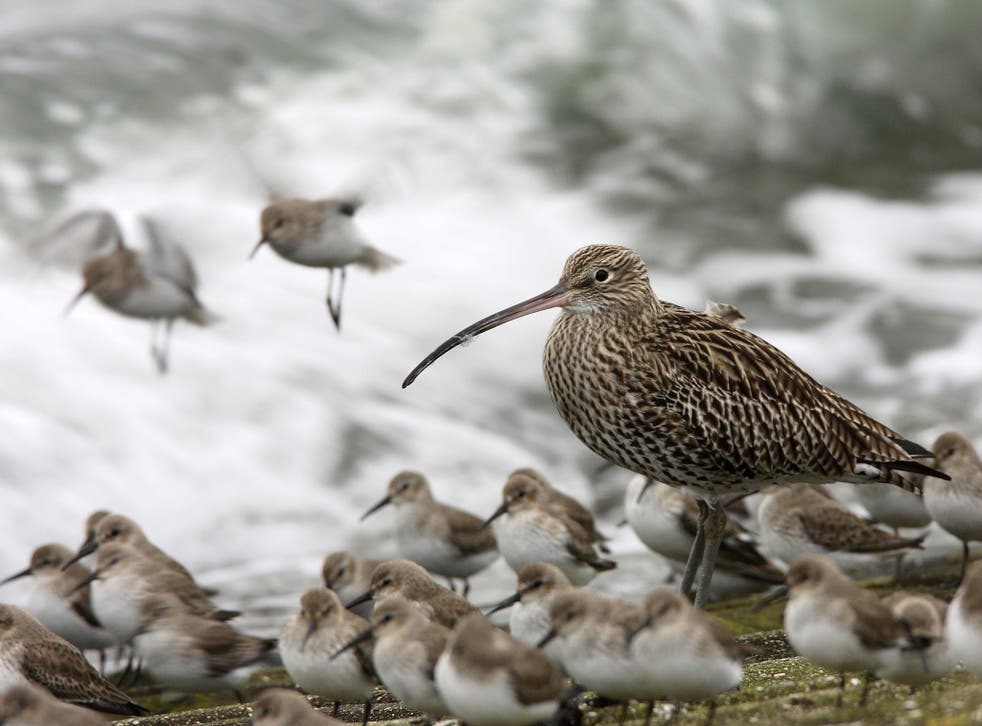 It brings home to you just how bad the declines in our wildlife are becoming when somebody feels they need to go on a curlew walk. For the radio and TV producer Mary Colwell feels that someone has to draw attention to the plight of a much-loved bird, which seems to be slipping steadily to extinction in Britain, while the country is looking the other way – and she is planning a 500-mile sponsored trek to publicise it.
To add to all the other British wildlife losses in recent years, which have left us with a flora and fauna as impoverished as anywhere in Europe, the curlew's sudden and rapid decline across Britain and Ireland will greatly sadden anyone who loves our remaining wild places.
The wading bird with the long decurved bill has a haunting song, a long drawn-out mournful bubbling, which is very much the springtime music of our uplands, moorlands, marshes and sea coasts; WB Yeats and Dylan Thomas both celebrated it in verse.
But so fast has been its fall in numbers that two months ago the curlew was put on the Red List of the UK's most endangered birds, and a new study of its status suggested it should now be considered Britain's highest conservation priority bird species.
Just in the past 20 years, the curlew has declined by more than 50 per cent on average across England and Scotland, and by more than 80 per cent in Wales. In Ireland – where Yeats once called on it to "cry no more", because its song put him in mind of his lost love – it has crashed in numbers by well over 90 per cent, and is now sliding rapidly towards extinction.
Although there are a number of different reasons for the curlew's decline in different places, Colwell, a nature writer and long established producer with the BBC Natural History Unit in Bristol, wants people to wake up to the fact that, if we do not take drastic action to save it, we will lose the bird for good. She is planning a six-week, 500-mile walk from the West of Ireland to the East of England to raise awareness of its plight and funds for its conservation.
Starting in Sligo on 21 April, she will trek across the breadth of Ireland to Dublin, take the ferry to Holyhead and hike across North Wales to the Shropshire Hills, the Peak District and eventually Lincolnshire, finishing in Boston on 29 May, after a walk lasting 38 days. En route she will be giving talks and media interviews and herself interviewing conservationists struggling to save Numenius arquata, in collaboration with Birdwatch Ireland, the British Trust for Ornithology and the RSPB.
"I'm doing it because I love curlews," Colwell said. "Their call has been described as the essence of the wilderness. Their decline has been very drastic, but we can do something about it. I'm walking to raise awareness and funds for curlew projects. There's still time to help them."
Curlews need wet, rough pasture to nest, and their decline has largely been driven by loss of this habitat – in Ireland, especially, by the stripping of boglands for peat to be used as fuel; elsewhere there has been widespread forestry planting and other developments which have destroyed nesting sites. In England, she said, one of the main threats to curlew nests seems to be a natural one: increased predation by a rising number of foxes.
Healthy populations of curlews nest in loose colonies and are able to band together to make a joint attack on a predator, but when their numbers drop they are no longer sufficient to mount an effective defence.
Britain's curlews are not just important for the UK, they are estimated to represent about a quarter of the total world population, which is declining as a whole. The birds in the British Isles are declining faster than anywhere else.
"If we lose them, we're not just losing another bird species," Colwell said. "We're losing part of our heritage.
"Curlews are woven into people's folklore and memories. Their call is plaintive, almost in a minor key – it does something to people. They are the spirit of wild places."
Colwell's appeal for the crowdfunding of her walk, and also a recording of some beautiful spring curlew song, can be viewed or heard at: crowdfunder.co.uk/the-curlew-walk/?
Join our new commenting forum
Join thought-provoking conversations, follow other Independent readers and see their replies