The next Mo Farah could be turned away if the UK closes its doors to immigration
According to think tank Britain Future, athletes whose immediate family came to Britain from overseas won 24 of the 65 medals Britain claimed in the 2012 Games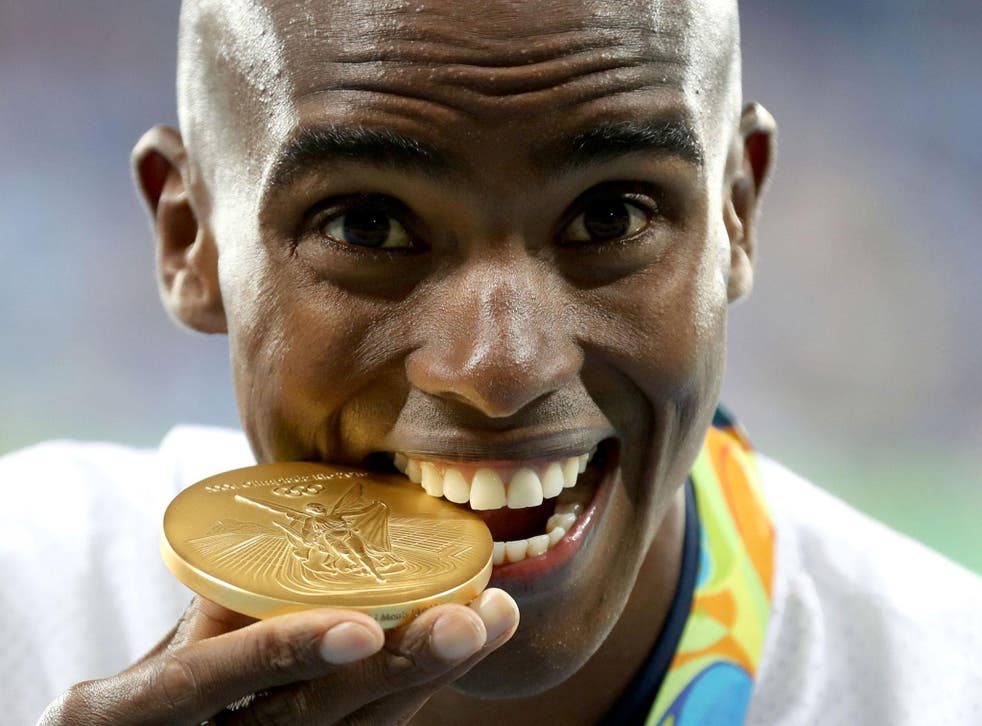 Day eight at Rio gave rise to myriad memorable moments of sporting glory with Team GB racking up eight medals. Among them was an historic win for Great Britain's Mohammed Mukhtar Jama Farah in the 10,000m. Farah has become the first British track athlete to be decorated with three gold medals. Perhaps the most unforgettable scene was not Farah's ferocious dash down the home straight and into the history books, but instead his heart-in-mouth, mid-race fall. "I thought my dream was over," the Somali-born sporting hero reflected.
From the dark depths of despair to magnificent triumph, the manner of Farah's victory dramatises the story of so many British immigrants and refugees – those who flee war, poverty and persecution or seek a better life in Britain, where they, more often than not, succeed against all the odds. They are troopers who pick themselves up and get on with life.
Mo Farah defends title to claim Olympic 10,000m gold
Farah's stunning victory comes hard on the heels of Theresa May's promise to "crack down" on immigration. Mrs Brexit-Means-Brexit has a long history of hardline views on the matter – her reign at the Home Office saw the highest number of deportations.
Despite what the Ukipers will have you believe, immigration from non-EU countries has been on a steady decline since 2004. In fact 2012 – the year we hosted the world – was one of the lowest since 1999. Theresa May was too busy dragging Abu Qatada through the courts to consider any of these statistics.
This is all the more depressing considering that Team GB's biggest successes come from immigrant backgrounds. Jessica Ennis-Hill, the poster girl of London 2012, speaks fondly of her Jamaican father, Vinnie, a self-employed painter and decorator. Katrina Johnson-Thompson's father originates from the Bahamas, while our 400m-hopeful, Christine Ohuruogu, is proud of her Nigerian heritage.
Indeed, immigration explains the success of the 2012 Games. Many of Seb Coe's young volunteers – including me – were immigrants. According to think tank Britain Future, athletes whose immediate family came to Britain from overseas won 24 of the 65 medals Britain claimed four years ago. That's 11 golds, three silvers and 10 bronzes.
Rio 2016 Olympics - in pictures

Show all 74
British sport has always been a melting pot. Outside the sporting arena, the pattern is not too different. The Millennium Dome and Hampton Court Palace were both designed by refugee architects. "Queen of the Curve", Iraqi-born Dame Zaha Hadid – who died earlier this year – designed the aquatics centre where Tom Daley claimed his first Olympic medal and where Michael Phelps broke yet more records.
The danger with highlighting these remarkable success stories is that we forget the darker side of immigration. Immigration is so much more than cherry-picking the world's best athletes. That would be colonialism at its best. Who could forget Zola Budd and her controversial race for Britain in the 1984 Los Angeles games? To the dismay of civil rights protesters around the world, the white South African fast-tracked her way to British citizenship to circumvent the international sporting boycott of apartheid-riddled South Africa.
Of course, the history and politics of immigration is not only about medals, peerages and success. Nor should it be. For every Mo Farah that we "let in", there is a helpless Syrian refugee who won't run a single race. For every Jessica Ennis-Hill, there are Jamaicans in Queen's Park, London going about their everyday lives. Their worth is not to be questioned. Not all immigrants will go on to be Olympic heroes, but those who do – like Yusra Mardini, the Syrian refugee who won our hearts at Rio – remind us that our doors are better left open.
Join our new commenting forum
Join thought-provoking conversations, follow other Independent readers and see their replies