The NHS, pushed to breaking point by Covid, is being privatised by stealth – we had better be ready to fight for it
The danger is that the NHS stops being a national health service, free at the point of need to rich and poor alike, happily used by both, and becomes more of a backstop for emergenices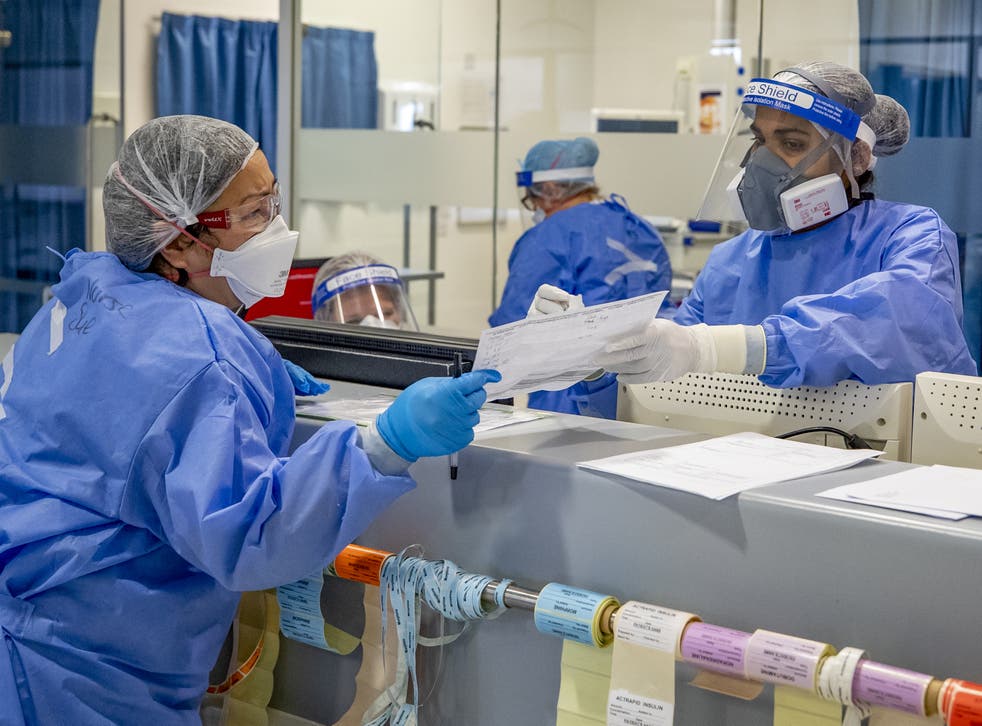 With the entire nation standing on the doorstep clapping the NHS every Thursday during the first lockdown, an exercise due to begin again this evening, surely not even the Dr Evils working at Tory think tanks would talk about privatising it? Couldn't happen. Wouldn't happen. The very suggestion is absolute balderdash. The pandemic has strengthened the NHS!  
Is that what you think? If it is, I beg to differ. The pandemic may very well have done the exact opposite, leaving the NHS exposed to a pervasive, creeping privatisation.
The case for the prosecution starts with the Financial Times, which earlier this week reported on the hopes of the UK's private healthcare groups for a massive post-pandemic bounce. There are two main drivers for this: the first is that up to £10bn is being made available to clinical commissioning groups to buy treatment from private providers as the NHS attempts to clear the vast backlog that's been built up while it has been treating desperately ill Covid-19 patients. 
The private sector in this country is geared up to provide elective rather than emergency treatments, referred to as "routine", although they're not really routine to the people receiving them. Think hip or knee replacements or hernia operations. It can handle diagnostic tests, too. It's going to have a fun four years doing them. £10bn is a LeBron James sort of bounce, and it will fund a lot of CEO bonuses.
The second driver is that the expansion of waiting lists is inevitably going to encourage people with the capacity to pay their own way to do so.
Why are these developments problematic? In theory, they're not. If the private sector has capacity that the NHS lacks, and if a fair price can be agreed, it makes sense to call upon it. If individuals choose to reduce their waiting time by paying, that's their choice and it creates more space for those who can't by further relieving pressure on the service.
Here's the issue, though: what if this becomes ingrained? In the 2000s, when Labour invested heavily in the NHS, and sought to reduce waiting times, you could still go private if you wanted – if you preferred an appointment in a couple of weeks rather than, say, two or three months, or if you liked the idea of someone bringing you an espresso in a fancy waiting room. But it really wasn't necessary.  
The push to pay your own way now is a lot stronger than it was then. A friend of mine is in need of a diagnostic test because there might be something nasty going on. "Might" is the operative word and the chances appear relatively low. But there are certain things that are very scary when they're even mentioned, as I know from personal experience.
When you hear the word "cancer", for example, it's worth paying for peace of mind. Before the pandemic, I had a scare like that. I was able to secure the necessary procedures on the NHS relatively quickly and was told no, you're OK, what you're experiencing is not that – it's just another lingering after-effect from the road accident that almost killed you. The feeling was damn near priceless. So priceless that if I were to experience another scare, and if the wait were long enough, I'd be inclined to get out my credit card.
If a dramatic increase in private involvement in the NHS is combined with more people paying their own way, we will be moving back towards the situation in the 1980s and the 1990s when... remind me who was in power?
The danger is that the NHS stops being a national health service, free at the point of need to rich and poor alike, happily used by both, and becomes more of a backstop. A provider of last resort. The place you end up going if you can't pay. A buffed-up equivalent of America's Medicare.
The increased involvement of private providers in the NHS, combined with the growing use of private provision by people who can pay, could quickly start to look like privatisation by stealth. It might not be all that stealthy either.
This isn't preordained. If the NHS gets enough money, and love, from the government, it can be built back up. It can even, dare I say it, be built back better. But given what several leading figures in the governing party have written in the past, do they have the appetite to do that? We're about to find out.
A few years ago, I spoke to a doctor whose father, also a doctor, came to Britain from Pakistan because he wanted to work in the NHS. He believed passionately in its ethos. He thought it was a beautiful thing; as did she.
We cannot allow those doctors, and people like them, to be betrayed through that ethos becoming a victim of the pandemic. To prevent that from happening, however, we should be alive to the danger and aware that we might have to fight for it.
Register for free to continue reading
Registration is a free and easy way to support our truly independent journalism
By registering, you will also enjoy limited access to Premium articles, exclusive newsletters, commenting, and virtual events with our leading journalists
Already have an account? sign in
Join our new commenting forum
Join thought-provoking conversations, follow other Independent readers and see their replies