Not quite the justice you might be thinking, your Majesty
The Queen was reportedly interested in the extradition of Abu Hamza. She may feel differently when she hears about the cases of Khalid al-Fawwaz and Adel Abdul Bary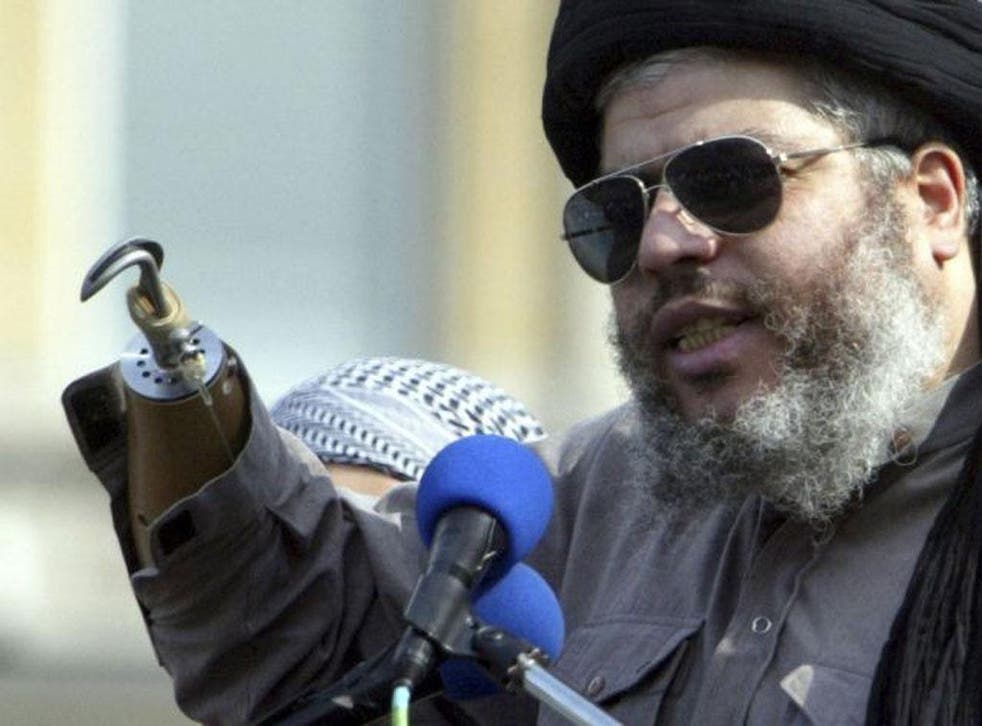 They never had tea. The constitutional monarch of 16 sovereign states and the man with the hook never had tea. She never praised him for his charity work, or asked him if he'd had to travel far. But the Queen didn't need to meet Abu Hamza for tea to know what he was doing.
She knew, for example, that this man, who came to Britain on a student visa, and worked for a while as a bouncer in a strip club, and thought Britain was "a paradise, where you could do anything you wanted", found ways to make sure he did. She knew that he found ways not to pay for the roof over his head, or over the heads of the eight children he had with two different wives. She knew he found ways not to pay for their food, or toys, or clothes. She knew that he had a very big house paid for by the taxpayer, and lots of medical treatment, paid for by the taxpayer, and lots of legal bills, paid for by the taxpayer. And she knew that he preached sermons saying that he wanted the taxpayer dead.
She knew all this, and she didn't like it. Now we know, because she told the BBC's security correspondent, who told the Today programme, that she told the Home Secretary she didn't like it. Why, the security correspondent said she said, was Hamza still at large? He was, she said, calling Britain "a toilet". Surely, she said, he must have broken some laws?
The Queen must have been pleased when he was finally arrested, for acts of terrorism, in 2004. She must have been pleased when he was found guilty of six charges of "soliciting to murder", and four charges of "stirring up racial hatred", and one charge of owning a "terrorist encylopaedia", and sentenced to seven years in jail. She might have thought that seven years didn't seem all that much for a man who tried to get other people to kill people, but that at least the man was banged up. And now she must be very pleased. She must be very pleased that after endless battles with the European courts, and millions of pounds in legal fees, Abu Hamza's quite likely to spend the rest of his life in an American jail.
He didn't want to. Abu Hamza spent a lot of taxpayers' money explaining why he didn't want to. He was worried, he said, or got his lawyers to say, that the American prison wouldn't be nice. He was worried that he might get lonely, and that he wouldn't get the special facilities he got in England to help him with his hook.
The European Court of Human Rights was worried, too. Two years ago, it told the British courts that he couldn't be sent to the US, to face charges that he helped al-Qai'da, and set up a terrorist training camp, because of his "human rights". It wasn't sure, it said, that he would be "treated humanely". But now it's decided that he will. It's decided that the prison he's likely to be sent to if he's convicted, which is called a "supermax", but not because it's super, is fine. The facilities, it says, which include TV, radio, newspapers, books and phone calls, are better than you'd usually get in Europe.
So, he's off. In a week or two, he's off. Abu Hamza's off to find out if America's a "paradise", too. He's off. The Queen's happy. Most of us are happy. We're happy that a horrible man is out of our hair, out of our justice system, out of our lives. We're happy that he's out of our taxes, and out of our mosques. And we're happy that we had to deal with a horrible man, and did it pretty well. We stuck to our principles, like the one that stops us sending people to countries where they might get the death penalty, or use evidence they got through torture, even though it stuck in the craw. We stuck to our laws, and stuck him in prison and soon we'll stick him on a plane. We're happy. Three cheers.
But there are four other men who'll be sent to America, too. Khalid al-Fawwaz and Adel Abdul Bary are both wanted in connection with al-Qa'ida bombs. They were, say American prosecutors, helping to run its London office in 1998, when al-Qa'ida bombed the American embassies in Kenya and Tanzania. Babar Ahmad and Syed Talha Ahsan are both wanted in connection with jihadist websites. Fawwaz was arrested in 1998. Bary was arrested in 1999. Ahmad was arrested in 2004. Ahsan was arrested in 2006. All four men have been held, without charges or trial, ever since.
When the Queen looks at these cases, she might think they don't look quite so great. She might, for example, have heard about the way Babar Ahmad was arrested. She might have heard how he had 73 injuries by the time he arrived at Paddington Green police station, and how the Crown Prosecution Service said there was "insufficient evidence" to prosecute the police officers, but how he was eventually awarded £60,000 compensation in the High Court. She might think that six years was quite a long time to spend in prison without any charges, but that 14 years without charges was almost a joke.
She might have thought it was quite strange that the Crown Prosecution Service didn't seem to think there was enough evidence to prosecute Babar Ahmad, when American prosecutors did. She might have read the indictment that was filed in Connecticut, where one of the servers of the website Babar Ahmad and Syed Talha Ahsan were supposed to be running was based. The indictment said that Ahmad had "helped create, operate and maintain" websites that were intended to "recruit mujahideen" and "raise funds for violent jihad". She might have thought that if someone had been involved in running websites like that, it surely couldn't be that hard to show they did.
When the Queen watches five Muslims get on a plane, she might feel quite confused. She might think the prosecution service that acted in her name had done a good job on Abu Hamza, but she might think it hadn't done quite such a good job on Fawwaz, Bary, Ahsan and Ahmad. She might understand that one of the reasons they had been held without charges for so long was because of the legal battles against extradition they had fought. She might accept that if they had chosen not to fight those battles, they would have faced charges before. But she might also want to remind the world that prison is meant to be for people who are found guilty, and guilt is meant to be based on evidence.
When the Queen watches five Muslims get on a plane, she might want to remind the justice system in her own country that if you want to prosecute a criminal, you have to show that they've broken a law.
c.patterson@independent.co.uk
Register for free to continue reading
Registration is a free and easy way to support our truly independent journalism
By registering, you will also enjoy limited access to Premium articles, exclusive newsletters, commenting, and virtual events with our leading journalists
Already have an account? sign in
Join our new commenting forum
Join thought-provoking conversations, follow other Independent readers and see their replies