That notorious Manchester New Years photo wasn't so much a work of art as an essay on the way we live now
I don't want to come over all Daily Mail on this, but for those of us who are not regularly exposed to the rituals of urban drinking culture, the effects on our streets can be quite shocking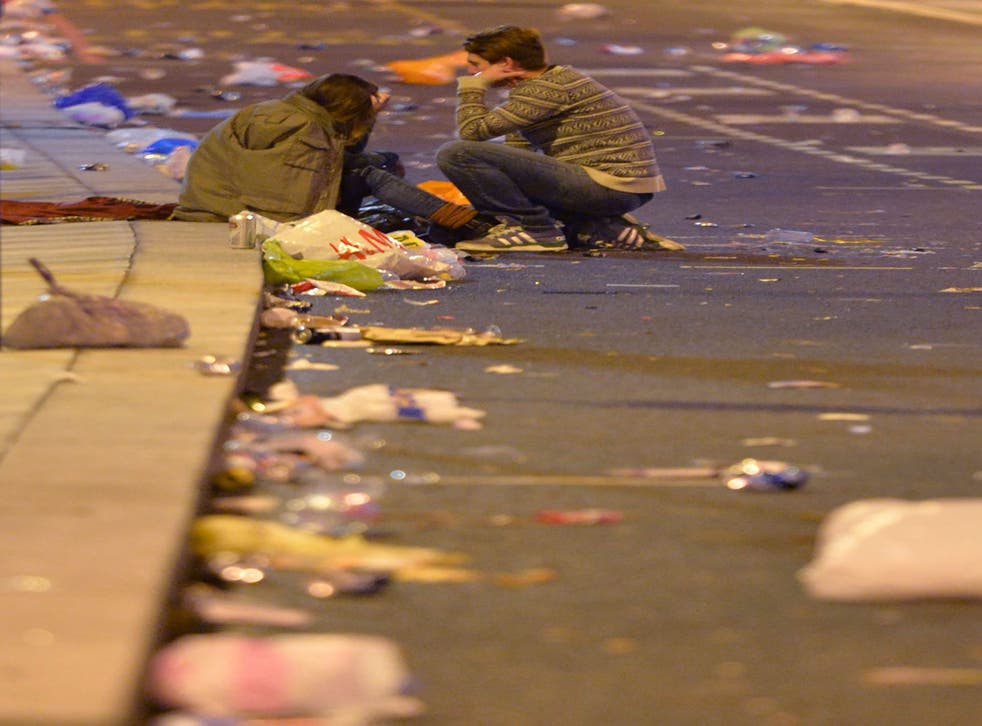 It must have been his spell as a sub-editor on The Independent that gave Roland Hughes his keen news sense, and his eye for a story. Mr Hughes, now a senior journalist at the BBC, is the man responsible for turning the photograph of a street scene in Manchester on New Year's Eve into a global viral sensation.
The picture was taken by freelance photographer Joel Goodman, and was one of many images of a Mancunian new year in an online gallery created by the Manchester Evening News. The alert Mr Hughes spotted the artistic merit of this particular shot, and tweeted that it looked like "a beautiful painting". He was, he says, inundated with responses on Twitter, as people compared it with works by Caravaggio, Hogarth and Lowry.
Thus far, the original post by Mr Hughes, who has barely 4,000 followers, has been retweeted 30,000 times, and newspapers around the world have written learned deconstructions of the photograph, explaining that its composition fits the "golden ratio", a mathematical proportion which artists and architects such as Dalì and Le Corbusier found to be aesthetically pleasing.
Forgetting the aesthetics for a minute, what about the content? It's hard to know exactly where to look, but it seems pretty clear that it's the immediate aftermath of an alcohol-fuelled discussion. One man is lying in the middle of the street, apparently having been knocked to the ground. Even though his position has been compared with that of the God-like figure in Michelangelo's Creation of Adam, his outstretched hand is performing a less divine function. He is clutching at a bottle of beer, and seems not to have spilled a drop on his journey from the vertical to the horizontal. The man, now identified as 47-year-old Mike Deveney, says he can't remember a thing about the incident.
Meanwhile, two policemen appear to be grappling with another man, and presumably not because he was lying on double yellow lines. A woman in a red dress and furry coat stands by and remonstrates, while a group of young people on the street corner survey the scene with a mixture of interest and insouciance.
It is, without doubt, an (ahem) arresting image of life after midnight in modern Britain, and like any important work of art, it exposes a wider truth about life. There is nothing to place this scene, and given that in the background we can see branches of Superdry and Greggs, it neatly defines the homogeneity of British high street. Moreover, it has no particular relevance to Manchester: this picture could have been taken in any big city or town in Britain at precisely the same time on New Year's Eve, or indeed any Saturday night.
I don't want to come over all Daily Mail on this, but for those of us who are not regularly exposed to the rituals of urban drinking culture (the pre-lash, the lash, and the after-party), the levels of consumption, with the inevitable effects on our streets – the fighting and the vomiting, for example – can be quite shocking. In that way, Joel Goodman's photograph, splendidly spotted and curated by Roland Hughes, is not simply a wonderfully composed image. It is an essay on the way we live now.
Join our new commenting forum
Join thought-provoking conversations, follow other Independent readers and see their replies