We live in more dangerous times than the Cold War. It's time for Russia and America to cooperate on nuclear weapons
Unless Obama can advance the agenda he set out in Prague in the next month and a half, President-elect Trump will inherit an exceedingly fragile world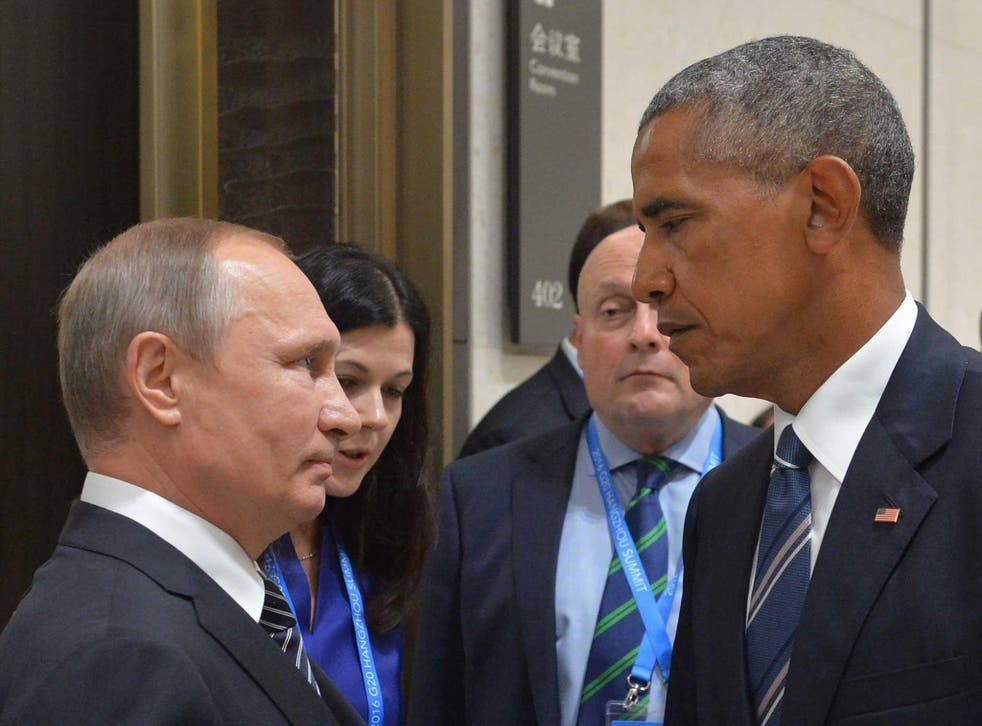 It is still too difficult to make a reliable assessment of the new US President-elect's nuclear policy. But we can make a judgement on the current administration. Despite promises by President Obama in 2009 to reduce the role of nuclear weapons and eventually rid the world of them, progress has ground to a halt, and started to reverse.
Unless Obama can advance the agenda he set out in Prague in the next month and a half, President-elect Trump will inherit an exceedingly fragile world. This week the International Atomic Energy Agency spelled out one of the threats when it warned that nuclear terrorists across the globe are capable of striking any country in the world. While countries have stepped up their investment in nuclear security, terrorists and criminals will try to exploit any vulnerability to get their hands on deadly radioactive materials and attack nuclear facilities, said the IAEA chief Yukiya Amano.
We are lucky that this has not already happened, although we have come close. Trump's gesture of rapprochement towards Russia during his campaign has provided hope that the current negative trends can be reversed – but time is not on their side.
Syria, the Ukraine conflict, the Iran deal and North Korea's ongoing missile and nuclear development, together with mutual recriminations between Moscow and Washington, have combined to divert attention away from historical agreements on reducing deployed nuclear warheads, and left us more vulnerable than at any time since the Cold War.
CIA director warns Donald Trump over the worst mistakes he could make with Iran, Syria and Russia
Given the potential for the domino effect, all of this threatens to wreck the Treaty on the Non-Proliferation of Nuclear Weapons, the landmark international treaty in which the US, former Soviet Union, the UK, France and China agreed to limit the spread of military nuclear technology and further the goal of disarmament.
The deep stagnation in relations between the US and Russia was the focus of another conference, by some of the world's leading experts in nuclear disarmament, which took place this week. The International Luxembourg Forum on Preventing Nuclear Catastrophe, of which I am President, brings together a high-level panel of scientists and experts from 14 countries, including Hans Blix, former Director General of the IAEA and former UK Secretary of State for Defence Des Browne.
Not for the first time, our forum expressed concerns that there has been no follow on to the New START Treaty. This time, there was also anxiety at the growing trend among our global leaders to express their willingness to use nuclear weapons. Playing with the possibilities that nuclear weapons offer as a way to keep others in check is a dangerous game, pushing us closer the brink of a Cold War-like nuclear arms contest.
Indeed, they would do well to recall the wisdom of former Soviet and US leaders during the Cold War. At the time, Presidents Reagan and Gorbachev recognised their tremendous responsibility for global security and opened a path to substantial progress on nuclear disarmament.
Ukraine marks the 30th anniversary of the Chernobyl nuclear disaster

Show all 12
As far as the general public is concerned, decades old agreements over the reduction of nuclear arms may seem like a long stretch from the modern-day threat of a "dirty bomb" being unleashed by a terrorist organisation. But for Yukiya Amano's appeal to all countries to be vigilant against nuclear terrorism to be truly effective, the leaders of Russia and America must also be committed to addressing the core issues and willing to cooperate.
Only by resuming cooperation can these two superpowers demonstrate to the world that there is a united approach to improving the security of radiological materials, and around cyber-security – to protect against attacks on nuclear command-control and early warning assets, as well as nuclear sites.
There are some things that President Obama can do right away. Last December, the Luxembourg Forum made a series of recommendations aimed at improving the security of both parties, including urging President Obama and President Putin to ensure that adequate measures are in place to prevent the accidental or mistaken launch of weapons. But first, they need to revive the dialogue they abandoned years ago.
There has been speculation that before he leaves office, President Obama may declare a "no first use" policy for the United States' nuclear arsenal, which would be a landmark change. Another option under consideration is offering Russia a five-year extension of the New START treaty. That would seem to be a useful, especially when considering that the absence of any treaty would place strategic offensive arms outside of the legal framework that, for decades, has allowed them to reliably verify compliance with its obligations.
The lack of information about the status of the armed forces and capabilities of conflicting parties would open a direct path to an uncontrolled arms race.
Trump will be conscious of his legacy. After years of inaction by the current administration, even small steps by the next President can make a big difference. By reviving the channels of communication, Trump and Putin have the chance to pull us back from the brink of a profound crisis of nuclear arms control, disarmament and non-proliferation. What a legacy that would be.
Dr Moshe Kantor is President of the International Luxembourg Forum on Preventing Nuclear Catastrophe
Join our new commenting forum
Join thought-provoking conversations, follow other Independent readers and see their replies