Like imperialists of old, Nigel Farage blundered ignorantly in and nicked our country from under our noses
Nigel Farage had a dream – he dreamed of taking this country back to the Fifties, and he has doubled out splendidly on that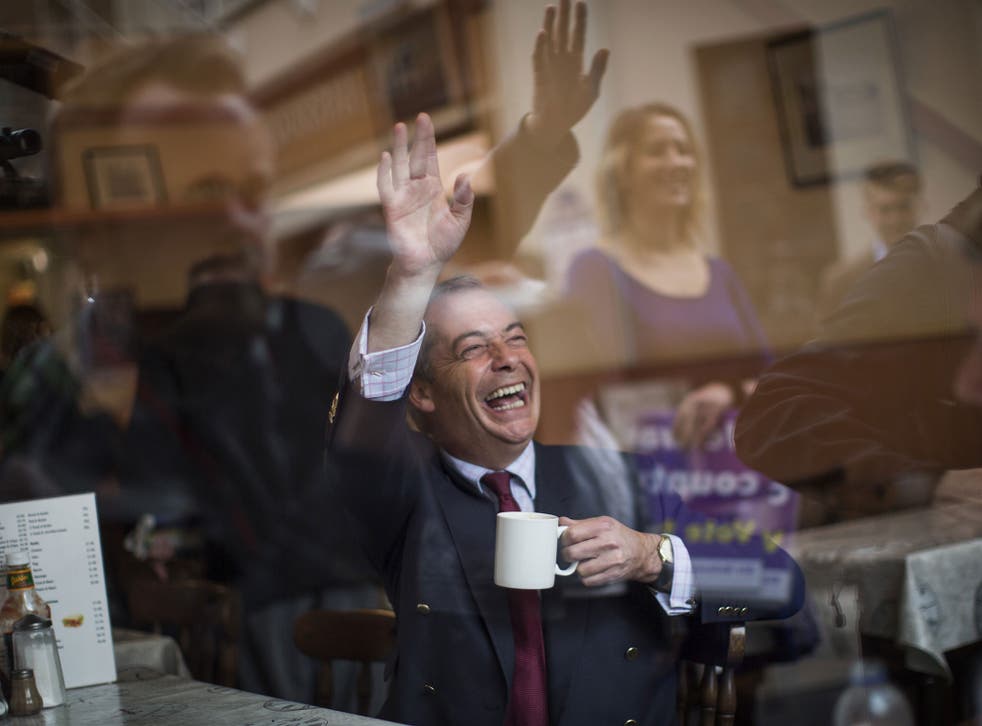 So farewell, for now and for a while, to the anti-Martin Luther King.
With his charming poster of Syrians queuing forlornly in that distant corner of the UK that will forever be Slovenia, Nigel Farage reminded us that he too has a dream, albeit the reverse of Dr King's.
Nigel dreamed of a land where people are judged not by the content of their character, but by the colour of their skin. He also dreamed of taking this country back to the Fifties, and he has doubled out splendidly on that.
We are transported back to the mid-1950s, of course, after the end of bread rationing but before large scale immigration from the former colonies. That mythical Elysium, sun-dappled age of innocence when Pop Larkin thought everything "perfick", and boarding house owners had no need to express their absolute right as Her Britannic Majesty's free born subjects to announce which potential guests they found undesirable.
Brexit: UKIP leader Nigel Farage resigns
How long now before someone is dragged to court for decorating a B&B window with a sign reading "No Poles. No Romanians. No rabid Bulgarian dogs"?
The 1950s was not quite the paradise Rotarian and rural Ukippers care to believe. Poverty was rife, grimy and grinding. Rigid intolerance of all manner of otherness held sway. Maybe we'll be intimately reminded of how that felt before too many years have passed.
To Farage's credit – and you must doff the cap for this – his time-warping power extends beyond that. His odyssey from laughable irrelevance to significant historical figure – the most influential change agent we've seen since Margaret Thatcher, although in time he may be judged even more transformative than her – has also taken us back to the 1850s.
Early in Victoria's reign, in the glory days of Empire, the bespoke genius of British colonialists was to bemuse and beguile their victims with the appearance of imbecility. A chap seemingly, if anachronistically, transported from the pages of a PG Wodehouse story would toodle off to a far-flung country with a few troops. The natives, understandably taking him for an absolute chump, would pay him no heed. A week later they'd glance up and notice he'd nicked their country from under their noses.
Nigel Farage's most controversial moments

Show all 12
Perhaps that's a simplistic reading of complicated imperial history. But since these are days of unfathomable complexity in which simplistic verities/lies determine our fate, I won't apologise for trying to fit in.
Farage needed longer than a week to pull off that old ruse. It took him about 20 years in what has been identified as his own sitcom (the brush with testicular cancer, the plane crash on election day, the incessant resignations and un-resignations, the dalliances with Latvian barmaids).
The equine smile and bombastic blethering always put me in mind of a minor character in The Archers; a retired vintage car salesman, perhaps, with a vaguely shady past who inexplicably settles in Ambidge. After five months of boring the denizens of The Bull to distraction with the incessant snug bar philosophy, an incomprehensible coupling with Ruth Archer in the lambing shed causes the scandal that drives him from the village. He is never heard of again.
We should be so lucky. Like Arnie's cyborg, if with a quarter of the charm, the Dulwich College semi-educated commodities broker who fought such a valiant rear guard against privileged elites will be back.
This resignation will endure longer than the previous two (in one, if memory serves, he un-resigned midway through his resignation statement).
This time round, he has unwittingly revealed that he means to spend some 30 months trying to make things right with Frau Farage (pray to God that she has kept her German passport and her options open) before returning.
His party may have another by then. It obviously needs some post-referendum rebranding as it concentrates less on whipping up shire folk who haven't once seen a dark face or heard a Baltic brogue, and more on displacing Labour in the Midlands and post-industrial north.
But you have to assume it is his intention to have a nice, battery-recharging rest, and make a few million on the after-dinner speaking circuit, before returning towards the end of 2018. Or as he put it himself, "Let's see where we are in two and a half years."
After a decent period of Ukip mayhem under an obscure and inadequate new leader, how could such a man of destiny refuse to answer the call to serve again in good time to fight the general election scheduled for May 2020?
Considering the dearth of adequate potential successors, and Ukip's history of barely broken fiasco, mayhem must ensue. You might wonder if he chose to withdraw while the horizon is so clear of natural successors, with such chaos in mind. I'd never use the phrase on a train for fear of unsettling him, but is this the Faragist version of après moi le déluge?
Farage is no more to my taste than he may be to yours. But while no one would level the grave accusation against him of being too clever by half, it would be cheap not to acknowledge the instinctive cunning beneath the Bertie Wooster bounder-of-an-uncle facade. And churlish not to congratulate him on a great victory over those of us who vaguely wanted to live a country moving forward towards the future, rather than stumbling blindly back into the past.
Nigel Farage blundered into national life with the fathead grin and the silly boating jackets, and didn't we scoff? Twenty years later, we look up and see he's nicked our country from under our noses.
Sleep well, sweet prince, and see you again one of these days. Although not, God willing, too soon.
Register for free to continue reading
Registration is a free and easy way to support our truly independent journalism
By registering, you will also enjoy limited access to Premium articles, exclusive newsletters, commenting, and virtual events with our leading journalists
Already have an account? sign in
Join our new commenting forum
Join thought-provoking conversations, follow other Independent readers and see their replies