Choirs are magical - but should they be a social tool, too?
There's a risk that in using choirs for everything from helping fragmented communities to stress relief, we drag them down to the level of the mundane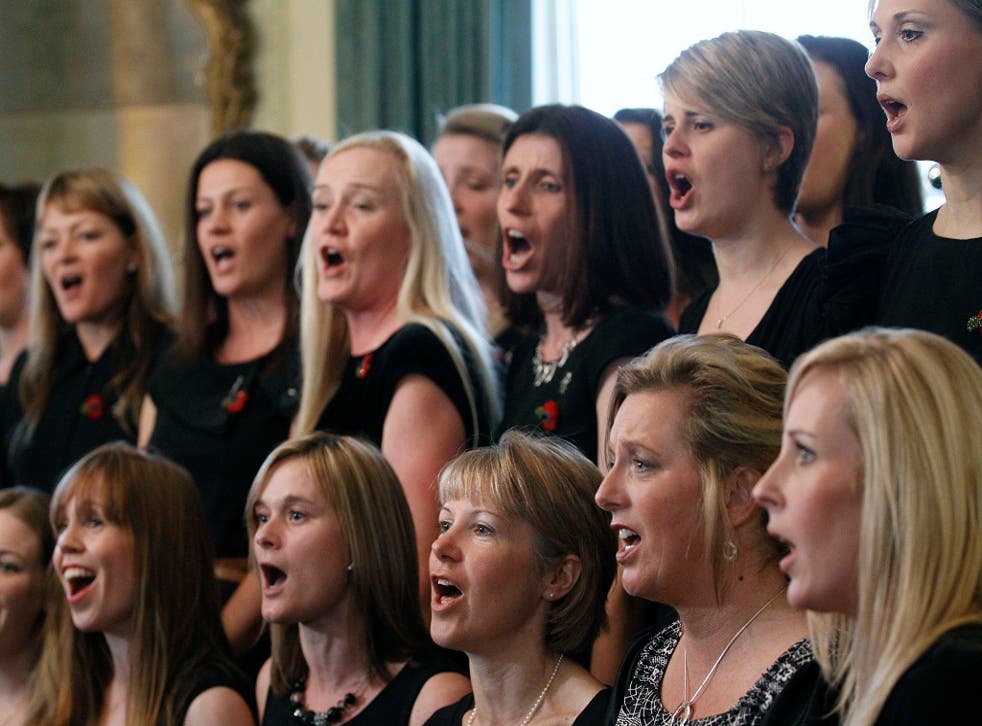 Choirs have been with us a long time. They have their origins in Greek Tragedy and the Italian Renaissance. Fifty years ago they were commonplace in our schools, workplaces and social organisations, but until recently most of us had come to associate them with Christmas concerts and village halls.
Now though, they are making a spectacular comeback. Like the growth of book clubs, debating societies and various specialist interest groups, choirs have benefitted from a renewed interest in communal activities. New choirs are popping up around the country. Friends and workmates are getting together, forming their own groups or joining existing choirs in greater numbers. Organisations such as Birmingham Opera Company and the newly-launched London Youth Choir, are helping ordinary members of the public find their voice for the first time. Choral festivals and singing workshops are increasingly numerous. Extraordinary Voices at the Barbican, Voicelab at the South Bank Centre and the Voices Now at the Roundhouse in Camden are just a few examples.
More than anything, it's the huge success of TV shows like Last Choir Standing and The Choir that have most clearly demonstrated the renewed public interest in all things choral. With little more than the wave of his conducting stick, TV presenter and charismatic choir master Gareth Malone (The Choir), transforms sullen school kids into beaming angels and shy, stay-at-home army housewives into confident, strutting divas, ready to take on the world.
It calls to the heavens
But the sight of happy, smiling faces hasn't escaped the attention of social policy makers, increasingly concerned with managing our mental and physical health. Music associations too, have begun to present the benefits of choral singing in social terms. According to national amateur musicians body Making Music, "community music groups... impact social cohesion, individual wellbeing" and are "the perfect embodiment of the Big Society in action". BBC2's 'The Choir' website asserts that singing "is good for physical, emotional and social wellbeing" as well as confidence, self-esteem and breaking down barriers. But can, and more importantly should, choirs be used as a remedy for our individual and social ills?
Over the centuries choral music has performed all kinds of social functions. Most importantly, in Christian tradition it evolved as our call to the heavens. During the 18th century Enlightenment, an appreciation of music and learning for its own sake emerged and secular groups such as the Madrigal Society and the original Glee Club, which later spread across the US, were formed. From around this time communities also began to form choirs specifically to raise funds to build schools and hospitals.
For the Victorians choirs had a moral dimension. Involving oneself and others in choral and music societies more generally was seen as a form of self improvement, and a means of keeping the lower orders out of the pub and out of political intrigue.
Singing for our health
No matter how their social function has changed over the last few hundred years, there's always been a spiritual or metaphysical dimension to choirs. Whether it's reaching up to God, the act of making music for its own sake, or simply the immersive, almost magical experience of singing in harmony with others, choral music has the power to lift us up above our individual, everyday lives. As Hungarian composer and pedagogue Zoltán Kodály argued, "music is a spiritual food" and "one of the most powerful sources for the uplifting of mankind".
The great danger for today's choral renaissance is that, in enlisting it to help cure everything from fragmented communities to stress relief, we will drag it down to the level of the mundane. And must we measure everything in terms of health benefits? Should joining a choir become an adjunct to the 'five a day' directive? If we concede that choirs are little more than a healthy lifestyle option then it won't be long before another part of our private lives are colonised and regulated by 'experts' and health professionals.
Choral singing may have curative qualities but if we recast it as just another healthy lifestyle activity, like going to the gym or visiting our GP, then all that's magical, inspiring and elevating about the choral experience might just melt into air.
Niall Crowley is a singer in the amateur chorus of Birmingham Opera Company. He is chairing the session All together now: the rise of the choir at the Battle of Ideas on Saturday 20 October
Independent Voices is partnering with the Battle of Ideas festival to present a series of guest articles from festival speakers on the key questions of our time.
Register for free to continue reading
Registration is a free and easy way to support our truly independent journalism
By registering, you will also enjoy limited access to Premium articles, exclusive newsletters, commenting, and virtual events with our leading journalists
Already have an account? sign in
Register for free to continue reading
Registration is a free and easy way to support our truly independent journalism
By registering, you will also enjoy limited access to Premium articles, exclusive newsletters, commenting, and virtual events with our leading journalists
Already have an account? sign in
Join our new commenting forum
Join thought-provoking conversations, follow other Independent readers and see their replies