The Independent's journalism is supported by our readers. When you purchase through links on our site, we may earn commission.
As schools around the world deal with Covid, Palestinian children also face the threat of demolitions
As children or young adults, you spend almost the same amount of time in school as you do at home – that connection you develop to school should not be disrupted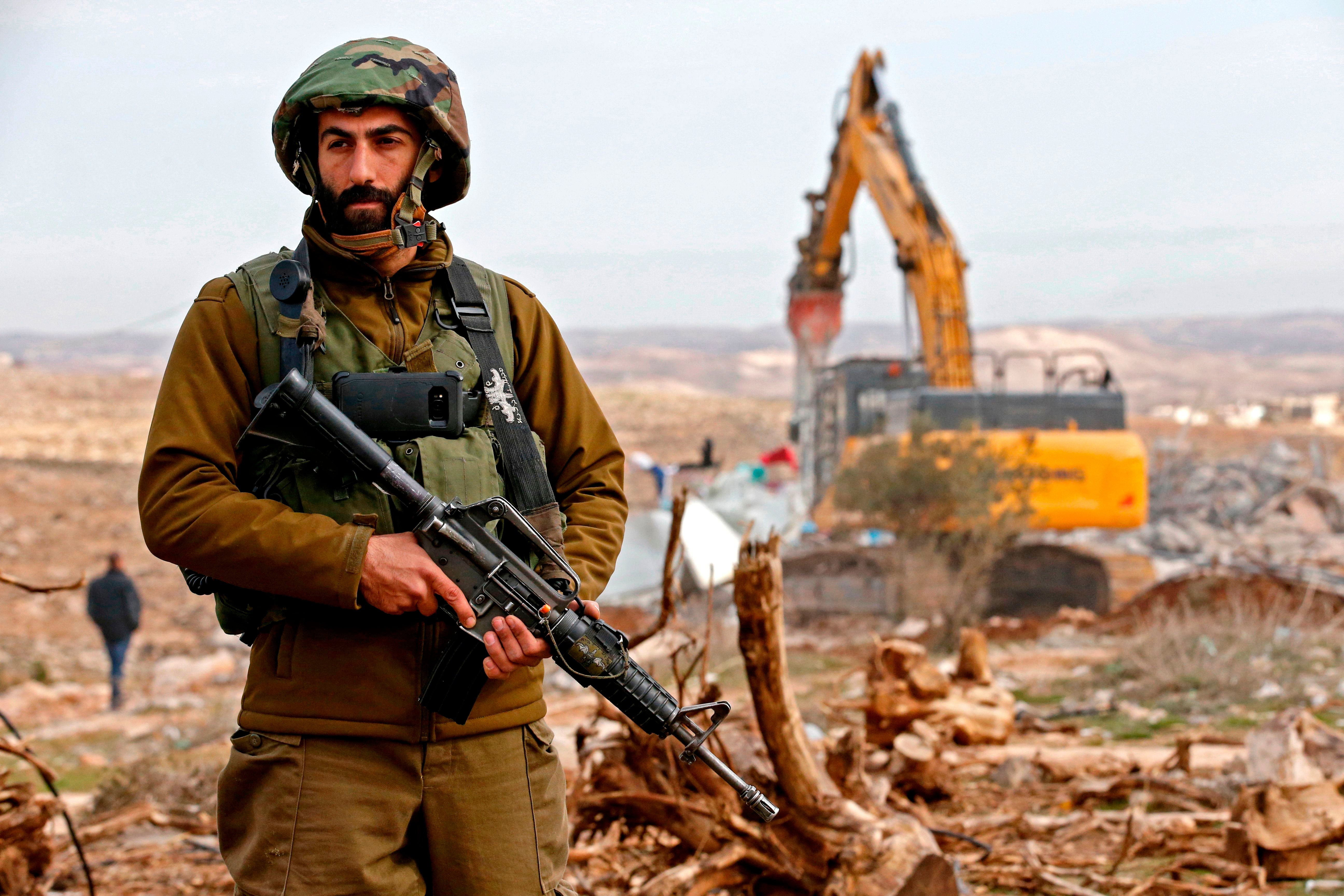 All around the world, teachers, children, and families are making incredible efforts to adapt to the conditions imposed by the Covid-19 pandemic, keeping up invaluable education while also caring for physical and mental health.
In Palestine, however, there is an additional challenge: Israeli occupation.Last week, UN human rights bodies warned that a Palestinian school in the occupied West Bank is under "imminent threat of demolition" by Israeli authorities. The statement added that a total of 53 schools currently have Israeli demolition orders "placed against them".
In Palestine, there is no safety in schools; classrooms are not immune from the violence caused by the occupation and childhoods are scarred by the trauma of it. 
In the West Bank, schoolchildren fear checkpoints, tear gas, and bulldozers. For us growing up in the Gaza Strip, we fear bombs falling from the sky and are ready to jump from our chairs at any time during class. No child should have to feel this way.
As children or young adults, you spend almost the same amount of time in school as you do at home. The connection you develop to school is disrupted, however, when it is where you first experience a bomb exploding nearby, the place where you first scream for your life.
Imagine growing up in a place where everyone around you has been exposed to political unrest, where your basic rights are stripped from you as soon as you are born. You soon learn that you live in what feels like an open-air prison. It is a kind of psychological strangulation, a parallel to the Israeli checkpoints and blockade. You doubt the worth of your own existence, when your life has been so determined before you were even born - the marginalisation and stigmatisation produced by colonialism. Eventually you realise that the Palestinian identity becomes one of the most important aspects of your self-identity.
Being born into, and growing up within, this reality of oppression and powerlessness leads to divergent consequences in educational settings; a loss of motivation, but at the same time the need to exert control and have agency - thus, education becomes a place of resistance.
Of course, Palestinian teachers are also living with many day-to-day issues. Underpaid and overworked, our teachers have to deal with the trauma themselves just like the children and their families.Nor does the impact of occupation on education stop when we leave school.
Palestinian universities in the West Bank and Gaza Strip experience a lack of resources and a limited diversity of study choices, with academic exchanges and professional development restricted by the denial of self-determination and inability to control one's own borders.
Faculty from overseas are denied entry and visas by Israeli officials, while many students are arrested for political activism. Israeli officials have the temerity to accuse our educators of "incitement". Such accusations are cheap - and dehumanising - diversions.
How can Palestinian educators be criminals when they walk into class knowing there could be news that some of their students have been buried? They teach and forge connections with students, even with the reality that any one of those children could be the next victim.
As Malaka Shwaikh wrote in a collection of essays published last year, the struggle of Palestinians against Israeli colonisation "seeks to exercise the fundamental right to represent ourselves with our own voices, language, and words". Education is one of the most precious contexts for this form of representation, and, in the face of Israel's demolitions and discrimination, it is pursued with resilience and pride by Palestinian teachers, students, and families.
Tala Shurrab was born and raised in Gaza, and is currently pursuing a Master's in Psychology and Education at the University of Cambridge.
Join our commenting forum
Join thought-provoking conversations, follow other Independent readers and see their replies