Philip Hammond's Autumn Budget can't please everyone – and Brexiteers are relishing his tricky situation
Some Tory MPs want Hammond to end austerity – in effect, to recognise that Corbyn won this argument in June, others say this would surrender their party's reputation for economic competence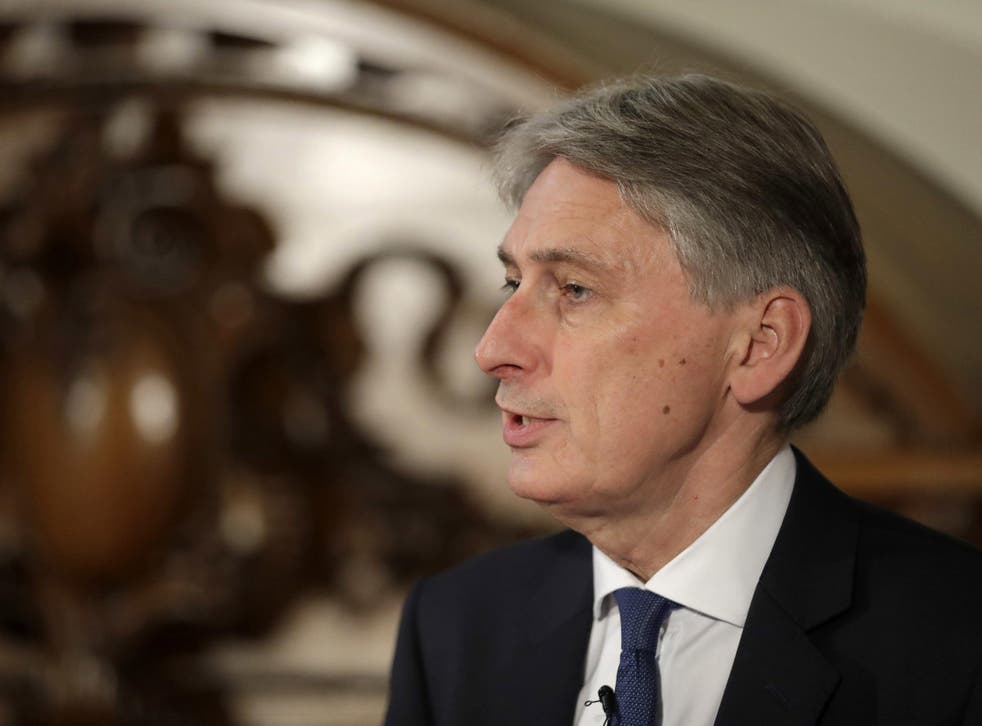 We will never know whether Philip Hammond would have raised interest rates on Thursday if the power to set them had not been handed from the Treasury to the Bank of England when Labour took office in 1997. But I suspect that the Chancellor would have held rates at 0.25 per cent – for now, at least.
For starters, an already difficult Budget on 22 November has just got even harder. The first rate increase for 10 years will put more pressure on hard-pressed households hit by wage stagnation and higher inflation. Although the rise to 0.5 per cent was small, it will be a new and unwelcome experience for younger adults used to ultra-low interest rates – and this is a group the Conservatives are desperate to woo after many shifted to Labour at the June election.
Hammond believes that falling real incomes were the main reason for this switch, and for Jeremy Corbyn's popularity. But his room to do much about it in the Budget is very limited. He will have little cash to splash, and proposing tax rises would be risky because the Tories lack a Commons majority. He knows that hardline Tory Brexiteers are almost willing him to fail so they can demand his head; their real motivation is that he is (rightly) pushing for a softer Brexit to limit the economic damage of leaving the European Union.
I am told the Chancellor wants to make housing and NHS pay his key priorities. But he has a long list of demands by cabinet colleagues and Tory backbenchers to spend more – on the trouble-hit universal credit programme; health and social care; lifting the public sector pay cap more widely; university tuition fees; skills; police and prisons.
Hammond: Money spent on a no deal Brexit is money "we can't spend on the NHS or social care"
He must find £1bn for Northern Ireland to keep the Democratic Unionist Party sweet, and fill a £500m-a-year hole after his swift U-turn over national insurance rises for the self-employed in his March Budget. A genuinely fair package this month would ease the four-year freeze on working-age benefits, especially for people in rented accommodation. And all that's before the cost of Brexit. So he can't possibly please everyone.
The pressures are conflicting: gloomy Tory MPs demand a new agenda to rally behind, but don't agree on what it should be. There are calls for generous, radical policies but fiscal constraint; more state involvement in housing but no "Red Tory" state intervention and more help for under-45s without harming pensioners.
Some Tory MPs want Hammond to end austerity – in effect, to recognise that Corbyn won this argument in June. While the buzzword at the 2015 election was the deficit (the Tories won), this year it was austerity (they lost their majority). But other Tories say this would surrender their party's reputation for economic competence, and insist that becoming Corbyn-lite would not win the next election. They are urging Hammond not to drop his target of clearing the annual deficit by the mid-2020s. He will probably be reluctant to abandon a goal he set only a year ago – even though the Office for Budget Responsibility watchdog will downgrade expected productivity growth, which could use up to £18bn of the reserve fund he has set aside for Brexit.
Hammond is understandably wary of spooking the markets at a time of jitters over Brexit. But he should throw his natural caution to the wind. He knows Brexit could result in a downturn. In effect, the Bank of England has now passed to him the job of keeping the economic wheels turning, through fiscal rather than monetary policy; interest rates could not go much lower and quantitative easing has disproportionately helped the better off.
The Chancellor should embrace the bold plan to borrow £50bn for housing by Sajid Javid, the Communities Secretary, which would help renters get on the property-owning ladder; ensure swift housebuilding on government land to avoid the usual delays caused by developers sitting on land banks and persuade Theresa May to allow some building in the Green Belt. Hammond should announce he is prepared to extend beyond 2025 the date by which the nation balances its books. After all, that is a long way off; the immediate pressures are so great that another couple of years would not make much difference. And the deficit was supposed to have been cleared by 2015.
A genuinely radical package on housing could be a game-changer. This Budget is an opportunity for the troubled Tories to appeal to young adults that they cannot afford to miss.
Join our new commenting forum
Join thought-provoking conversations, follow other Independent readers and see their replies