At least the Conservative back benches had the dignity to sit in silence as they listened to their leader's excuses on homelessness
Homelessness is not an abstract problem in Westminster. It literally darkens its doorstep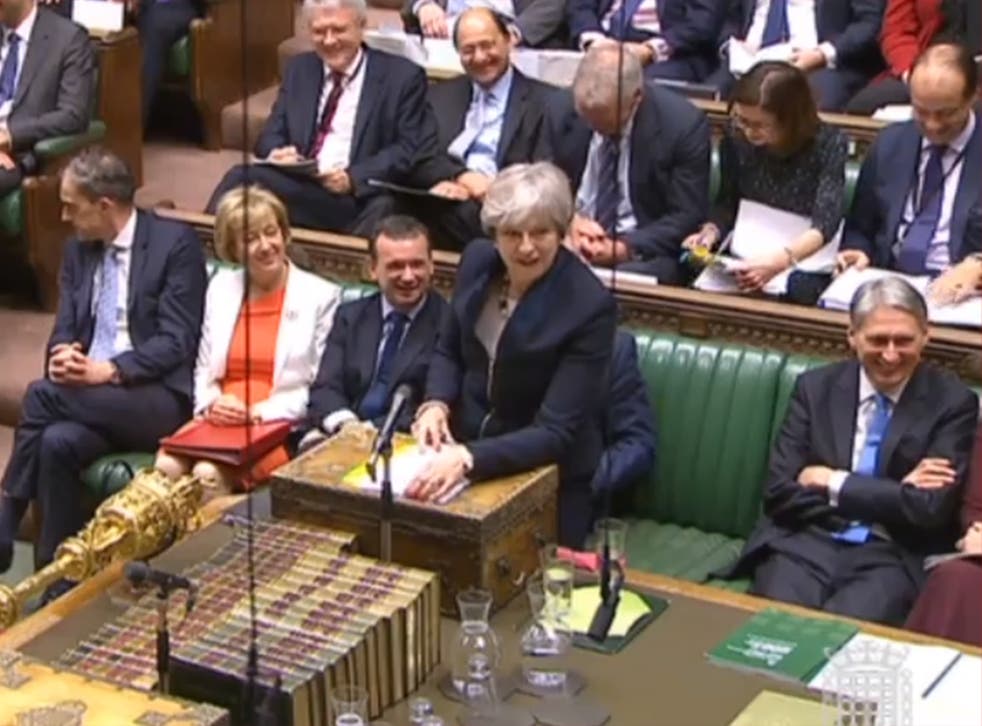 An almost hidden entrance within Westminster Tube station itself protects MPs from the cold and rain when they arrive at the House of Commons every morning.
But they are not the only ones that have cottoned on to this warm, dry secret in the middle of central London. At 7am, when the revolving doors are opened, the earliest arrivals step over or otherwise circumnavigate a daily gathering of bodies under sleeping bags and on top of dismantled cardboard boxes. As MPs and their staff blip their badges and jab their fingers into the keypads, police officers in hi-vis jackets do the same to these huddled masses of synthetic fabric, telling them, "Come on. Time to move on."
Which may go some way to explain why, as Jeremy Corbyn quietly raised the fact that rough sleeping has doubled under the Conservatives, the benches opposite him went even quieter.
Most social problems – fixed odds betting terminals, unemployment, social housing – exist as an abstraction to most, but not all, MPs. They light up their inboxes but don't darken their lives. And they can always be explained away with some statistical sleight of hand.
Not homelessness. It exists in plain sight. It literally darkens Westminster's doorstep.
That the House was half empty didn't fully explain away the unsettling silence in which the exchanges took place.
The Labour leader asked the Prime Minister if she might make a promise that, homelessness having gone up every year this decade, 2018 might be the year it came down.
She answered by shifting the question on to some statistics about housing. About the "hundreds of thousands of affordable homes" the Government is building.
PMQs: Corbyn calls on May to pledge a reduction in homelessness in 2018
The definition of an "affordable home" varies. New property developments have to come with a certain percentage of "affordable" homes. Recently, a number of small flats in London satisfied the "affordable home" criteria despite costing £500,000 and requiring an £80,000 deposit.
Even at its less mad end, it takes quite the leap of imagination to think the number of these homes on the market bear even scant relation to the lives of those who have been stepped around in the dark in Westminster Tube station on the freezing mornings this week. And by the looks on the faces of the Conservative back benches, they knew it too.
The homelessness question cannot be answered with some statistics on housing transaction volume under the last Labour government, "40 per cent down under Labour", a fact confirmed beyond all doubt by the Prime Minister's attempt to do just that.
Homelessness and housing are, obviously, connected, but bad housing policy is not exclusively the disease of which rough sleeping is the symptom.
Through the long years of austerity which Jeremy Corbyn referenced, it was Conservative policy to turn the screw the hardest on the poorest. A strategic political decision, born of that generation's leaders who knew nothing of life or work beyond their one and only jobs in Conservative Central Office.
"It didn't really matter what the human consequences were," is how Nick Clegg described these policy decisions. "Focus groups had shown that the voters they wanted to appeal to were very anti-welfare, and therefore there was almost no limit to those anti-welfare prejudices."
But they mattered, at least for a few minutes, on Wednesday lunchtime, as Conservative MPs at least had the dignity to sit in silence and listen to the excuses for them.
Join our new commenting forum
Join thought-provoking conversations, follow other Independent readers and see their replies