At PMQs, David Cameron told Jeremy Corbyn exactly what he thought of him
Cameron, like Blair and Thatcher before him, could 'wipe the floor with these people' – and yet his services have already been dispensed with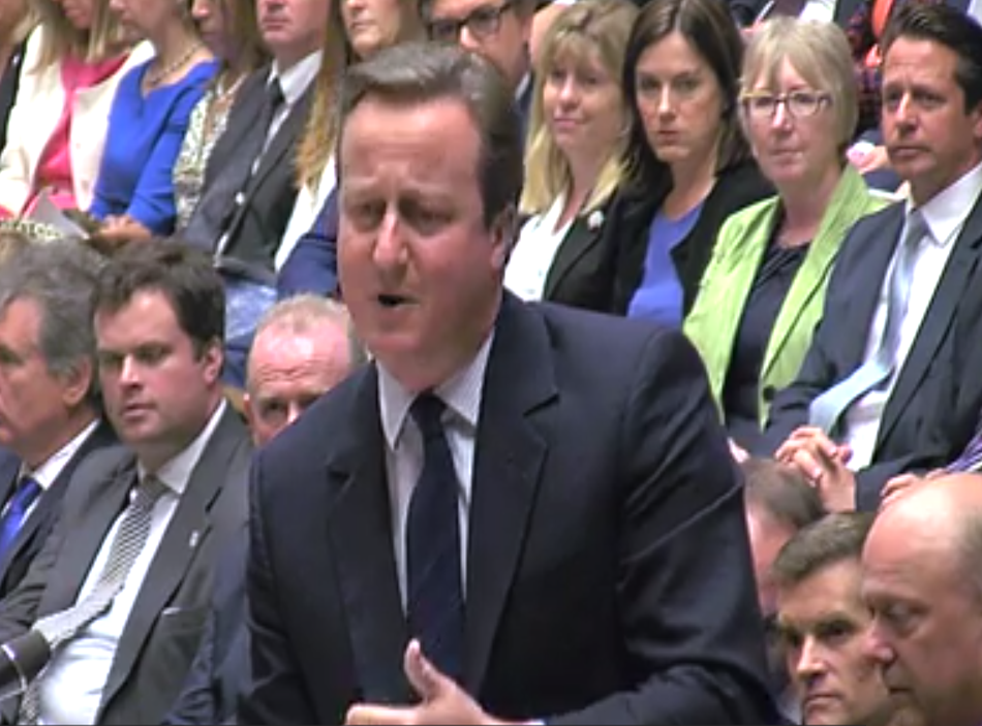 When a Prime Minister is on the way out, he or she doesn't have to bother with the niceties. "I can say these things now," David Cameron told Alistair Carmichael, the Scottish Liberal Democrat who had the first question.
So the Prime Minister just said what he thinks. He saved up the most heartfelt declaration for his answer to Jeremy Corbyn's sixth and final question. They were tangling about the Government's record on poverty and child poverty in particular. Corbyn said there were 200,000 more children in poverty last year. Cameron said there were 300,000 fewer since 2010. But then he let fly.
"It may be in my party's interest for him to sit there, but it is not in the national interest. For heaven's sake, man. Go!"
It was a moment of authenticity. Clever journalists immediately pointed out that, if the top Tory tells him to go, Corbyn's supporters will be stiffened in their fight to keep him. But Cameron doesn't care if it helps Corbyn or not. I think he genuinely feels that the Labour leader has failed to put him under any real pressure, and that this is bad for British democracy. So he just said it.
Actually, Corbyn had put up a reasonable fight today. His questions were short and sharp. Indeed, for his first two questions he posed at the defender of big business worried about the effects of leaving the EU. It was almost as if he were reading out email questions from Siemens and Vodafone, as he asked the Prime Minister about the concerns of those companies by name.
His second question was about the downgrading of the UK's credit rating, as if Del from the City trading desk had emailed asking him to ask the Prime Minister for reassurance that capitalism was safe.
Cameron was so relaxed and comfortable at the despatch box that he made me feel old. I remember Tony Blair's last Prime Minister's Questions – not that this was Cameron's last session, but there was an after-exams atmosphere in the House. I remember Blair being asked a question about politics and his faith. He stood up, said, "I think I'm really not bothered about that one," and sat down again.
Future of British people living in Europe not secure, admits Cameron
The mood was similar at Margaret Thatcher's last appearance in the Commons as Prime Minister, on 22 November 1990. I wasn't in the Chamber at the time, but remember watching it on TV as if I were. Dennis Skinner heckled that she was "going to be the governor" of the European central bank. She said she would consider the proposal. "Now where were we? I am enjoying this."
Michael Carttiss, the Tory MP for Great Yarmouth, shouted out, asking her to cancel her resignation: "You can wipe the floor with these people."
Cameron knows he can wipe the floor with Corbyn, or any likely successor of his, or Angus Robertson of the SNP, or any of his internal opponents.
And yet he has been defeated.
Andrew Grice and I discussed today's PMQs on Facebook Live, which you can view here
Join our new commenting forum
Join thought-provoking conversations, follow other Independent readers and see their replies