The poppy has lost its original meaning – time to ditch it
With each year, the run up to Remembrance Sunday seems to become less about paying tribute to the fallen and more a litmus test for a particular sort of nauseating pub bore nationalism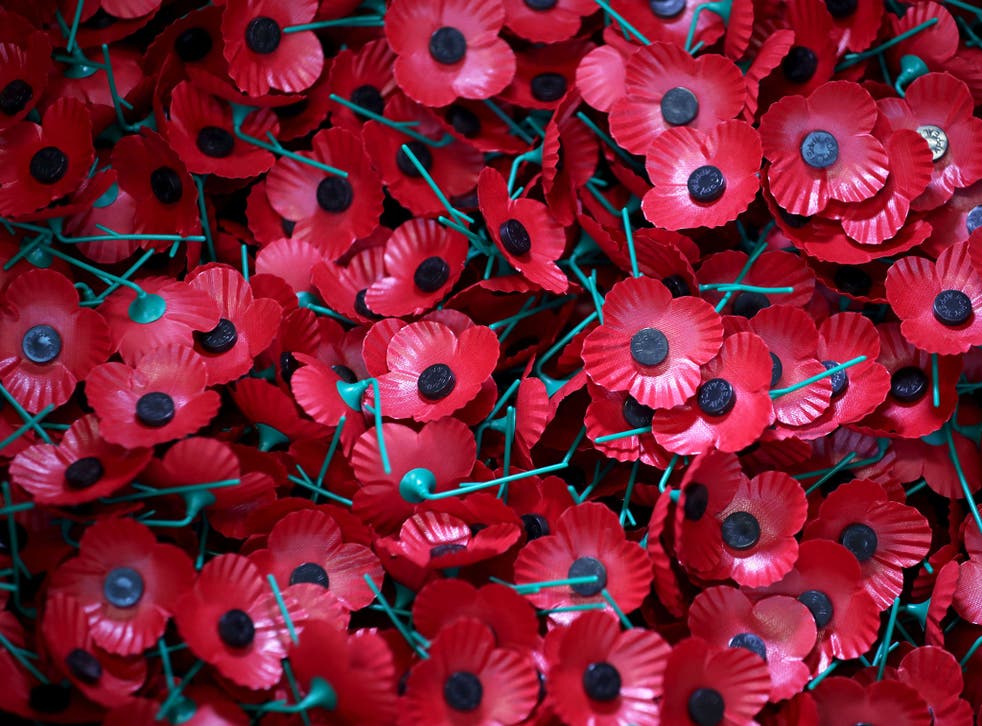 The Poppy Appeal launched last week and with it the now traditional blood-sport of hounding anyone in public life who appears without one. Within days, England cricketer Moeen Ali had been "caught" not wearing one on his lapel in an official team photo. Before he could get his apology out the social media Nazis were off – "rancid c***" barked one. "Come on @MoeenAli and @ECB_cricket why wasn't you wearing a poppy?" demanded another.
Pictures swiftly emerged of Ali sporting a poppy earlier in the day – but his explanation that it had simply fallen off didn't wash and a barrage of odium tinged with Islamophobia was directed at the player.
With each year, the run up to Remembrance Sunday seems to become less about paying tribute to the fallen and more a litmus test for a particular sort of nauseating pub bore nationalism, that has nothing whatsoever to do with the great sacrifice of war.
Britain and its Empire suffered an almost unimaginable loss in WW1. One million dead and two million seriously wounded. A generation of youth surrendered to early graves on the altar of competing regional ambitions. Once the slaughter was over, the nation took stock. There was little noble or sacred about the disaster that had befallen so many lives but what comfort was that? The grief had to be made sense of – and so grand cenotaphs were erected and the departed were sent on one final parade to holes in military cemeteries – ghostly platoons rendered in white crosses.
Wearing a poppy in the immediate aftermath of this catastrophe must have had enormous poignancy. In Britain, there was not a village or neighbourhood that had escaped the ravages of the Western Front. The little flower, rich with allegory, was a fitting memento.
Twenty years later there was a rematch and once that disaster was done the nation gathered again each 11 November to reflect on both events. Many of us born after the war grew up with old soldiers who could remember those gone from both wars and who were grateful for the new peace.
The last of the WWI veterans died nearly a decade ago and those of the second diminish in numbers as each year recedes.
Sky News presenter questions Breitbart editor over poppy
And as they retreat from us, a new generation that played no part in either conflict has risen to the challenge of reinventing remembrance for the 21st Century. Where once it was a solemn act of contemplation and remorse on village greens across the land – now it's a two week long twitter spat with some pathetic, childish digs at Germany from the tabloids thrown in for good measure.
Old soldiers might be fading away, but poppy fascism is a growing industry. Woe-betide any commentator, politician or passer-by who wanders into shot without a red paper flower in their lapel.
The truth is that as its significance fades Remembrance Sunday has become less an anthem for doomed youth and ever more a celebration of a wider, mostly male, seemingly infinite obsession with the two wars. The second conflict may have ended 72 years ago but you wouldn't know it. WWII is everywhere: it's on the telly, it's in our cinemas, it's on our minds and on our lips more than might be healthy.
When terrorist incidents happen, or the bus is delayed, we talk about "The Blitz Spirit" or "The Dunkirk Spirit" as if notions of steadfastness and stiff upper-lippery were unique to the British character. No matter that both terms were wartime propaganda concoctions dreamt up to knit a terrified and dis-unified Britain together in the midst of crisis. No matter that none of the people invoking it were even there. No matter that equating a late bus to the carpet bombing of a city is just plain dumb.
World news in pictures

Show all 50
"We survived the war, we can survive Brexit" – say those born decades after the conflict, with no connection to it – as if leaving the European Union equates in any way to six years of mass slaughter, misery and blood-shed.
Reproduced posters, plastered on office walls, tell us to "Keep Calm and Carry On" as if a jammed photocopier could in any way be associated with a Heinkel bombing raid. Politicians wishing to engage with Europe are denounced as "appeasers" or "quislings" and even our Chancellor of the Exchequer brands our closest allies "the enemy" to win kudos with the tabloid press.
This isn't unhealthy – it's unhinged.
Once the last of the old soldiers are gone what will Remembrance even mean?
The Royal British Legion takes great pains to point out that many of the donations today go towards those (and the families of those) who have suffered terrible injuries in Afghanistan, Iraq and other conflicts. As many as 75,000 servicemen and women have been left scarred in some way by action in those theatres. Of course we should focus on them and their families and yet the imagery of remembrance remains remorselessly focused on a war that no living person can remember
How long is it appropriate to mourn? Ask any specialist and you'll be told that those suffering prolonged bereavement or an inability to come to terms with events should seek counselling. Britain's on-going obsession with the two world wars and our mawkish, politically sponsored revisiting of grief should surely make us a suitable case for treatment.
The poppy has gone from a small act of remembrance to a virtual whip that is deployed to beat non-conformists into line.
As the centenary of the end of WWI approaches the question must be asked – how long do we continue to do this? How long is it seemly? And when does the time come to shift the emphasis away from the past and into the present?
Before all vestiges of the little red flower's poignancy are lost, it's time to retire the poppy – and move on.
Register for free to continue reading
Registration is a free and easy way to support our truly independent journalism
By registering, you will also enjoy limited access to Premium articles, exclusive newsletters, commenting, and virtual events with our leading journalists
Already have an account? sign in
Join our new commenting forum
Join thought-provoking conversations, follow other Independent readers and see their replies