America has been slow to respond to Puerto Rico's crisis because it has never cared about it
Barack Obama was much more interested in Cuba than he ever was in Puerto Rico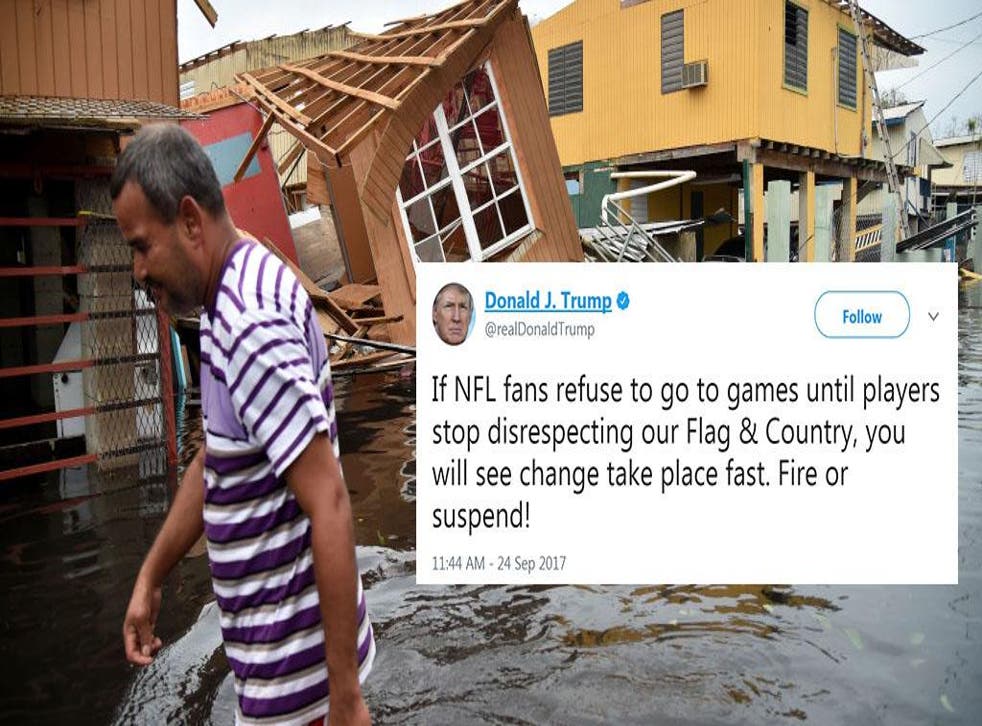 Donald Trump is under fire for spending all his time castigating professional athletes for disrespecting the flag while barely acknowledging the heartbreaking damage wrought by Hurricane Maria in Puerto Rico, whose 3.5 million residents are American citizens.
When he first addressed the calamity on the island – a not-quite US state and a not-quite nation – he even suggested that it's partly of its own making because it has been in recession for over a decade and its infrastructure was creaking and vulnerable long before the storm rolled in.
"Much of the Island was destroyed, with billions of dollars owed to Wall Street and the banks which, sadly, must be dealt with," he said on Twitter. Talk about being kicked when you're down. A crying child who just broke a tooth doesn't need a mother telling her that it's because she hasn't been brushing enough. She wants to be consoled.
There is little escaping that compared to Hurricanes Harvey and Irma in Texas and Florida, what has befallen Puerto Rico has received insufficient attention. And not just from Trump. Media coverage has been scant too. A study by mediamatters.org notes that even as the island's officials were warning of "apocalyptic" conditions in the wake of Maria, the five political talk shows in the US last Sunday dedicated just one minute to discussing its plight. Combined.
The islanders themselves will decide what they think of the federal response when the nightmare is over. Right now they are just trying to survive. But there are signs that the criticism has stung. By Tuesday, Trump had changed his tone. "Puerto Rico needs a lot of money," he told reporters at the White House. "We've worked very, very hard in Puerto Rico. It's very tough because it's an island ... We're doing a really good job." He will travel there early next week.
In truth, America's parenting of Puerto Rico has always been half-hearted at best, starting 100 years ago when it granted citizenship to its residents but told them they'd only be marginally involved in American democracy. They can participate in the primaries every four years but cannot cast votes for president. Similarly, their single representative in the US Congress can vote on matters of procedure but must leave the room when actual laws are passed.
There was Operation Bootstrap, a concerted effort to industrialise the island after the Second World War, which took on an additional importance in the 1960s when building a bastion of capitalism downwind from Cuba seemed like a smart idea. In the Seventies, the US introduced tax breaks to lure US multinationals to the island. But in the 1990s, President Bill Clinton began winding down those provisions, effectively putting the economy on a slow skid to where it is today.
Barack Obama always seemed more interested in Cuba than Puerto Rico. On a visit to San Juan in 2015, I found local economists in despair that Washington was turning a blind eye to its predicament which by then was getting serious. The island was already in a $70bn (£52bn) hole. That compares with $18bn (£13bn) for Detroit when it declared bankruptcy. But because it was a territory and not a US state – or a municipality – it did not have the right to declare bankruptcy, even though what it owed amounted to $100,000 (£743,000) for every working person on the island.
Nor was Washington interested in bailing it out. In fact, the Obama administration was explicitly ruling it out. It's why one economist I met with, Sergio Marxuach, public policy director at the Centre for a New Economy in San Juan, had that famous front page, "Ford to City: Drop Dead", pinned to his office wall. That was Gerald Ford brushing off a begging New York 40 years ago.
Eventually, in mid-2016, Obama signed a law making it possible for Puerto Rico to begin bankruptcy proceedings if it had to. In May this year, Puerto Rico did just that. It was officially bust and the journey to economic perdition complete, thanks to years of economic mismanagement in San Juan and of blatant neglect from Washington. Anyone who had been paying the slightest attention to Puerto Rico was hardly surprised. But few people had.
This is not just about spreadsheets. It's about people's lives. A broke government means broken public services. Everything has been in decline. Hundreds of schools have been closed or are slated to close because there is no budget for them. As the health system has imploded, doctors have been fleeing the island at the rate of one a day. Everyone who can has been leaving in an exodus to the US mainland that has seen the population drop 2 per cent in three years.
And now everything has been shredded, not by neglect or incompetence but by nature. Electricity grid down. Whole neighbourhoods destroyed. Lawlessness on the streets.
For years, on and off, Puerto Ricans have wrestled with their strange, twilight status. In June, a referendum showed 97 per cent in favour of becoming the 51st state of the US. It didn't mean much, first because opponents to statehood boycotted the vote but more because no one thinks there is even the remotest chance of the US Congress taking the steps necessary to accept Puerto Rico as a fully-fledged state. Because hardly anyone gives a fig about Puerto Rico.
Join our new commenting forum
Join thought-provoking conversations, follow other Independent readers and see their replies