This is the real story behind the economic crisis unfolding in Qatar
Only Shakespeare's plays could come close to describing such treachery – the comedies, that is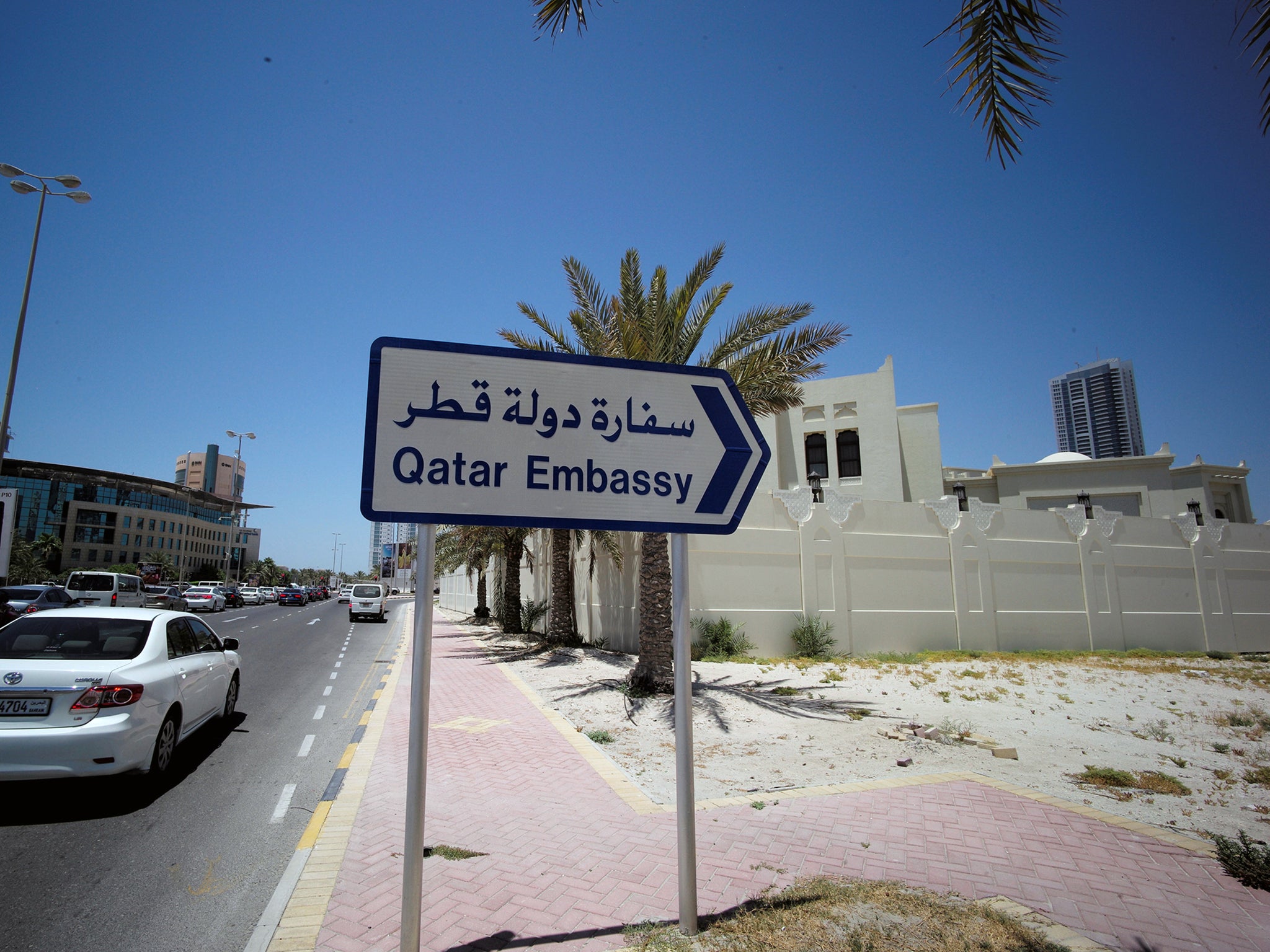 The Qatar crisis proves two things: the continued infantilisation of the Arab states, and the total collapse of the Sunni Muslim unity supposedly created by Donald Trump's preposterous attendance at the Saudi summit two weeks ago.
After promising to fight to the death against Shia Iranian "terror," Saudi Arabia and its closest chums have now ganged up on one of the wealthiest of their neighbours, Qatar, for being a fountainhead of "terror". Only Shakespeare's plays could come close to describing such treachery. Shakespeare's comedies, of course.
For, truly, there is something vastly fantastical about this charade. Qatar's citizens have certainly contributed to Isis. But so have Saudi Arabia's citizens.
No Qataris flew the 9/11 planes into New York and Washington. All but four of the 19 killers were Saudi. Bin Laden was not a Qatari. He was a Saudi.
But Bin Laden favoured Qatar's al-Jazeera channel with his personal broadcasts, and it was al-Jazeera who tried to give spurious morality to the al-Qaeda/Jabhat al-Nusrah desperadoes of Syria by allowing their leader hours of free airtime to explain what a moderate, peace-loving group they all were.
Saudi Arabia cuts ties with Qatar over terror links
First, let's just get rid of the hysterically funny bits of this story. I see that Yemen is breaking air links with Qatar. Quite a shock for the poor Qatari Emir, Sheikh Tamim bin Hamad al-Thani, since Yemen – under constant bombardment by his former Saudi and Emirati chums – doesn't have a single serviceable airliner left with which to create, let alone break, an air link.
The Maldives have also broken relations with Qatar. To be sure, this has nothing to do with the recent promise of a Saudi five-year loan facility of $300m to the Maldives, the proposal of a Saudi property company to invest $100m in a family resort in the Maldives and a promise by Saudi Islamic scholars to spend $100,000 on 10 "world class" mosques in the Maldives.
And let us not mention the rather large number of Isis and other Islamist cultists who arrived to fight for Isis in Iraq and Syria from – well, the Maldives.
Now the Qatari Emir hasn't enough troops to defend his little country should the Saudis decide to request that he ask their army to enter Qatar to restore stability – as the Saudis persuaded the King of Bahrain to do back in 2011. But Sheikh Tamim no doubt hopes that the massive US military air base in Qatar will deter such Saudi generosity.
When I asked his father, Sheikh Hamad (later uncharitably deposed by Tamim) why he didn't kick the Americans out of Qatar, he replied: "Because if I did, my Arab brothers would invade me."
Like father, like son, I suppose. God Bless America.
All this started – so we are supposed to believe – with an alleged hacking of the Qatar News Agency, which produced some uncomplimentary but distressingly truthful remarks by Qatar's Emir about the need to maintain a relationship with Iran.
Qatar denied the veracity of the story. The Saudis decided it was true and broadcast the contents on their own normally staid (and immensely boring) state television network. The upstart Emir, so went the message, had gone too far this time. The Saudis decided policy in the Gulf, not miniscule Qatar. Wasn't that what Donald Trump's visit proved?
But the Saudis had other problems to worry about. Kuwait, far from cutting relations with Qatar, is now acting as a peacemaker between Qatar and the Saudis and Emiratis. The emirate of Dubai is quite close to Iran, has tens of thousands of Iranian expatriates, and is hardly following Abu Dhabi's example of anti-Qatari wrath.
Oman was even staging joint naval manoeuvres with Iran a couple of months ago. Pakistan long ago declined to send its army to help the Saudis in Yemen, because the Saudis asked for only Sunni and no Shia soldiers; the Pakistani army was understandably outraged to realise that Saudi Arabia was trying to sectarianise its military personnel.
Pakistan's former army commander, General Raheel Sharif, is rumoured to be on the brink of resigning as head of the Saudi-sponsored Muslim alliance to fight "terror".
Five things to know about Qatar's first 2022 World Cup stadium
President-Field Marshal al-Sissi of Egypt has been roaring against Qatar for its support of the Egyptian Muslim Brotherhood – and Qatar does indeed support the now-banned group which Sissi falsely claims is part of Isis – but significantly Egypt, though the recipient of Saudi millions, also does not intend to supply its own troops to bolster the Saudis in its catastrophic Yemen war.
Besides, Sissi needs his Egyptian soldiers at home to fight off Isis attacks and maintain, along with Israel, the siege of the Palestinian Gaza Strip.
But if we look a bit further down the road, it's not difficult to see what really worries the Saudis. Qatar also maintains quiet links with the Assad regime. It helped secure the release of Syrian Christian nuns in Jabhat al-Nusrah hands and has helped release Lebanese soldiers from Isis hands in western Syria. When the nuns emerged from captivity, they thanked both Bashar al-Assad and Qatar.
And there are growing suspicions in the Gulf that Qatar has much larger ambitions: to fund the rebuilding of post-war Syria. Even if Assad remained as president, Syria's debt to Qatar would place the nation under Qatari economic control.
And this would give tiny Qatar two golden rewards. It would give it a land empire to match its al-Jazeera media empire. And it would extend its largesse to the Syrian territories, which many oil companies would like to use as a pipeline route from the Gulf to Europe via Turkey, or via tankers from the Syrian port of Lattakia.
For Europeans, such a route would reduce the chances of Russian oil blackmail, and make sea-going oil routes less vulnerable if vessels did not have to move through the Gulf of Hormuz.
So rich pickings for Qatar – or for Saudi Arabia, of course, if the assumptions about US power of the two emirs, Hamad and Tamim, prove worthless. A Saudi military force in Qatar would allow Riyadh to gobble up all the liquid gas in the emirate.
But surely the peace-loving "anti-terror" Saudis – let's forget the head-chopping for a moment – would never contemplate such a fate for an Arab brother.
So let's hope that for the moment, the routes of Qatar Airways are the only parts of the Qatari body politics to get chopped off.