Rishi Sunak's small boats plan will make the UK an international pariah
As one of his five pledges to the British public, Rishi Sunak has promised to stop small boats. Mark Davies argues that this approach is punitive and unworkable
Thursday 12 January 2023 15:43 GMT
Comments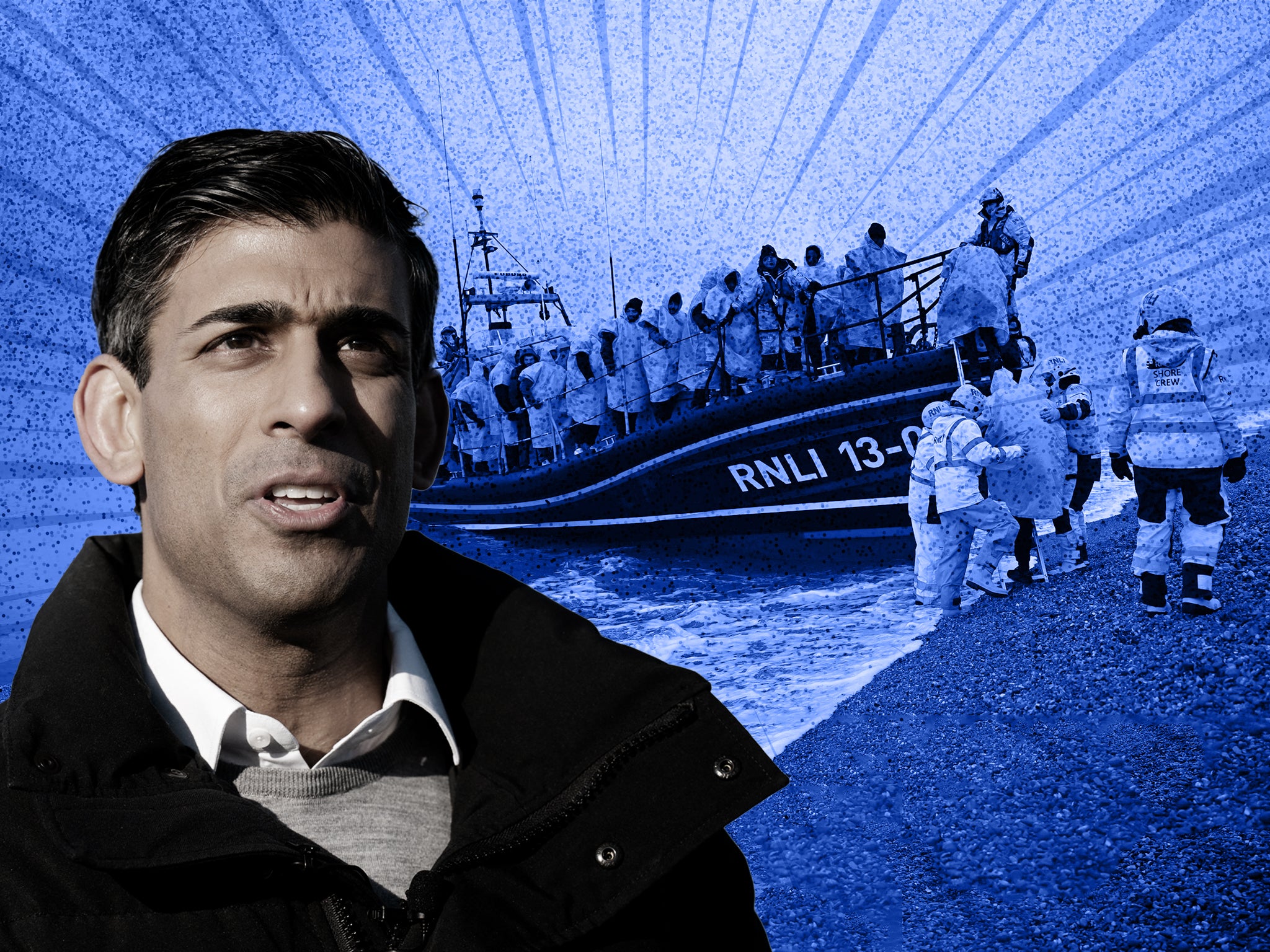 More than 200,000 visas have been issued to people fleeing the war in Ukraine. The various schemes set up to provide support for those facing unimaginable challenges in the face of the Russian invasion have not been without their problems, but the overarching picture is a positive one. The UK rightly stepped in to help people in their hour of need.
The position for those fleeing persecution in Iran or violence in Sudan, for instance, is rather different. No such scheme exists for Iranians or Sudanese people – and that's why people from those countries are among the main nationalities who arrive on these shores on small boats crossing the Channel.
Rishi Sunak has made stopping such crossings one of his five main priorities before the next general election. Proposals to immediately detain and then remove anyone arriving on a small boat back to their home country or a third country will be brought forward this year.
It is a draconian approach which will not work. It will leave thousands of people in detention in this country simply because – like all the Ukrainians we have welcomed – they have sought safety from war, conflict and persecution. And in seeking to remove the right to claim asylum, it will make the UK an international pariah alongside the likes of Russia and Belarus.
The reality is that the vast majority of those who arrive in the UK on small boats will eventually be recognised as refugees – grant rates for many countries are above 80 per cent. But the government plans to lock them up for the act of seeking sanctuary. Much has been made of Albanians, and while grant rates are much lower, it would be wrong to ignore the trafficking, criminal and sexual exploitation and blood feuds which lead to many claims being approved, particularly for women and children.
Under the prime minister's proposal, all those arriving on a boat would be detained, pending removal from the UK. The reality is that very few – if any – would be returned to the place from which have sought to escape, while third party agreements do not exist beyond the appalling Rwanda scheme, which itself would only take around 300 people and has already cost us £140m. Instead, many thousands, including those with strong asylum claims, would be left locked up in a permanent state of limbo.
No one wants to see people risking their lives in small boats. On that we agree with the prime minister. But the answer is not yet more punitive and unworkable legislation but instead a more rational, sensible conversation. There is no one simple policy or measure that will end the channel crossings – the individuals and groups making the journey are too diverse for that to ever be the case – but there are a series of measures that the government can and should take to give those people other options, as well as provide better management of the asylum system.
First, it should expand safe routes to the UK by making to easier for families to be reunited, for instance by allowing children to join their parents already in the UK. Humanitarian visas such as those used for Ukrainians could also be piloted for nationalities most often arriving boat, with application centres in the regions they come from.
There must – on top of this – be a much greater focus on cooperation between the UK and the EU, and in a way which goes beyond deterrence and into practical measures to deal more effectively with a problem which isn't going to go away because of beefed up security on French beaches.
The prime minister has pledged to take steps to rapidly reduce the backlog of asylum claims from people already in the UK, and also to explore the creation of more safe routes. Such commitments are to be welcomed, making it all the more regrettable that they come with pledges to be ever more punitive when it comes to the men, women and children who escape the horrors of war and violence taking dangerous journeys to reach our shores. 
The act of seeking safety should not be a crime.
Mark Davies is the head of communications and campaigns at the Refugee Council
Join our commenting forum
Join thought-provoking conversations, follow other Independent readers and see their replies