Don't be fooled into thinking that all Russians are 'enemies of the West'
MI5 may be warning of the views and actions of the present government in Moscow, but it is not so long ago that Russia was trying to forge closer economic and business ties with the US, especially in the tech sector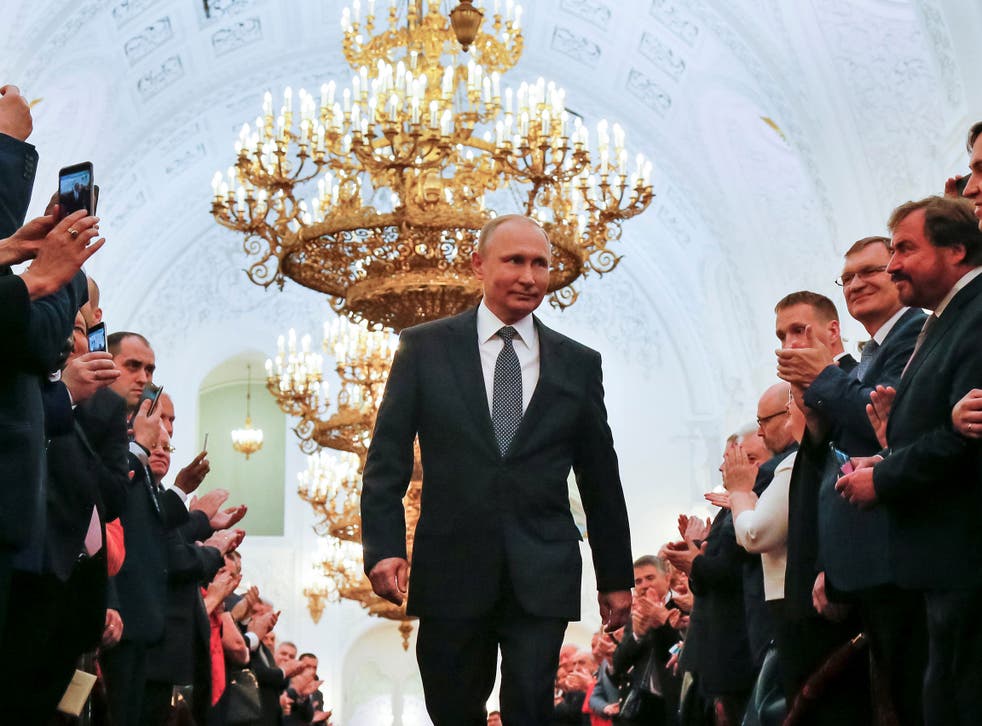 Ever since Donald Trump won the keys to the White House, the American and European press has debated Russia's presumed involvement in the 2016 US presidential election.
The most talked-about allegations are those which focus on the pro-Trump adverts that appeared on Facebook, having apparently been created by Russia's Internet Research Agency, and the "fake news" pages which are said to be "Russian-backed".
Details have appeared in recent weeks confirming that the Russian state (and individuals connected to its leadership) successfully turned Western social media into a morass of bogus news stories (which in Russia are now known more benignly as "post-truth"), affecting both Americans and Europeans. The US Congress and prosecutors continue to investigate whether there were links between this Russian activity and the Trump campaign.
World news in pictures

Show all 50
Of course, it is to be hoped that the investigations will be helpful in both identifying Russians who were responsible for promoting political advertising (as well as any Americans involved too) and preventing this kind of thing from happening again.
But at the same time it is important to consider a broader question about the attitude of the Russian state towards the advantages of technological advancement – and towards the potential for investment in the West's tech industry, both by the state itself and by wealthy, individual Russians.
There is a rather old story that illuminates this issue, namely the Russian-backed investments in both Facebook and Twitter in the years immediately after 2009.
These investments were made by the Hong Kong-headquartered DST Global venture capitalist fund (via the related investment vehicles DST USA II and DST Investments 3), which poured mil­lions of dollars into Facebook to the extent that at one time it controlled around 8 per cent of the company's shares.
DST Global was founded and operated by arguably the most successful of all Russian venture investors, Yuri Milner, who became close to Mark Zuckerberg – indeed, the men have now been good friends for many years.
In some quarters, the acquisition of shares in these social media giants has been seen as controversial. This is because Milner's investments were partially funded by, in the case of Twitter, VTB Bank (which is largely state-owned) and, in the case of Facebook, cash from Gazprom Investholding – a Gazprom-linked corporation headed by the Russian tycoon Alisher Usmanov, again with supposedly strong ties to the Kremlin.
These links have led some more conspiratorial commentators to conclude that Russia was deliberately acting against Western democracy by buying into its web-based economy.
However, as Yuri Milner has said, he was not even aware that Gazprom Investholding were backers of the Facebook stake – the deals which have excited comment being in any case just a modest element of DST Global's wider investment portfolio.
In addition, a recent inquiry made by KPMG auditors has indicated that Gazprom Investholding never owned Facebook stock directly and that the funds it made available to DST through two shell companies, BVI-registered Kanton and Cyprus-registered Beltrium, were not of crucial importance for DST. What's more, from the start of its investment in Facebook, DST Global issued a power of attorney on the name of Mr Zuckerberg allowing him to vote with its stock.
But even putting aside these points, in analysing Russian economic "ties" to Facebook, the most important point to consider is that the "Russian state" accused now of wrongdoing was in 2009 quite different to how it looks today.
In 2009, then-President Dimitry Med­vedev dreamed about technological modernisation and a "resetting" of Russia-US relations. As someone who worked for the Commission on Modernisation at that time, I can say with total confidence that Russian businesspeople were urged to invest in international hi-tech ventures for reasons that were positive, not nefarious.
Mr Milner was definitely one of those encouraged to bridge the East-West divide. Indeed, he was handpicked to serve on the commission as a full-time member. And it's not a surprise he was able to get loans from the state-controlled VTB Bank that were later invested into Twitter and Zynga shares (likewise investment via vehicles connected to Alisher Usmanov for some of the Facebook purchases): quite simply, it was considered a good investment economically, and in terms of Russian technological advancement.
Mark Zuckerberg admits 'my mistake' as 87m Facebook users could have seen data accessed by Cambridge Analytica
Similarly, the fact that Milner's companies sold the Facebook stock they held in 2012 and 2013 cannot be seen as evidence of anything suspicious. For one thing, selling a stake in a firm at a profit makes good business sense.
But the other point is that government priorities had changed after Vladimir Putin returned to the Kremlin in 2012. The atmosphere in which Russia was seeking closer economic and technological ties with the West was no longer present. (I should add that his remarks during his recent inauguration, to the effect that Russia needs once again to prioritise technological advancement, are not indicative of a change in approach to doing business with the West.)
For all these reasons, while I have no intention to downplay the challenge posed by the Kremlin-initiated hybrid tech war against the West, attempts to find links between legitimate financial investments in social media firms and unwelcome, state-led interference – for instance, by creating Facebook ads – can only hinder matters.
After all, the idea that the whole of the Russian political elite – and indeed the Russian business community – are "natural enemies" of the West is simply false. In all the debates about Russia acting against "international rules" (as the head of MI5 puts it today), we should not forget it was not too long ago that even the highest echelon of Russian politics was very inclined to build positive, long-lasting, economic and po­litical ties with both United States and Europe.
I would argue that, as well as the changing priorities of the Russian government, one of the biggest problems in relations between Russia and the West during the last decades was – and still is – the deficit of long-term, corporate opportunities for investment that the West offers to wealthy Russians.
The most common type of Russian investment in the US and Europe remains the simple acquisition of super-expensive real estate (usually via offshore companies) or buying yachts or aeroplanes for personal amuse­ment. There are very few entrepreneurs who have tried – or been able – to invest in high-growth companies, to organise venture funds and thus to engage with Western business in a way that promotes lasting cooperation. That is even harder now thanks to US sanctions.
These individuals are potential friends of the West and it is important that they are not alienated by broad accusations of Russian wrongdoing. For the sake of a secure common future, both sides need to build economic and business bonds which can survive political disagreements.
Vladislav Inozemtsev is the director of the Centre for Post-Industrial Studies in Moscow
Join our new commenting forum
Join thought-provoking conversations, follow other Independent readers and see their replies