As the Sats scandal shows, the Tories are playing politics with children's lives
The 11-year-olds who found themselves in tears this week are at the sharp end of a process which – for all that politicians claim is driven by improving education – does not care about them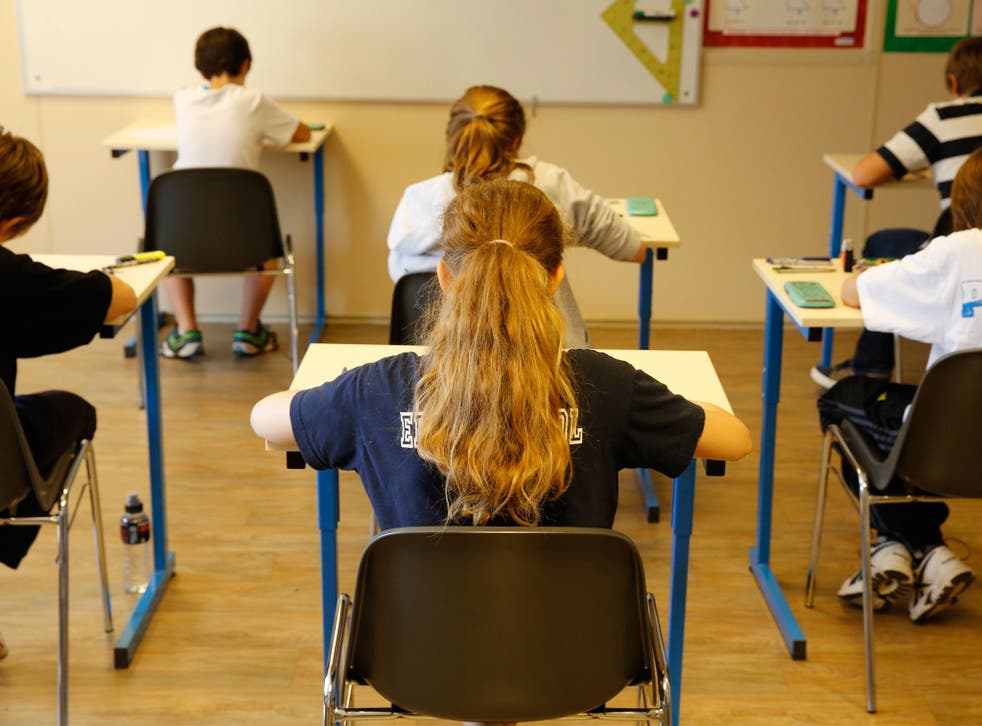 Have education ministers got any kind of grip on their very controversial reforms of testing for primary school pupils in England?
This week's leak of a Sats grammar and spelling test paper for 11-year-olds, revealed the day after children were reportedly left in tears by the difficulty of another test they had to take, caps a disastrous month for the Government's assessment changes – which ministers say will raise standards, but have been beset by administrative foul-ups and are questioned by critics.
Only three weeks ago, the Department for Education was forced to scrap a third test – a new exam assessing spelling and grammar for seven-year-olds – after it was revealed that it had been available for use as a practice paper on a DfE website since January.
Last month, the DfE scrapped new "baseline" assessments – taken by four and five-year-olds to hold schools to account for the progress pupils then make by the time they reach 11 – after accepting that allowing schools to choose between several competing assessment systems had not been wise. That was the exact point made by almost all respondents to a government consultation on that reform before it was launched last year, but then ignored by the DfE.
This year has also seen the government's Standards and Testing Agency face criticism for constantly tinkering with the advice it gives to primary teachers on how to conduct assessments at age seven and 11 – just another part of the ever-growing apparatus for monitoring children's progress.
So what are the origins of this mess? There are two major issues affecting this year's tests, the first to occur since the reform of England's national curriculum system which began when Michael Gove became Education Secretary in 2010.
It would, of course, be unwise to read too much into one or two leaks. The DfE today appeared, defensively, to be blaming the latest breach on a "rogue marker" who was, in a vaguely Orwellian term, "opposed to our reforms". But the more general pattern of administrative foul-ups speaks to a sense of reform over-reach.
While Gove sought to change almost all facets of state education policy in his whirlwind four years in charge – from the curriculum for secondary as well as primary pupils, to school structures, teacher training, pay and conditions and special needs provision – he also moved to alter long-established assessment systems very quickly indeed.
So today's 11-year-olds are being assessed on a four-year curriculum which, remarkably, they have only been studying for the past two years.
And a 25-year-old system of describing pupils' progress through school in terms of steadily ascending attainment levels was replaced before the DfE seemed to have any clear idea of what would constitute a better system.
Gove's decision to run the testing system in-house from the DfE, rather than through an arms-length agency as happened in previous years (and which perhaps was better resourced in terms of expertise) may also be backfiring.
But the second issue is more significant for children sitting these tests: they have undoubtedly been made harder.
Ministers argue that a greater emphasis on the labelling of grammar terms in reading, or the earlier teaching of fractions or long division in mathematics, will raise standards. The basis for such claims, however, is under-researched.
Subject experts are generally unconvinced that requiring topics to be taught earlier to children will improve their understanding; teachers and parents say obsessing about the terminology of grammar can prove counterproductive, as children are turned off reading for pleasure.
Will children rise to the challenge of the new tests? Or, troublingly, will they be put off by material which is too hard or abstract for them and disengage in learning due to sense of failure at such an early age?
We don't know. Staggeringly, ministers can make changes which have a huge impact on pupils' school lives and life chances without ever having carried out meaningful studies as to what the effect of those changes could be. It may be that more pupils will thrive from these reforms than find them off-putting, but at the moment that looks something like a heroic assumption.
Policies are driven by the needs of politicians to generate constant changes that they can then sell as positive to the electorate, rather than on an in-depth understanding of what will actually help pupils in the long run. Our education system hands huge power to policymakers to change everything around every few years, as they see fit, and regardless of the operational risks. No sane organisation would ever be run like this.
The 11-year-olds who found themselves in tears over a tough test paper are at the sharp end of a process which – for all that politicians might claim it is driven by improving provision for children – does not seem to care very much about them. A fundamental review of the testing system, putting aside politics to focus on the child, is long overdue.
Warwick Mansell is an education journalist and the author of 'Education by Numbers: The Tyranny of Testing'
Join our new commenting forum
Join thought-provoking conversations, follow other Independent readers and see their replies