Saudi Arabia has played Donald Trump like a fiddle when it comes to the dispute with Qatar
With the prospect of Qatar being thrown out of the Gulf Cooperation Council and driven into the arms of Iran, the horrible reality is that the Middle East crisis may be one of Trump's own making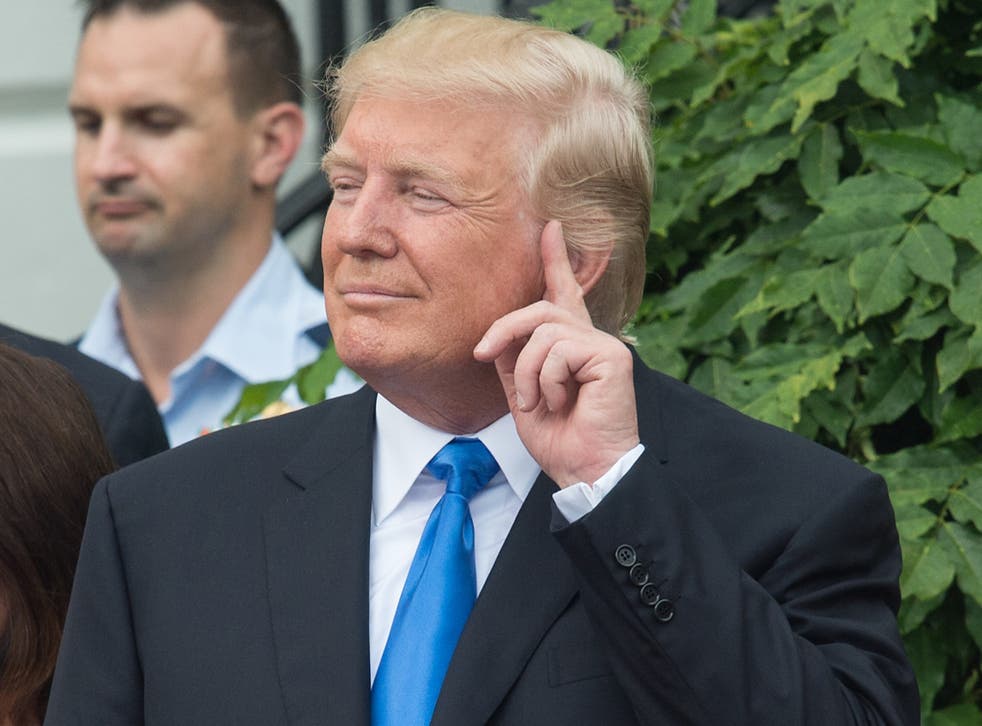 In an astonishing case of the pot calling the kettle black, a new report has called Saudi Arabia hypocritical for accusing Qatar of supporting extremism.
The twist came exactly a month after a Saudi-led alliance announced a diplomatic and transport blockade of the tiny Gulf state over its alleged links to terrorist extremism.
But yesterday's findings by the Henry Jackson Society said Saudi Arabia was top of the list of countries in the Gulf providing financial support to mosques and Islamic educational institutions linked to extremist preachers and the spread of hate material. It says Saudi individuals and foundations have been heavily involved in spreading an "illiberal, bigoted Wahhabi ideology".
What's astonishing is how for a month Donald Trump has danced to the tune of the Saudis and their Middle Eastern allies to isolate Qatar as the villain of the piece. On 9 June the US President stood in the Rose Garden at the White House and called out Qatar saying the tiny Gulf state had "historically been a funder of terrorism at a very high level". At the time Trump's Defence Secretary and Secretary of State were in Australia trying to a smooth over Middle East tensions following the announcement of the Saudi-led boycott of Qatar four days earlier.
World news in pictures

Show all 50
The Saudi-Qatar row was no more than one of "a growing list of irritants in the region" and would not impair "the unified fight against terrorism", insisted Secretary of State Tillerson, in a bid to cool things down.
The idea of President Trump being at odds with leading members of his administration is not new. But with the prospect of Qatar being thrown out of the Gulf Cooperation Council and driven into the arms of Iran, the horrible reality is that the Middle East crisis may be one of Trump's own making.
One shocking claim which emerged this week was that the Rose Garden attack on Qatar actually came from the United Arab Emirates Ambassador to Washington, a close friend of the president's son-in-law, Jared Kushner.
An account by journalist Mark Perry published in The American Conservative said: "A close associate of the Secretary of State says that Tillerson was absolutely enraged that the White House and State Department weren't on the same page."
"Tillerson's aides, I was told, were convinced that the true author of Trump's statement was the UAE ambassador Yousef Al Otaiba, a close friend of Trump's son-in-law Jared Kushner. Rex put two and two together ... and concluded that this absolutely vacuous kid was running a second foreign policy out of the White House family quarters. Otaiba weighed in with Jared and Jared weighed in with Trump. What a mess."
"Rex is just exhausted. He can't get any of his appointments approved and is running around the world cleaning up after a President whose primary foreign policy adviser is a 36-year-old amateur."
UAE: Diplomacy will be given 'one or two more chances' before they 'part ways' with Qatar
Leaked email correspondence has also shown Otaiba, who has been friends with Kushner since the pair met last June, putting pressure on politicians to close down the US military base in Qatar.
If you consider this when looking at the genesis of the dispute between Qatar and Saudi Arabia, Bahrain, the UAE and Egypt it does make you wonder to what extent President Trump has been having his strings pulled by the Middle East alliance.
The US President was greeted with huge pomp and circumstance when he visited Saudi Arabia in May, having chosen the desert kingdom for his first foreign visit. The streets were lined with alternating US and Saudi flags for miles and a five-storey image of Trump was projected onto the Ritz Carlton where he was staying, paired with a similarly huge one of the country's ruler, King Salman.
As well as announcing a £270bn arms agreement with the Saudis, Trump also attended an anti-terrorism summit of 50 leaders from Arab and Muslim nations. "There has never been anything like it before, and perhaps there never will be again," remarked the President in typical fashion.
Two weeks later and emboldened by Trump's support, Saudi Arabia and its allies announced a diplomatic and transport blockade of Qatar, which the US President was quick to endorse.
Taking to Twitter he announced: "During my recent trip to the Middle East I stated there can no longer be funding of Radical Ideology. Leaders pointed to Qatar – look!"
If the stakes weren't so high, the remark might be laughable. But as Bruce Riedel, of the Brookings Institution, commented: "The Saudis played Trump like a fiddle. He unwittingly encouraged their worst instincts towards their neighbours."
The New York Times weighed in saying: "Analysts said Mr Trump's public support for Saudi Arabia … sent a chill through other Gulf States, including Oman and Kuwait, for fear that any country that defies the Saudis or United Arab Emirates could face ostracism as Qatar has."
Since then, just as the Saudis and Qataris have been at loggerheads, so it appears have Trump and Tillerson.
As the Secretary of State was urging reconciliation between the two sides, Trump was busy stirring things up, congratulating the Saudis and Emiratis for their "hard but necessary" move. It led to the Qatari Foreign Minister, Mohammed bin Abdulrahman al-Thani, commenting during a visit to Washington: "I think further engagement across agencies inside the United States would give a better insight for the president on the nature of the relationship between the United States and Qatar."
Trump will not want to get into a long, protracted battle with the Gulf states. One solution, one that will allow him to save face, is for him to insist that any measures against Qatar follow the framework of international law.
That would inevitably mean that Saudi Arabia and its allies have to lift the blockade, restore diplomatic relations and agree to discuss their differences with Qatar in a recognised and peaceful manner.
Yesterday the UAE foreign minister Sheikh Abdullah bin Zayed al-Nahyan gave him an opening.
"Any steps taken by these countries in case Qatar fails to respond will be taken within the framework of international law, including the procedures that sovereign states have the right to take against another country," Sheikh Abdullah said.
Trump would do well to repeat this message, certainly before the issue is aired at the G20 summit in Hamburg later his week, which the Saudis are due to attend.
As the final hours to the deadline set by the Saudi-led alliance for Qatar to agree to a near-impossible set of demands ticked away, Trump desperately tried to rescue the situation in a damage limitation exercise. With a mark of diplomacy not often observed, he called the Arab leaders on all sides and "underscored that unity in the region is critical".
As well as "pot" and "kettle", one might say that the words "horse" and "bolted" spring to mind.
Anthony Harwood is a former foreign editor of the Daily Mail
Register for free to continue reading
Registration is a free and easy way to support our truly independent journalism
By registering, you will also enjoy limited access to Premium articles, exclusive newsletters, commenting, and virtual events with our leading journalists
Already have an account? sign in
Register for free to continue reading
Registration is a free and easy way to support our truly independent journalism
By registering, you will also enjoy limited access to Premium articles, exclusive newsletters, commenting, and virtual events with our leading journalists
Already have an account? sign in
Join our new commenting forum
Join thought-provoking conversations, follow other Independent readers and see their replies