A second Scottish independence referendum is never going to happen
There is nothing inevitable about Scottish independence – not if Theresa May has anything to do with it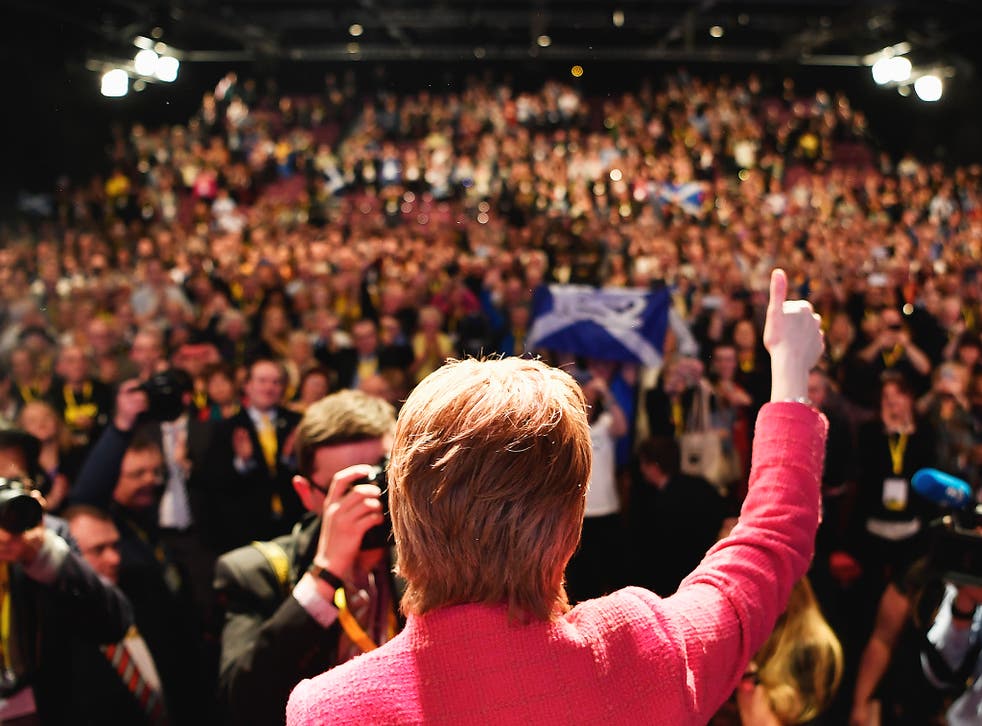 "Now is not the time" for a second referendum on Scottish independence, said Theresa May on Thursday. Tactfully, she didn't add, "and it never will be", but that is what she means. In the game of high politics between May and Nicola Sturgeon, the First Minister of Scotland, the Prime Minister has the edge. I don't think there will be another referendum in Scotland as long as May is in No 10.
There is no doubt that Sturgeon is good at politics. But the true measure of her quality is the skill with which she is playing a fundamentally weak hand. She does not have the power to hold a referendum: the UK Parliament has to legislate for it.
Many journalists were impressed by her coup on Monday in announcing her demand for a second referendum. Some even thought she had forced May to postpone her plan to invoke Article 50 on Tuesday. I can confirm that this was not the case. I was told at the end of last week that May would not be triggering the procedure for leaving the EU this week – given that she wants to preserve the Union, it would not have been sensible to do so before this weekend's Scottish National Party spring conference, and while precarious talks are going on in Belfast.
Sturgeon urges Britons to 'come to Scotland' after Brexit
Sturgeon managed to seize the initiative by demanding what she was always bound to demand five days before her big speech, but at the cost of allowing the follow-up questions to dominate today's gathering of her disciplined but impatient party in Aberdeen. Now that May has said "not yet", everyone wants to know when, and what happens if the Prime Minister goes on saying no.
On those questions Sturgeon has been less assured. She said she wanted the referendum to be in the autumn of 2018 or "soon after" the UK leaves the EU in March 2019. She has conceded, therefore, that Scotland will be leaving the EU, so that the question in a second referendum would be whether Scotland wanted to try to rejoin. She has tried to fudge that one, possibly because she knows that a quarter of those who support Scottish independence voted to leave the EU in the other referendum last year. The SNP has suggested Scotland might be like Norway, in the EU single market but outside the EU.
Well, maybe, but that is unlikely to satisfy those who support independence because of "Scotland being taken out of the EU against our will", in the words of the 2016 SNP manifesto. But when should the vote be held? Sturgeon has tried to suggest that May is blocking the will of the Scottish people and, at the same time, that there is no difference between them, because the SNP is not demanding a referendum "now". Indeed, Sturgeon's chief spokesman even suggested she could accept a referendum at the same time as the next Scottish parliament elections in May 2021.
This is not going to happen. Theresa May said on the steps of No 10 when she became Prime Minister: "The full title of my party is the Conservative and Unionist Party, and that word 'unionist' is very important to me." She does not want to go down in history as the prime minister who presided over the break-up of the UK. (Nor did David Cameron, of course, but he was more prepared to take risks in holding referendums – and May has learned that lesson.) She doesn't want to feed the SNP grievance factory any more than strictly necessary, so she says "not yet" rather than "no". But she means "no".
UK news in pictures

Show all 50
She has thought through, as Sturgeon has, the next stage of the argument. There has been much talk in Aberdeen this weekend about the possibility that the SNP could organise its own referendum if the UK Government refuses to legislate. This is a non-starter. It could not be run by the Scottish government, because it has no power to do so, and no public money could be spent on it. It would have to be run by volunteers, who would be mostly SNP activists, casting doubt on its integrity. It would have to be paid for by fundraising, including from rich individuals. And the unionists would almost certainly boycott it, which would destroy what is left of its credibility. It would be like the private referendum organised in 2000 by Brian Souter, owner of Stagecoach and SNP donor, to keep the law against local government "promoting homosexuality". It produced an 87 per cent vote to keep the law, on a 32 per cent turnout, and the law was repealed a month later.
Sturgeon knows that the only non-violent way to achieve independence is through a constitutional referendum. The UK Parliament has to legislate for it, or it has to grant the Scottish Parliament the power to do so. Her aim is to put such pressure on May that she feels she has to yield – while with the other hand fending off the demands of her own supporters to hurry the process.
The problem for Sturgeon is that public opinion in Scotland has failed to move in favour of independence. The SNP set two triggers for a second referendum in its 2016 manifesto: one was "clear and sustained evidence that independence has become the preferred option of a majority of the Scottish people"; the other was "a significant and material change … such as Scotland being taken out of the EU against our will". Sturgeon assumed the second would lead to the first. Morally, she has a case for a new referendum. Politically, she won't get one unless there is a decisive shift in Scottish opinion.
That may happen. Sturgeon hoped that this week's stand-off with May would nudge it – but she became quickly tangled in questions about an unofficial referendum and what currency an independent Scotland would use (the SNP couldn't answer it last time and still hasn't worked out its policy). Perhaps evidence of support for independence will become "clear and sustained" when the UK actually leaves the EU. Perhaps when the prospect of eternal Conservative rule in London sinks in. But until it does, Theresa May is winning.
Join our new commenting forum
Join thought-provoking conversations, follow other Independent readers and see their replies