The 'sex for rent' scandal leaves women vulnerable to abuse – but still the Government only cares about Brexit
Women at risk of taking up the offer of sex for accommodation are in a perilous position. Many do not have a regular place to call home; they are sleeping on the streets, in hostels or other insecure accommodation, or they may be staying with violent partners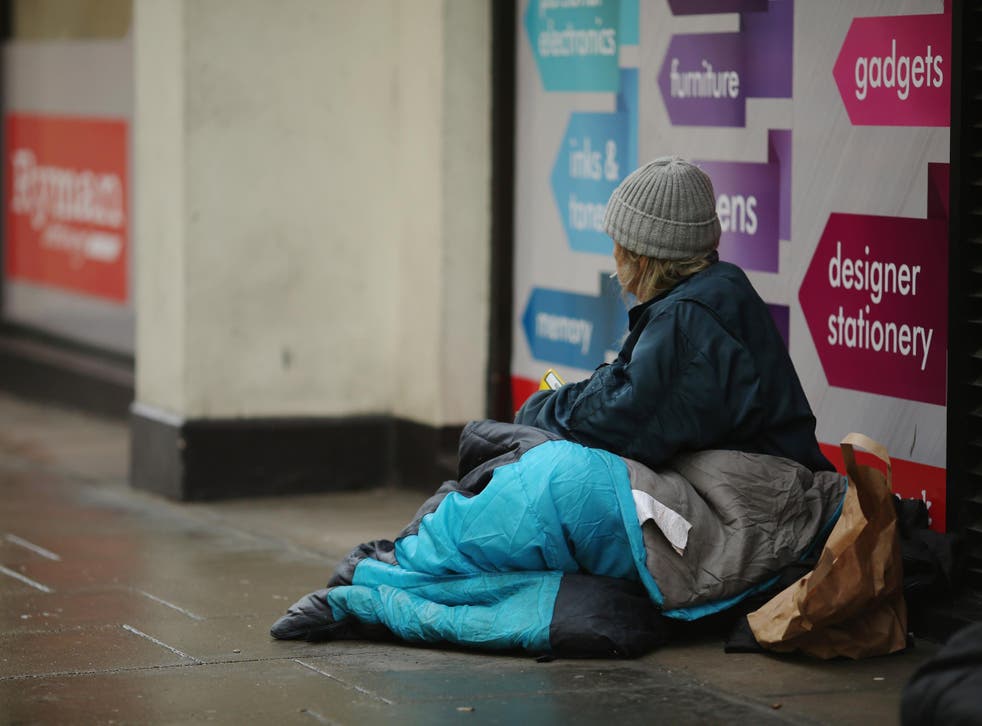 Online advertisements offering shelter in return for sexual services are a shameless and disgusting abuse of vulnerable women. So the news that the Justice Secretary Liz Truss is looking into the so-called 'sex for rent' scandal, following public calls for the ads to be banned, is welcome. But this issue risks getting lost in the clamour surrounding Theresa May's snap general election.
The situation faced by vulnerable women resorting to paying for accommodation through sex is an issue that the Government needs to address as a matter of urgency. These women must not find themselves abandoned just because the minds of much of the electorate are focused only on Brexit.
These adverts are only a small, if significant and extremely worrying, symptom of a much wider problem. Tens of thousands of women across the country are in a precarious, desperate and vulnerable situation. The reason men are able to exploit them in such appalling ways is because they have few other options.
Women most at risk of taking up the offer of sex for rent are in an extremely perilous position. Many women do not have a regular place to call home; they are sleeping on the streets, "sofa-surfing", in hostels or other insecure accommodation; or they may be staying with violent partners because they've nowhere else to go.
CCTV: Savage attack on homeless man in Manchester
For the women who answer these online adverts, this is likely just the start of an exploitative and dangerous relationship. We know many homeless women enter into unwanted sexual relationships just to get a roof over their heads, others become involved in organised prostitution.
It is deeply depressing that there are men who are willing to sexually exploit women in such vulnerable situations. The Government must send a clear signal that this will not be tolerated in any form. Banning sex for rent adverts is an important first step – but it is not enough. Criminalising the buying of sex is one option that must now be taken very seriously.
But we must also recognise that, for many women, resorting to unwanted sex seems preferable to the alternative: sleeping rough. Life on the streets is extremely dangerous for women. They are at a high risk of violence, rape, abuse and exploitation. One in four women have been sexually assaulted while without a home.
When they try to get help, they often find the services are just not there or are not appropriate. Homeless shelters are predominantly used by men; they can be intimidating and unsafe places for women. They often do not cater for women's specific needs, leaving them with few places to turn to for shelter and support.
Women who are at risk of homelessness often have histories of abuse. Many will have experienced extensive physical and sexual violence, often as children. They can be left with lasting trauma, have poor mental health and misuse substances to cope.
It's the Government's job to ensure that vulnerable women such as these can find and keep a roof over their head without having to resort to unwanted sex and the violence that so often goes along with it. That means making sure there is sufficient affordable housing and offering benefits that meet true housing costs.
Looking into the issue of online adverts offering shelter for sex is a step in the right direction, but it is not nearly enough. There are urgent issues that need to be addressed if we are to help the most vulnerable women. Of course, Brexit is set to dominate the election but there are pressing domestic issues to tackle too. We can't let Brexit sit alone as the sole item in the in-tray of the new Government.
Katharine Sacks-Jones is director of Agenda, the alliance for women and girls at risk
Register for free to continue reading
Registration is a free and easy way to support our truly independent journalism
By registering, you will also enjoy limited access to Premium articles, exclusive newsletters, commenting, and virtual events with our leading journalists
Already have an account? sign in
Join our new commenting forum
Join thought-provoking conversations, follow other Independent readers and see their replies