Just because our railways can't cope with snow doesn't mean we should spend billions to solve the problem
Commuters regularly face delays, overcrowded carriages and expensive fares – a day lost to snow every two years is the least of our concerns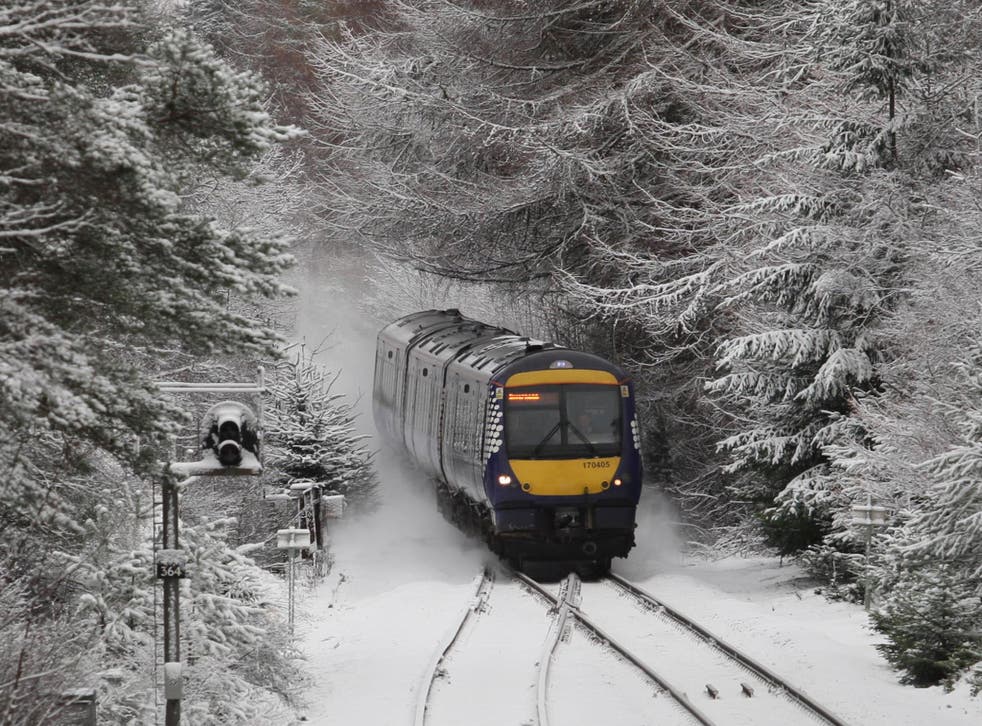 As a snoozy Boxing Day drew to a close I nervously checked the latest weather forecast and looked to see which train lines were being affected by festive engineering works. Heavy snow was on the cards – but at least Southern was running its west London service: a belated Christmas miracle if ever there was one.
The life of a commuter is, by definition, dependant on being able to travel. When things go wrong, the impact is enormous, as has been all too apparent for passengers on Southern services who have suffered the effects of innumerable strikes in the past two years.
Even when things are running as they should be – which means trains arrive pretty much in the place they are expected to, more or less at the right time – commuting is a compromise.
'Dangerous conditions' warning as snow and ice hit the UK
The cost of regular rail travel is frankly enormous, not least when you consider that many trains have standing room only on a regular basis. Sure, the pay-off is being able to afford to live in a house which isn't a shoe box and to breathe the slightly fresher air you find beyond Britain's major cities. But there are times when it doesn't seem worth all the hassle.
Those of us who travel into London seem particularly convinced that things are getting worse. A YouGov poll of 1,087 Londoners found 37 per cent felt national rail services had deteriorated in the past year. With a 3.4 per cent fare increase coming next week, the mood among commuters isn't likely to improve any time soon.
Network Rail, which manages the infrastructure of our railways, says great strides are being taken to improve matters. Soon there will be more capacity, improved services and new rolling stock. The individual companies which actually run the trains all talk a great game too, which is easy when profits look so healthy – hundreds of millions of pounds a year between them.
Yet we are promised improvements every year and it doesn't feel as if much ever fundamentally changes for the better. New carriages pop up every now and again; new franchises spend money pointlessly updating colour schemes; occasionally a new lift appears at a station. But all a commuter really wants is a chance to sit down for any journey over about 20 minutes, and to feel confident that timetables can be trusted.
In the past two years I've become ever more zealous about claiming money back when my journeys are delayed. Previously I'd either forget to fill in the form or not make the time; but things got so bad on Southern thanks to striking staff that I decided to change my ways. The result is probably about £500 reclaimed since the start of 2016. Not that any amount of money really makes up for missing the chance to say goodnight to my children or for the stress of trying to get to work on time.
On the plus side, there is no route from London to north-west Hertfordshire that I do not know like the back of my hand. Lucky me!
There is, though, one tiny caveat to my general grumbling about how railways regularly conspire to ruin things: our reaction to snow.
World news in pictures

Show all 50
Every time we get a decent fall, the network inevitably struggles to cope. Criticism of Network Rail, of the train operating companies and of the Government then becomes a merry pastime for everyone, including those who haven't actually got on a train for years.
Why can't we cope with a dusting of snow, goes the cry?! They manage in Scandinavia, we are told! Just like Thomas the Tank Engine in the story where he gets stuck in a drift, there is general disbelief that four inches of snow can cause railway gridlock. The hyperbole knows no bounds.
And there is a reason for that: South-east England, where commuter rail lines are most concentrated, gets heavy snow about once every two years. Any sign of a few falling flakes makes us go giddy with excitement and anxiety. To spend the billions it would require to make Britain's railways blizzard-proof would be wholly unjustifiable.
So, while snowmageddon makes for good headlines, and while the white stuff does cause problems every now and again, let's not kid ourselves that it is easily solvable; or be distracted into believing that occasional delays caused by snow are really the major issue facing our overpriced and overcrowded rail network.
Join our new commenting forum
Join thought-provoking conversations, follow other Independent readers and see their replies