So on top of the pay gap and the tampon tax, women pay more for pink razors and jeans. Bravo, capitalism
In 2014, the French finance ministry ordered an investigation into why women were paying more for the same products as men. Pascale Boistard, the secretary of state for women's rights, tweeted: "Is pink a luxury colour?"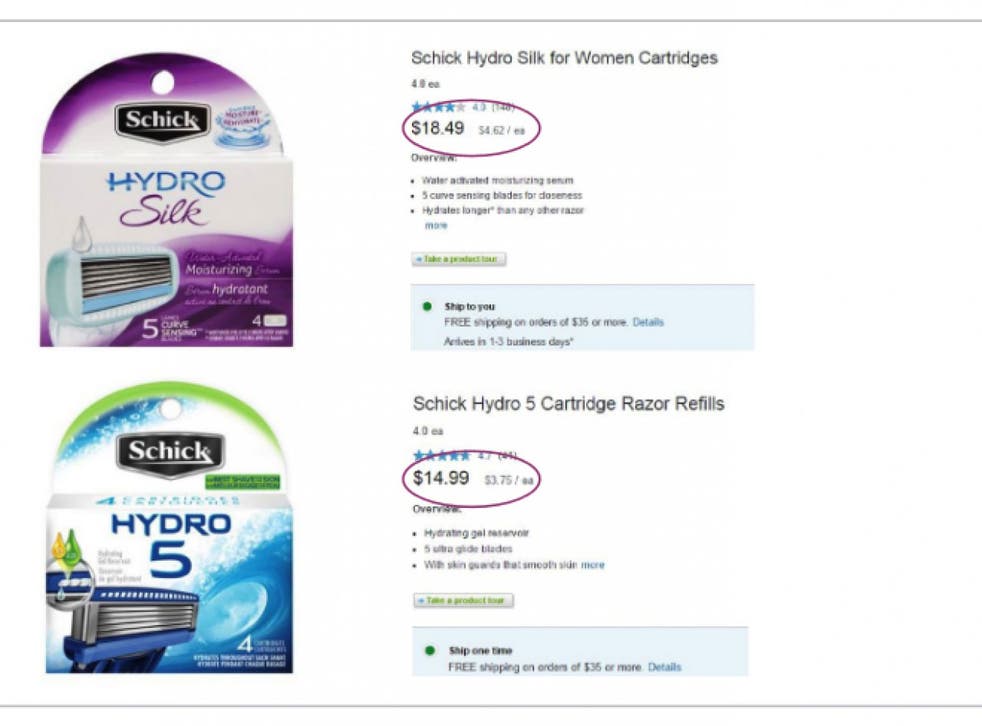 Everything's pretty in pink, the colour of choice for gender segregation. Perhaps a more accurate phrase would be: "It's pretty expensive in pink". Earlier this week, it was revealed that women are charged, on average, 37 per cent more than men for the equivalent products. In other words, there's nothing fundamentally different about the pink razor blade as compared to the blue one – but you can bet you'll pay more for it.
The research in question, carried out by The Times, analysed hundreds of items, revealing blatant sexism in the way that goods are marketed at women across the UK – and now it's out in the open, the government needs to put a stop to it.
Findings include Tesco charging twice as much for ten pink disposable razors than for the same amount in blue. At Argos, pink scooters marketed at girls cost £5 more than the identical blue scooters aimed at boys (kudos for ingraining the sexism from an early age). Similarly, in the clothing department, women's Levi 501 Jeans are on average 46 per cent more expensive than men's (£80 compared to £42), despite having the same leg and waist length.
In fact, researchers could only find one example in which male products cost more: boy's underwear. I would happily pay extra for masculinising Y-fronts, even if they did chafe my delicate thighs, in the knowledge that all my other gender-conforming products would be much cheaper.
Aside from how silly it is to divide men and women using two colours, does it really cost more to make a product in pink than blue? Surely this is outright, straight-down-the-line discrimination. Under the Equality Act 2010, women are meant to be protected against discrimination when using businesses and other organisations that provide goods and services.
Indeed, Maria Miller, the chairwoman of the Commons women and equalities committee, told The Times: "It is unacceptable that women face higher costs for the same products just because they are targeted at women. Retailers have got to explain why they do this. At a time when we should be moving towards a more de-gendered society, retailers are out of step with public opinion."
Sadly, sexist marketing is not exclusive to the UK. Last month, the New York City Department of Consumer Affairs analysed 800 almost identical male and female products. It concluded that, on average, female items cost 7 per cent more their male counterparts. And in 2014, the French finance ministry ordered an investigation into why women were paying more for the same products as men. Pascale Boistard, the secretary of state for women's rights, tweeted: "Is pink a luxury colour?"
The findings are yet another discriminatory drain on women's finances seemingly because of our gender. Now, if we decide to buy a five-pack of "Bic Cristal for Her" ballpoint pens –we get thinner barrels for our slender little fingers, you see – we will have to do it in the knowledge that we are paying £1 more than men do for an almost identical product.
That's before we fork out some extra change for a box of tampons, complete with a 5 per cent tax, to pay for our biological periods. Factor in the 19.1 per cent gender pay gap for workers in full or part-time employment and it's all looking a bit too ridiculous to be true.
Sexist marketing is unacceptable – the government needs to order an investigation into the findings. Of course, the ideal consumer world would be a utopia in which gendered products are abolished entirely. But, until then, I would settle for buying my Playmobil "fairy queen" ship from Amazon at the same price as the pirate ship.
Register for free to continue reading
Registration is a free and easy way to support our truly independent journalism
By registering, you will also enjoy limited access to Premium articles, exclusive newsletters, commenting, and virtual events with our leading journalists
Already have an account? sign in
Join our new commenting forum
Join thought-provoking conversations, follow other Independent readers and see their replies