Chris Grayling should strip Southern of its catastrophic franchise – but civil servants must take responsibility for passenger fury too
Department for Transport official Peter Wilkinson said trains drivers supporting strikes should 'get the hell out of my industry'. Who does he think he is?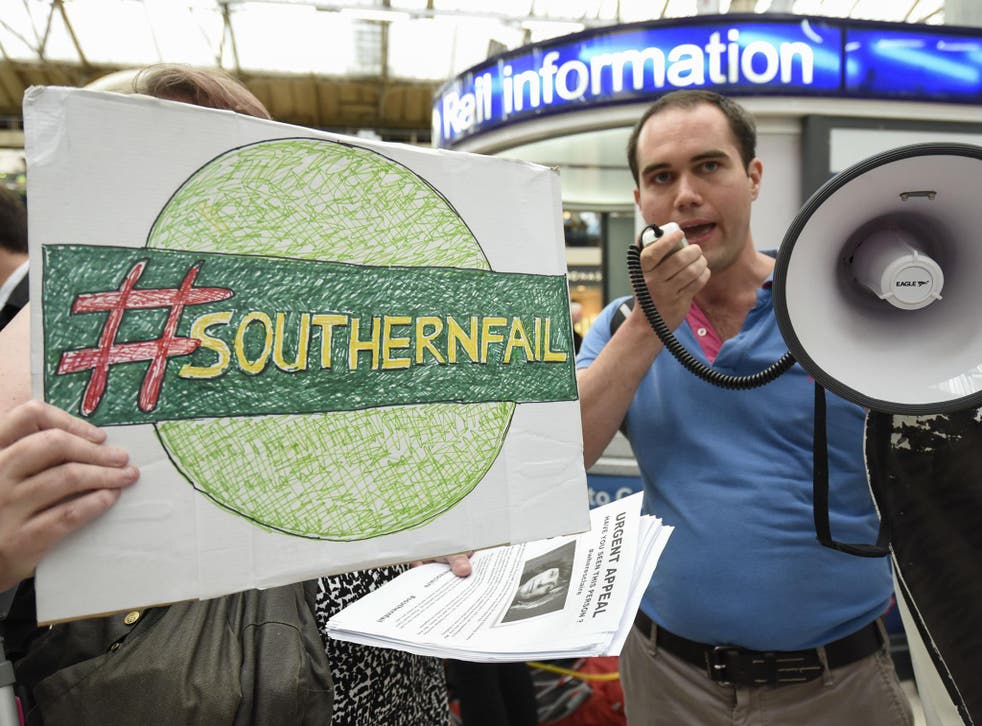 The Southern Train Cancellation game – a website designed by a couple of web developers and frustrated passengers – has already attracted thousands of players, many of them no doubt commuters idling away their time on a platform waiting for a Southern train to arrive. The aim of the game is to stop guards from boarding trains, leading to services being cancelled as profits are collected from passengers. A player loses if a sufficient number of guards have boarded to allow the train to depart.
This online game demonstrates two things: the wonderful sense of humour we have in this country, and the pitiful nature of the Southern "service" that has now endured for months.
It may be 2016, but what we have here is an old-fashioned, 1970s-style industrial dispute. The Government wants to damage the unions; the company wants to reduce costs and boost profit; the unions want to prevent any changes to working conditions – whether justified or not – that could lead to job losses among their members.
The seeds of the row can be traced back to two decisions taken by the Department for Transport. The first was to award a management contract to Southern, rather than pursue the usual franchising process. The thinking was that disruption at London Bridge station, which is undergoing a very lengthy process of refurbishment, was likely to be so severe as to deter any potential bidders for the route. But it was a mistake because it has had a perverse yet predictable side effect – it has removed any incentive on Southern to grow and improve the service providers to commuters.
Southern rail strikes: On board the 5.20pm from Victoria
The second was the decision to force a change to driver-only operation, the introduction of which is now a standard feature of new franchise agreements with train companies. It reflected a new, hardline approach from the department, epitomised by the comments of Department for Transport director Peter Wilkinson earlier this year, when he said: "Over the next three years we will be having punch-ups and we will see industrial action."
He suggested that drivers who opposed reform could "get the hell out of my industry" and that "we have got to break them". And, for good measure, he added that he believed there were no rail companies "who would run services better than Southern".
His industry? Who does he think he is? He's not even elected.
The simple fact is that Southern is being used as a spearhead to force through changes to working practices on the railway, in the full knowledge that the nature of the management contract means the taxpayer, not the Southern shareholder, picks up the bill for lost revenue. Southern's parent company, with an eye to future franchises, is keen to win brownie points from the Department for Transport so is prepared to take the flak as the unions dig in for a long fight.
Worse still, it seems all sides do not really care about the passenger – or at best they actively believe that inconveniencing them will somehow help win them to their side of the argument.
It has been tragic to witness the decline of Southern from a progressive and responsive company to the byword for shoddy service it has become. The company says it has the passengers' interests at heart, but everything they do – from withdrawing food and drink trolleys on trains to seeking to slash booking offices – points in exactly the opposite direction. Now Southern has been forced to introduce an emergency timetable, as it copes with further strike action – a move which Wilkinson and his team at the DfT have been happy to approve.
We are told the dispute is about the particular issue of driver-only operation of commuter trains, but it goes far deeper than that, and that is why it is proving so intractable. The Government and Southern are promising no job losses for conductors from these changes; while that may hold for the short term, I have no doubt that they want at least the option to move to one employee per train in the medium term. The RMT knows this too. That is why it seeking to maintain the status quo by hanging on to "safety" responsibilities.
In the meantime, others are piling in, sensing an opportunity – and none more so that the Mayor of London, Sadiq Khan, and the GLA, keen to extend the successful London Overground model to Southern's suburban services.
How is this most acrimonious dispute ever to end?
First, the Government needs to get much more involved – and on the side of the passenger. Claire Perry, who resigned saying she was "ashamed to be rail minister", had a point. The fact that there is a new Secretary of State, Chris Grayling, gives a chance for a new approach. As part of that, he needs to consider whether the officials who have been handling matters in the department are the appropriate individuals to do so in future. Serious consideration should also be given to terminating the management contract for Southern, divorcing it from the rest of the contract and running the service from the Department for Transport.
Protests over Southern rail
Second, the RMT needs to stop pretending this dispute is about safety and be prepared to be more flexible than they have been to date.
Finally, Southern chief executive Charles Horton must consider his position. His reign has been catastrophic and he has lost the support of staff and passengers alike.
Southern's long-suffering passengers deserve far better than they have had for months. Chris Grayling must act now.
Norman Baker is a former Liberal Democrat MP who served as transport minister in the Coalition Government from 2010 to 2013
Join our new commenting forum
Join thought-provoking conversations, follow other Independent readers and see their replies