This is how to stop the conflict in Syria
With the Security Council – and the EU – divided over Syria, the responsibility falls on individual states to end the indiscriminate attacks and protect civilians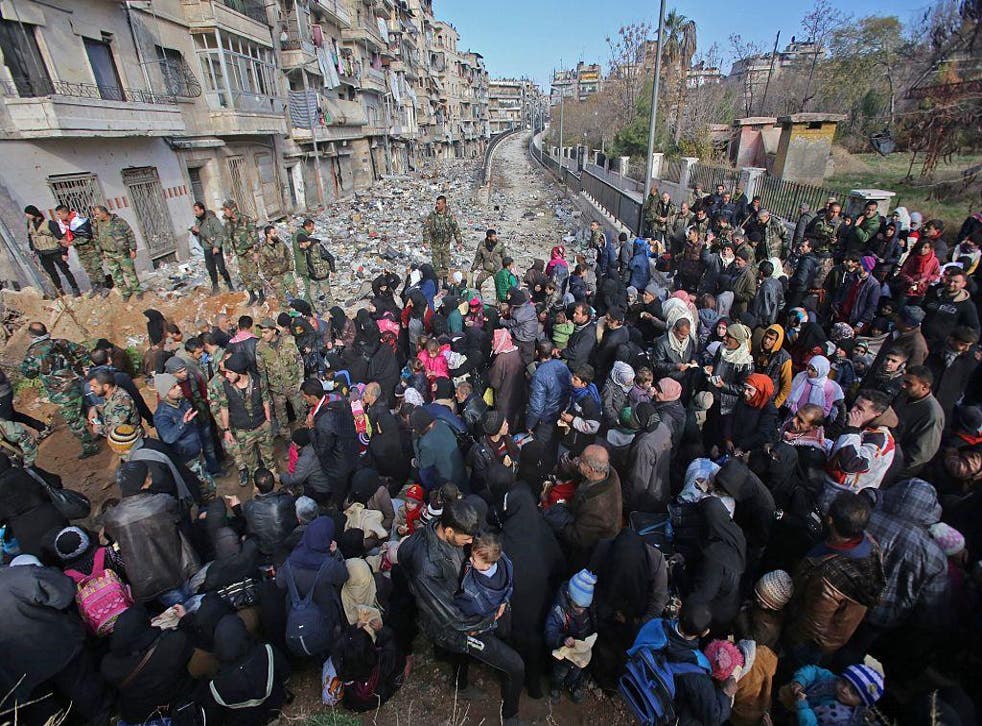 It is the 10th of December, the day the world marks the 68th anniversary of the Universal Declaration of Human Rights. We, Syrians, can't commemorate the day the international community declared that everyone deserved life, liberty, and security, because we have no human rights to celebrate when we are deprived of the right to live.
We have been raped, starved, tortured, bombed, driven from our homes and killed. In the process, many Syrians have come to believe that the international community has given up on Syria. Remarkably few still believe there are ways to change the situation and bring back our human rights.
After six shameful Russian vetoes blocking meaningful action to save lives in Syria, it is now clear that the UN Security Council will not protect civilians in Syria. But, International Humanitarian Law is equally clear that the Security Council is not the only vehicle for action. We are past the point where states can opine the Council's deadlock. Now, they must themselves stand up for the people of Syria – as individual countries, through other international processes and via multilateral organisations like the European Union.
One area the international community can start is by easing the suffering of hundreds of thousands of civilians besieged in Eastern Aleppo. It's been over three months since the last aid delivery made its way into the city. Faced with a regime and Russian-sponsored siege, many Syrians are days away from starvation.
Seven-year-old girl tweeting from Aleppo siege pleads for help
To avert the looming annihilation of Aleppo, states must urgently airdrop aid – and they can do this as individuals or as a collective – either way, they must stop the excuses and do it. Over 200 British MPs have demanded airdrops and dozens of Syrian civil society groups have joined their call. International laws, including UN Security Council resolution 2139, state that aid must reach people through the most direct routes and that further steps must be considered in case of non-compliance. Member states have the means and capability to airdrop aid to Aleppo, they also have a legal obligation to do so.
But ultimately, Syrians need more than humanitarian aid: they also need protection, which member states can give them by stopping the main killer of civilians in Syria: the indiscriminate attacks perpetuated by the Assad regime and Russia. Across the world, it rains water. In Syria, it rains bombs. Airstrikes now account for more than 70 per cent of civilian deaths in besieged Aleppo and more than half of all civilian deaths across Syria. As a result, people are safer at the frontline than in their homes, schools or hospitals, where they are targeted by the never-ending shelling of the Assad regime and Russia.
With the Security Council – and the EU – divided over Syria, the responsibility falls on individual states to end the indiscriminate attacks and protect civilians. Credible options are available, such as a no-bomb zone argued by many experts, which would immediately save lives and would not require boots on the ground or planes in the sky.
Dahiyet al-Assad - Aleppo

Show all 16
States can also work through the Human Right Council. The Human Rights Council's upcoming March session will feature the independent International Commission of Inquiry's special investigation into the besieged city of Aleppo. The aim is to expose all perpetrators of human rights violations in Aleppo—and it must include Russia.
Evidence of Russian war crimes in Aleppo is abundant. Both international organisations and Syrian civil society groups have documented Russia's failure to take necessary precautions to limit collateral damage from its airstrikes and avoid hitting civilian infrastructure and vital facilities like schools, hospitals, and homes. Evidence shows that Russia's attacks disproportionately affect civilians and that Russia is deliberately targeting vital facilities in opposition-held areas. Russia has even used incendiary weapons on heavily populated civilian areas in direct contravention of international law. Members of the Human Rights Council must use the March session to make clear that all parties who violate international humanitarian and international human rights law will be held accountable. This includes Russia.
The international community can also stand up for the Syrian people in the UN General Assembly. Some states have called for an emergency session on Syria at the General Assembly to unlock the impasse in the Security Council. Other states must join the effort. The General Assembly can adopt a resolution that will stop further war crimes and hold war criminals accountable. Outside the General Assembly individually countries can augment this effort by enforcing universal and national jurisdiction to ensure that all parties responsible for war crimes are held accountable.
All of these options are available to the international community as a collective or as individual member states. The world can indeed stand up for Syrians and help renew the pledge that all humans deserve the universal rights of life, liberty, and safety. Syrians want to join in the commemoration of Human Rights Day. We want to live with the rights we all deserve. But we can't do it alone.
Hivin Kako is Executive Director of Bihar Relief Organisation, a Syrian NGO providing aid to vulnerable people in northern Syria. She is working with the campaign group Independent Diplomat
Join our new commenting forum
Join thought-provoking conversations, follow other Independent readers and see their replies