The Independent's journalism is supported by our readers. When you purchase through links on our site, we may earn commission.
Americans like me are programmed to respect the national anthem above everything – so good on Colin Kaepernick
By focussing on Kaepernick's method of protest, Trump has done his damnedest to draw our eyes away from why the athlete started doing this in the first place. But what the NFL star did was very smart, and makes us think twice about what really makes us American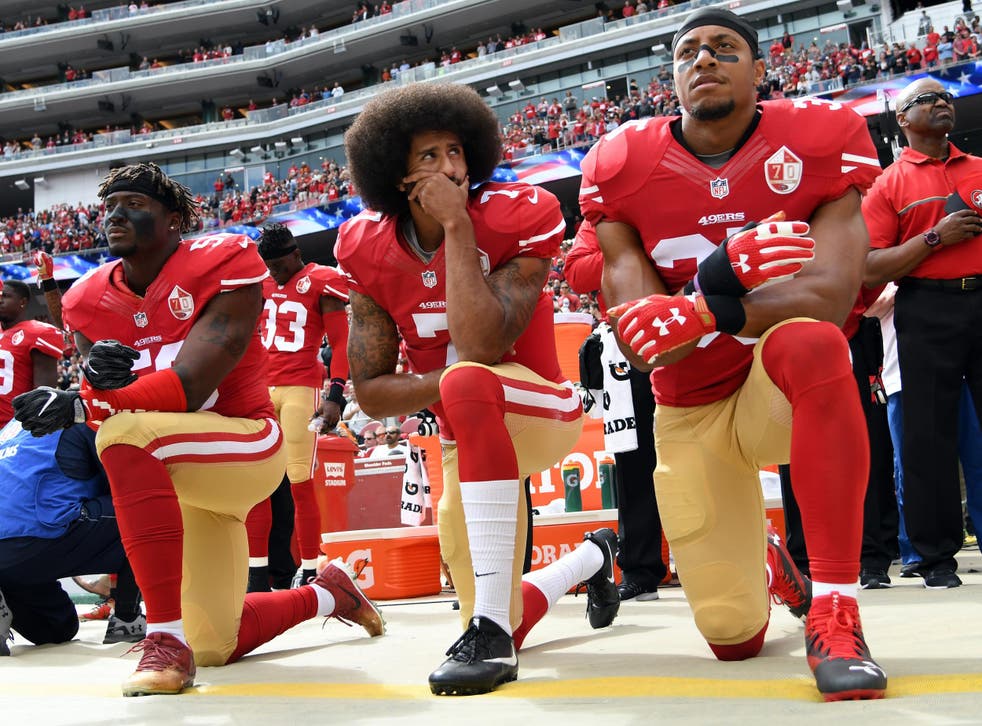 You don't have to be a rocket scientist to suss out that America is far from perfect. We're now centuries into mankind's greatest democratic experiment, and still the United States is riddled with pockets of toxic hatred and institutional oppression. Yet for all its faults, America continues to shine as a beacon of freedom for many around the world.
As Americans, we're handed this extraordinary privilege to be able to speak our minds and express our political opinions. Hell, our right to protest is literally etched in stone – and that's one of the things that makes our country great.
It's also why we let bigoted Christians like the Westboro Baptist Church campaign against same-sex rights. It's why we tolerate ham-fisted business owners wading into political debates they know nothing about, and why we stomach Donald Trump's late-night borderline xenophobic rants on Twitter. Right or wrong, for better or for worse, we've all got an equal right to have our voices heard – unless you're a person of colour, that is.
Have you been keeping up with America's National Football League, by any chance? If not, here's a quick refresher.
Last summer, San Francisco 49s quarterback Colin Kaepernick turned heads and generated a political storm after choosing to take a knee rather than stand during America's national anthem. Why? Because he didn't want "to stand up and show pride in a flag that oppresses black people and people of colour".
Ruth Bader Ginsburg says Kaepernick's national anthem protest is dumb, disrespectful, stupid
From the outside looking in, that might sound like a relatively trivial form of protest – but to a whole lot of American football fans, it felt like the Antichrist had just scuttled out of hell and defecated on their ancestors' graves.
You see, as Americans we're indoctrinated from a young age to drop whatever we're doing, place our hands on our hearts and race to the nearest flagpole every time we hear The Star-Spangled Banner playing 40 miles away. It's embedded in our national psyche – it's what we do. And that's part of the reason fans have spent the last year and a bit literally calling for Kaepernick's head.
It's also why mankind's principal orange demagogue has continually waded his tiny, grandstanding fingers into the debate. Over the weekend, Trump took a quick golf break to call on the NFL to silence any "son of a bitch" caught protesting the national anthem and disrespecting America's heritage.
Thankfully, the NFL wasn't having any of it. From London to Chicago, players, coaches and fans took a knee in protest of the President and his divisive rhetoric. The Pittsburgh Steelers didn't bother coming out of their locker room at all – and even the guy singing the national anthem in Detroit finished the song on one knee. That's real unity, and that's what the sport is all about.
Yet as battle lines are firmly drawn, we've got to take a minute to recognise the blatant hypocrisy at play in our White House.
Colin Kaepernick donates custom-made suits to parolees looking for jobs
Here is a man who spits on the legacy of his office by embracing nepotism, and marginalises America's never-ending battle for civil rights by refusing to condemn the Ku Klux Klan. Here is a man who disrespects the American dream by writing off an entire religion, and whose chauvinist attitude towards women is threatening to set feminism back six decades – and he's got the balls to try and silence his fellow citizens for not standing up during a 90-second song?
As always, there's far more to it than that. After all, by focussing on Kaepernick's method of protest, Trump has done his damnedest to draw our eyes away from why the athlete started doing this in the first place. Trump has done his damnedest to silence the voice of a young minority and talented role model as punishment for using the only platform available to him to stand up against the institutional racism that has plagued America since day one.
The President wants us to think that race is no longer an issue in this country – that freedom of speech is reserved for the privileged few, and that public discourse can always be settled with archaic symbolism.
We've got to show him we're better than that. We've got to show him we're smarter than that. And more important still, we've got to show him we're more American than that.
Register for free to continue reading
Registration is a free and easy way to support our truly independent journalism
By registering, you will also enjoy limited access to Premium articles, exclusive newsletters, commenting, and virtual events with our leading journalists
Already have an account? sign in
Join our new commenting forum
Join thought-provoking conversations, follow other Independent readers and see their replies