Our deluded government believes Team GB's Olympic success is a 'Brexit blueprint' which will inspire us all to change our lives
Elite sportspeople are not a smokescreen to hide behind while selling off playing fields and slashing community facilities – the truth is that the Olympics doesn't inspire sporting talent, but it does show that only proper investment gets results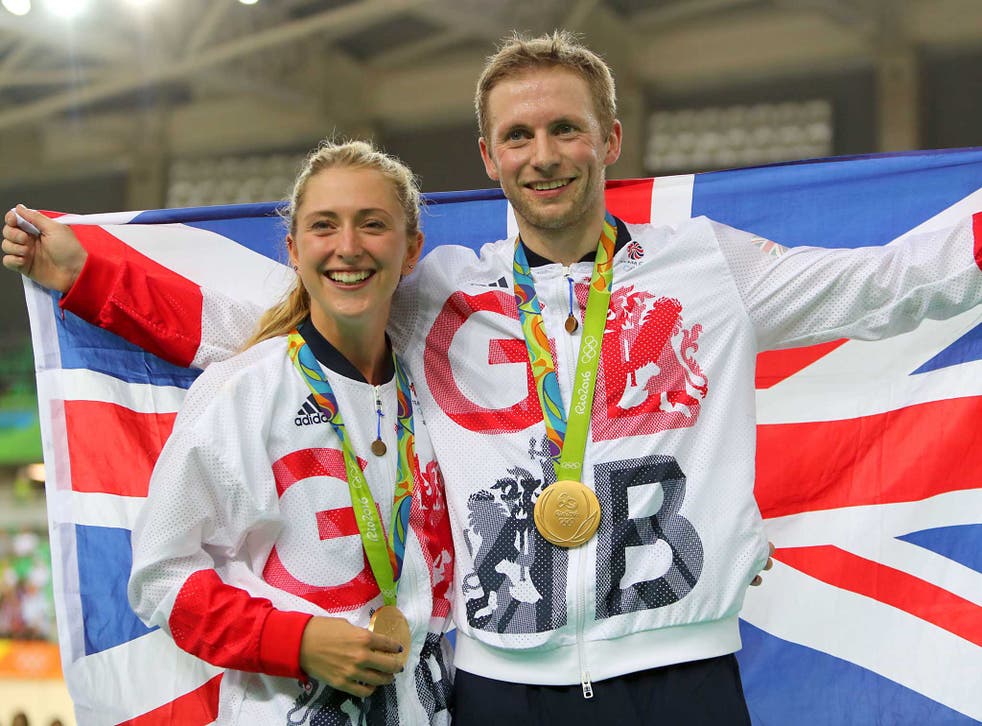 The people who say there's no evidence to suggest that Olympic success can inspire people to get active clearly aren't signed up for Deliveroo.
It's commonplace now for takeaway delivery drivers in major urban areas to cover their patch on a pushbike, and rarely have I seen anyone look more exhausted than the young man who brought me a curry last Tuesday, pizza on Wednesday, chicken and chips on Thursday and another curry on Friday, as I and my sofa scored round after round of perfect 10s in the Synchronised Supine Olympic Telly Watching. That guy has been putting in some serious miles.
For those of us weren't fortunate enough to be in Rio de Janeiro, the BBC were at least kind enough to lay on a taster of the kind of endurance required of an Olympic champion, never once letting up from the punishing regime of switching from BBC1 to BBC2 every eight minutes. Just when you think you've achieved a zen-like mastery of the art, becoming at one with the remote control, even anticipating the switch far in advance of Hazel Irvine's voice descending like a cloud over Cristo Redentor ("If you want to see whether or not this crucial hockey penalty that's just been struck ends up in the net, please join us on BBC2 now"), suddenly you realise, given gardening is not yet an Olympic discipline and you've been watching Monty Don point at a clematis for the last 10 minutes, that something must have gone wrong.
Rio 2016 Olympics - in pictures

Show all 74
It's more than a decade since Seb Coe promised hosting the Olympics would cause a nation to rise as one from its sofas and embrace its Lycra-clad future. It hasn't happened. It can't happen.
Did the spectacle of the Olympics on TV ever inspire a people, en masse, to get fit? No. If the Olympic Games really were an international, coordinated attempt to inspire the globe to lead a healthier, more active lifestyle, Coke and McDonald's would have stopped chucking their billions at them decades ago.
In Singapore in 2005, Coe and his team promised an Olympics to inspire a generation to take up sport, not because they actually wanted to inspire a generation to take up sport (although they wouldn't have objected), but because they had correctly identified the International Olympic Committee's concerns about dwindling youth TV audiences which, when you've got a billion Big Macs to shift, is a serious crisis. London duly won the games. But they wanted them for their own sake. The inspiration part was a means to an end.
Coe himself often makes much of how he was inspired to take up athletics after watching the Mexico Olympics on TV as a boy. Perhaps it's true. Seeing the very best take on the very best does no doubt draw out the inner champion lying undiscovered in a particular kind of person. But if the Coe family telly had been in for repairs that particular fortnight in 1968, would young Sebastian, would-be double Olympic champion and triple world record holder, now be spending his evenings staring forlornly at his sausage fingers before telling Siri to buy him yet more elasticated jeans from specialist online retailers? I think not.
Meanwhile, as we drown under the sheer weight of 'Rio: What-Does-It-All-Mean?' thinkpieces, their standard 'I-Don't-Like-Sport-But' disclaimers inserted at the top of the third paragraph with surgical precision, we are told that winning Olympic medals achieves "soft power", as if other countries somehow admire us for it.
Not a chance. Nothing rivals the games as an exercise in international myopia. Every nation switches on the games to watch their own successes and scarcely records anything else occurring. China may have underwhelmed this time but they still managed 26 gold medals to add to their 38 in London. How many of them can you name? (After a long think, I managed four, and two of those are because they've since been banned for doping, and I used to have the words 'Olympics Correspondent' in my job title). China, by the way, know this very well. Page 22 of today's The Times is a fully paid for advert from the Xinhua News Agency, full of phoney new reports about China's Olympic heroes. Soft power's not soft power if you have to buy it.
Simarily, who among you has ever heard of Elisabeta Lipa, a Romanian woman whose achievements in rowing far exceed those of Sir Steve Redgrave, himself a man who could walk entirely unrecognised down any foreign high street on the planet?
Four of the most important non-sporting stories from the Olympics
Government sources suggest with desperation that the Team GB model can be a "blueprint for Brexit", whatever that means. Andrew Marr, in The Spectator, has argued that the UK Sport model of throwing money where medal success might follow, and ruthlessly cutting where it won't, is an idea government should embrace.
"Imagine a Britain which had seriously invested for the long term, focusing only on industries and technologies where we were likely to be world-class." And he's right. That's what the Chinese have been doing for decades, both in sport and every other aspect of life. Trouble is, UK Sport only have medals to win, not elections. If a British government were allowed to adopt such a strategy, Heathrow would be on its eighth runway by now.
Olympics or no Olympics, governments can't make people exercise if they don't want to. But if a horse leads itself to water, a government can ensure there is at least water to be drunk. If this new one is serious about getting people active, it has to stop using elite sportspeople as a smokescreen to hide behind while it sells off school playing fields, slashes community facilities and shies away from big, joined-up decisions that would link the role of schools and local sports clubs and local councils in meaningful fashion, and then find the money to pay for it all.
In the meantime, it's all just talk, probably over a takeaway.
Join our new commenting forum
Join thought-provoking conversations, follow other Independent readers and see their replies