Ted Cruz's drafting of Carly Fiorina shows how desperate he is
It has been four decades since a candidate named a running mate at such an early stage in the race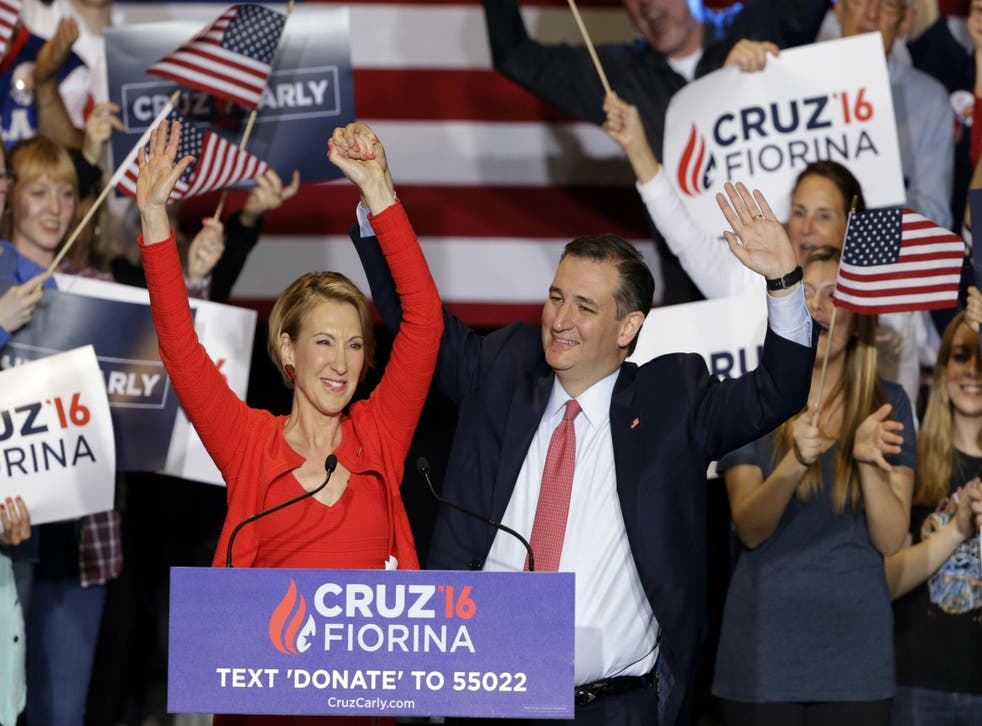 The candidate holding his running mate's arm aloft, their faces wreathed in smiles, an American flag prominently in view. It's a familiar scene in US presidential races – except that this time it happened not at the convention, but fully two-and-a-half months before Republicans gather in Cleveland to select a nominee.
Senator Ted Cruz's announcement of Carly Fiorina, an erstwhile opponent in the 2016 race, as his potential vice-president bears some similarity to Ronald Reagan's choice 40 years earlier of Richard Schweiker, a liberal Republican senator from Pennsylvania (yes they did exist in those days), unveiled several weeks before the convention.
Both moves were, as Mr Cruz acknowledged on Wednesday, "unusual." Vice-presidential picks normally come just before the convention – as with Joe Biden and Sarah Palin in 2008 – or even during the convention itself, most dramatically in 1960 when John Kennedy picked Lyndon Johnson, the man he had just defeated in the delegate rollcall in Los Angeles.
But the parallels between 1976 and 2016 are striking. Then as now there was the prospect of an open convention, with a frontrunner who could not quite secure the required majoroty of delegates beforehand – except that Reagan's position was somewhat more promising than that of Cruz today.
Reagan went into that convention just 100 delegates behind president Gerald Ford, whereas Cruz' deficit is likely to be 400 or more (assuming Donald Trump does not secure the equired outright majority of 1,237 beforehand.) The selection of Schweiker had two clear motives: to prove that the conservative Reagan was able to unify the party, and as a means of persuading Pennsylvania's uncommitted delegates to support him.
But the move was seen as a mix of opportunism and desperation and backfired. Conservatives were furious Reagan had picked a liberal, while few liberals were persuaded to abandon Ford. The incumbent ultimately won the nomination on the first ballot, securing 117 more delegates than his opponent.
Such a fate may await the Cruz-Fiorina tandem. The motives are obvious, and if anything the move smacks even more of desperation than Reagan/Schweiker. Its very timing was an attempt to divert attention from Trump's resounding sweep of five New England and mid-Atlantic states the night before, when Cruz performed dismally.
The strategic reasoning is equally obvious. Trump seems to go out of his way to alienate the female vote: Fiorina, a powerful critic of the business mogul during the early primary debates, will be a physical reminder to voters of Trumpian misogyny. In the event Cruz wins the nomination, she could be an effective counterweight to Hillary Clinton, the all-but-certain Democratic nominee.
Beyond that however, the advantages are hard to see. Will Fiorina tip the scales in her home state of California, whose June 7 primary offers the last and biggest prize – 172 delegates – of all? Unlikely, surely, given her crushing defeat at the hands of incumbent Barbara Boxer in a 2010 California Senate race, and her much-criticised record as head of Hewlett-Packard between 1999 and 2005 (the company's stock leapt 7 per cent the day she was fired.) .
Register for free to continue reading
Registration is a free and easy way to support our truly independent journalism
By registering, you will also enjoy limited access to Premium articles, exclusive newsletters, commenting, and virtual events with our leading journalists
Already have an account? sign in
Join our new commenting forum
Join thought-provoking conversations, follow other Independent readers and see their replies