Ten reasons why America's evangelical Christians can no longer stand with Donald Trump
Any further drift among evangelicals from Trump could doom his re-election. More immediately, disaffection with him could ricochet onto a Republican Party already fearful of losing its majorities in Congress this November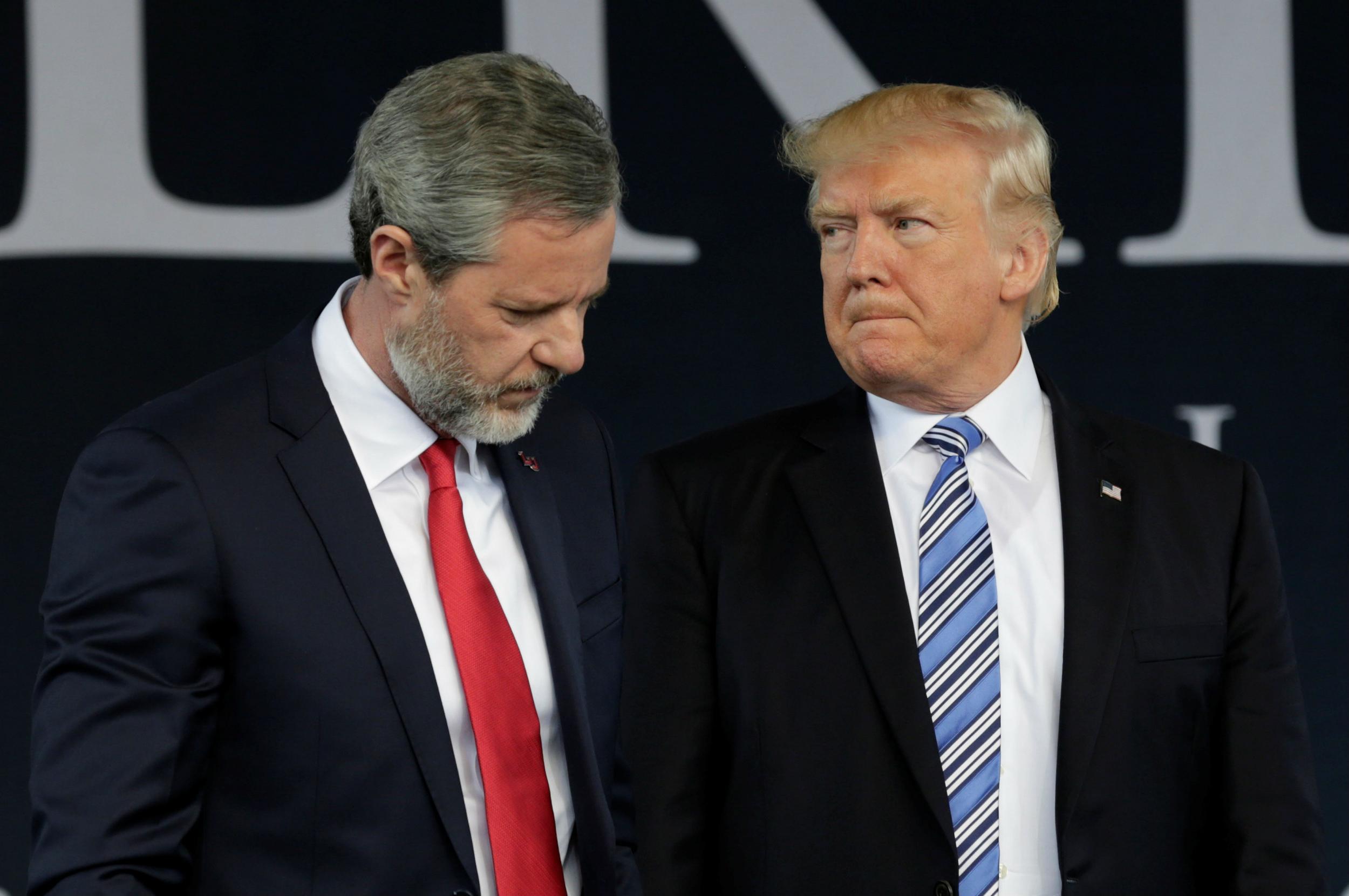 Praying for the President would be apt the first Sunday of Lent. He is beset by challenges. So is the country as it mourns yet one more school shooting, this time in South Florida. But evangelical Christians in particular also face a time of reckoning as they populate the pews. How much longer can they support Donald Trump and face themselves in the mirror?
So far the religious revolt has not come. Asked recently how he reconciles his political support for Trump with his faith, notably in the light of reports of an affair 10 years ago between him and a porn actress, Jerry Falwell Jr (president of Liberty University – a Christian research institution) sort of shrugged. "We certainly don't hold him up as the pastor of this nation and he is not," he said. "We just have to give the man the benefit of the doubt."
But the bargain evangelicals entered into – turn a blind eye to all else Trump does so long as he defends their rights as Christians against the incoming tide of progressivism – may not be immutable. The Pew Research Center found that support for Trump among white evangelical Protestants tumbled from 78 to 61 per cent between February and December last year.
World news in pictures
Show all 50
Politically, the evangelicals continue to matter a great deal. Any further drift from Trump could doom his re-election. More immediately, disaffection with him could ricochet onto a Republican Party already fearful of losing its majorities in Congress this November. But this should not make them flinch. The evangelical community was born of the old Moral Majority. Herewith, 10 reasons why that heritage and backing this White House can longer go together.
1. A lawyer for the President conceded last week he had paid $130,000 (£93,000) in hush money to the porn star, Stormy Daniels, just weeks before the 2016 election. On Friday, a report in the New Yorker alleged Trump entered into another sexual relationship in 2006 with Playboy model, Karen McDougal. In what sense is Trump a role model to America's youth?
2. When serial allegations of inappropriate sexual liaisons threatened the Senate campaign of Roy Moore, the former attorney general of Alabama, Trump stood by him. "We need Republican Roy Moore to win in Alabama," he tweeted. (The voters baulked where Trump didn't.)
3. Trump promised during his campaign not to tamper with the core social safety net programmes for the poor, notably Medicare, Medicaid and Social Security. His latest budget proposal, however, would slash Medicare by $554bn and Medicaid by around $250bn over 10 years. Is this the teaching of the church, to lie and withdraw support from the disadvantaged?
White House refuses to release photo of Trump signing bill weakening gun laws for mentally ill
4. He vowed to "drain the swamp". But allegations of malfeasance, from pocket-stuffing to lying to investigators, shroud the administration. The Washington Post says nine of Trump's original 22 cabinet members have come under scrutiny for ethical lapses of some sort, most recently Scott Pruitt, his environment chief, for first-class travel for him and his wife billed to the taxpayer.
5. The Tea Party was born in 2010, powered in particular by evangelical Christians furious about out-of-control government spending and spiralling national debt. In the last weeks, Trump and the Republicans have entirely abandoned all pretence of being interested in reducing the deficit, slashing taxes on corporations and the rich and promising record resources to the military.
6. Trump's stance on immigration and his campaign to bar refugees according to the countries they come from, blocked by the courts, is antithetical to Christian teaching. A diverse group precisely of evangelical leaders urged Congress to act on both issues, including steps to allow young Dreamers to stay in the country, in a full-page advert last week in the Washington Post.
7. The moral rot in the White House has now been manifested by its failure to act on warnings it received from the FBI about the history of spousal abuse by Staff Secretary Rob Porter, months before he was finally exposed by media reports and shown the door. Chief of Staff John Kelly at first defended Porter as a man of "true integrity". Trump said he hadn't been given due process.
8. One of Trump's first acts was to undo Obama regulations to keep guns from the mentally ill. The White House refuses to release pictures of him signing the bill that did so. Speaking after the Florida tragedy, Trump made no mention of gun control. Politicians grubbing money from the National Rifle Association, NRA, do not deserve Christian votes. Or anyone's.
9. Determined to tilt the American judiciary to the right, Trump is populating the federal courts with justices openly opposed to Christian values of diversity and tolerance. "Calls for diversity" are "code for relaxed standards (moral and intellectual)", Gordon Giampietro, nominated for the US District Court for the Eastern District of Wisconsin, wrote in 2014, BuzzFeed reports.
10. "S***hole countries".
Join our commenting forum
Join thought-provoking conversations, follow other Independent readers and see their replies