These are the issues that Theresa May must discuss when she meets Donald Trump
Despite the many political differences between May and Trump, on the face of it significantly larger than those between Reagan and Thatcher, both leaders would welcome a constructive partnership which builds on the traditional ties between the two nations founded on demographics, religion, culture, law, politics and economics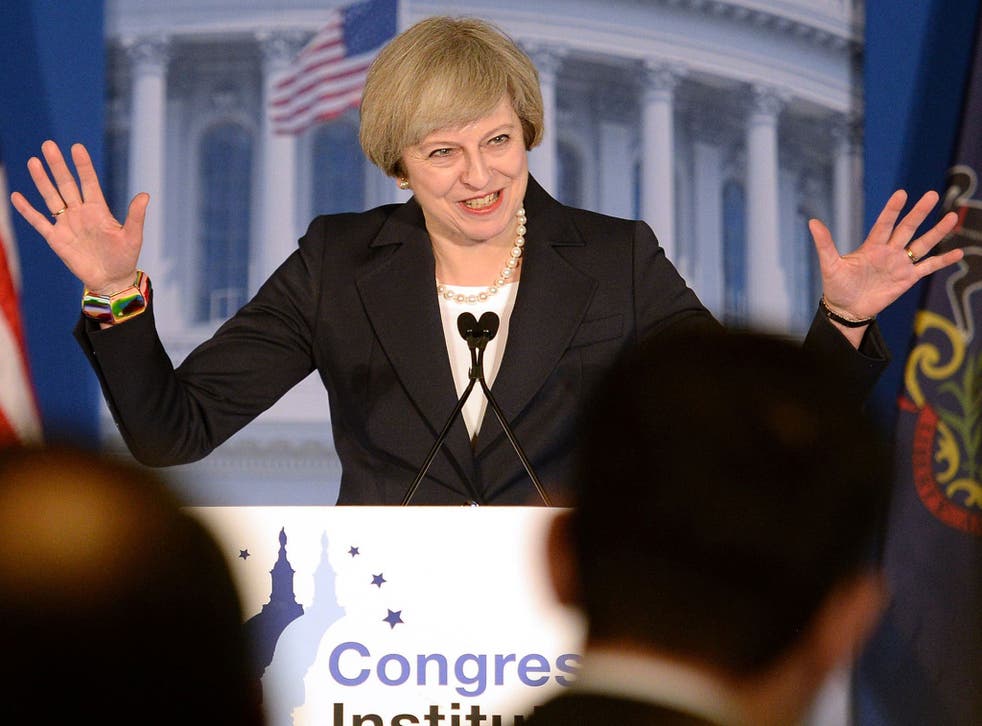 Today the Prime Minister, Theresa May, will become the first world leader to meet with Donald Trump since he was sworn in as US President. The meeting breathes new life into the longstanding "special relationship", with Trump already calling her "his Maggie" – drawing comparisons with the political bond that was forged between Ronald Reagan and Margaret Thatcher in the 1980s.
Despite the many political differences between May and Trump, on the face of it significantly larger than those between Reagan and Thatcher, both leaders would welcome a constructive partnership which builds on the traditional ties between the two nations founded on demographics, religion, culture, law, politics and economics. For May, the rekindling of this special relationship, post-Brexit, would potentially add some credence to her aspirations for a new "global Britain", while Trump's untested credentials as a leader on the world stage would be burnished.
At the heart of their discussions will be the potential for a US-UK trade deal. This would be a boon for Trump, given that he is being criticised for bearing the hallmarks of an anti-globalisation, protectionist president, especially after his abrogation of US participation in the massive, proposed Trans-Pacific Partnership trade and investment deal. And if May could secure a US trade deal it would represent a significant win in her battle to prove that the UK can potentially prosper economically after leaving the EU.
The controversial orders Donald Trump has already issued

Show all 9
But there are potential icebergs on the horizon – not least given the President's commitment to "America First" economics, and the fact that any trade deal between the two nations could not be finalised until after we are fully out of the EU.
Specific areas of potential disagreement include the prospect of harmonising financial regulations between the two countries. Securing agreements in other sectors, including agriculture, where there are a host of strong interest groups at work, will not be easy either.
Another key agenda item will be security and defence, which has long been at the core of the special relationship. There will be much agreement, including over the need to continue the counter-terrorism battle against Isis, but tensions could surface over Nato, and Russia in particular. Trump has repeatedly called Nato "obsolete" and has asserted the need for greater burden sharing of alliance costs between the United States and Europe. He is also engaged in an open political courtship with President Vladimir Putin.
Theresa May in America: The PM's first speech in 90 seconds
May, by contrast, is a strong defender of Nato; she confirmed earlier this month that the UK would, under its Article 5 responsibilities, come to the aid of any Eastern European countries attacked by Moscow.
May will be keen to seek out Trump's real bottom line on these issues and, in the words of Thatcher, seek to "stiffen his spine" against what she perceives as the real and present Russian security threat.
There have been mixed messages from the President and his team in recent months. Trump appears to believe Russia is not a serious threat to the United States, and that there is scope for rapprochement, hinting this month that he could drop economic sanctions if the country "is helpful". Specifically, he perceives there are common interests over issues such as preventing Iran secure nuclear weapons, combating terrorism, and containing China in a new global balance of power.
Yet US Defence Secretary James Mattis said this month that "Russia is raising grave concerns on several fronts", including trying to "break the Northern Atlantic alliance…which needs integrated steps – diplomatic, economic, military and the alliance steps...to defend ourselves where we must". Secretary of State-designate Rex Tillerson has also been forceful in his criticism of Russia.
Given the uncertainties ahead, May is likely to seek to play the role of a trusted, though candid, friend in a bid to get close to the president and make the relationship work. This should provide some protections for bilateral relations in what could be a rocky few years of international diplomacy, even if strong personal chemistry fails to take root between the two leaders.
This may be a sensible strategy, but it is not without risk – especially given Trump's erratic nature and the way he polarises opinion. May would be wise not to overestimate the UK's ability to shape US power, or be blinker herself to the fact that Trump's "America First "outlook may ultimately care very little for UK interests.
Join our new commenting forum
Join thought-provoking conversations, follow other Independent readers and see their replies