Call Jo Cox's murder what it was: an act of political terrorism committed by a white fascist
The creeping use of the term 'alt-right' is lending a soupçon of cool to a pernicious ideology. This is why language matters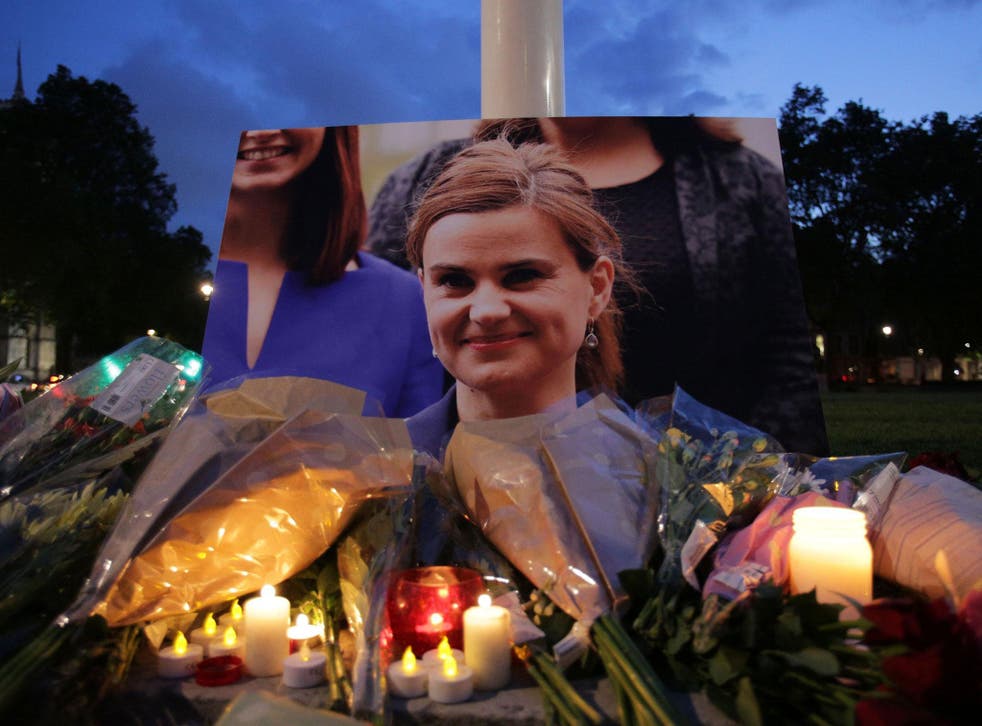 Earlier today, Thomas Mair was convicted of the murder of Labour MP Jo Cox. Reports from the trial proceedings conjure up a profile of a committed right-wing terrorist extremist, with the court hearing details of Mair's links to white supremacist groups and witness testimony to his exhortations to "put Britain First" as the 41-year-old politician lay dying on the street.
History will judge this event as a cold-blooded murder at the hands of a far-right terrorist, within the context of a toxic political debate around the EU referendum sullied by unbridled xenophobia and racism. If that is to be the legacy of this tragedy – one from which we learn an invaluable lesson – we must first confront the realities of the predicament in which we find ourselves.
Language matters. It mattered around the time of the referendum, and it matters now. The creeping use of "alt-right", a term popularised in the days since Donald Trump's victory in the US, is something that must be challenged at every opportunity. It is lending a soupçon of cool to a pernicious ideology, making unsavoury attitudes more socially acceptable. We should not be describing a murderer and terrorist in such a manner.
Jo Cox case: Jurors shown gun video watched by Thomas Mair
Language can manipulate our response to ideas. One person's "political correctness" is, after all, another's "common decency and humanity".
So let's be absolutely clear about this: the values which so many have defended and sacrificed their lives for are under threat from the resurgence of fascism. Be it the chants of "Hail Trump!" at an "alt-right" rally, the President-elect's reported plans for a registry of American Muslims, Nigel Farage's prediction of violence as "the next step" if immigration is not reduced, or the politically motivated murder of an MP, what was once unpalatable in public now risks becoming normalised.
Fascism must never be tolerated, humoured or ignored. It festers like a purulent wound, threatening the very fabric of our diverse, open society.
Trump's victory was borne on the crest of a wave of right-wing populism sweeping through the western world. On this side of the Atlantic, the upsurge in hate crime following the Brexit referendum result is a powerful reminder of the intrinsic dangers of a return to widespread fascistic views and behaviours.
In this fight, language is a weapon. The rhetoric we are hearing around the conviction and jailing of Mair is, of course, palpably less restrained than that used when acts of terrorism are committed by jihadist extremists.
If we are to learn the lessons from Jo Cox's tragic death, it is imperative that we first call the act out for what it was: an act of political terrorism murder committed by a white fascist. In acknowledging the true nature of the crime during sentencing, the judge in the case has confronted the core issue head on. Now, it is up to the rest of us to follow suit.
This means a readiness and willingness to confront fascist views head on, whether propagated by politicians, friends, colleagues or family members. The time for diplomatic silence, for biting one's tongue, ended in 2016.
Jo Cox's sister Kim Leadbetter statement after guilty verdict
Standing up to facism is not censorship or suppression of free speech. Open-minded liberals welcome genuine debate. However, expressions of odious hatred for others, calls to restrict the basic freedoms of those deemed "unworthy" of them, and outspoken support for wanton acts of violence against those with whom one disagrees, must always remain beyond the pale.
The media also has a part to play. Adopting terms such as "alt-right" dodges the responsibility to call a spade a spade, encouraging complicity in the sugar-coating of fascism, presenting it as something more benign.
As Albert Einstein once said, "The world is in greater peril from those who tolerate or encourage evil than from those who actually commit it." In Jo Cox's memory, in solidarity with all those whose human rights depend on it, it's time to face up to the challenge before us and defeat this insidious evil – starting with calling it out for precisely what it is.
Register for free to continue reading
Registration is a free and easy way to support our truly independent journalism
By registering, you will also enjoy limited access to Premium articles, exclusive newsletters, commenting, and virtual events with our leading journalists
Already have an account? sign in
Join our new commenting forum
Join thought-provoking conversations, follow other Independent readers and see their replies