Tom Hiddleston in South Sudan: Children deserve a chance of a childhood
For the sake of every child in danger, our leaders must do more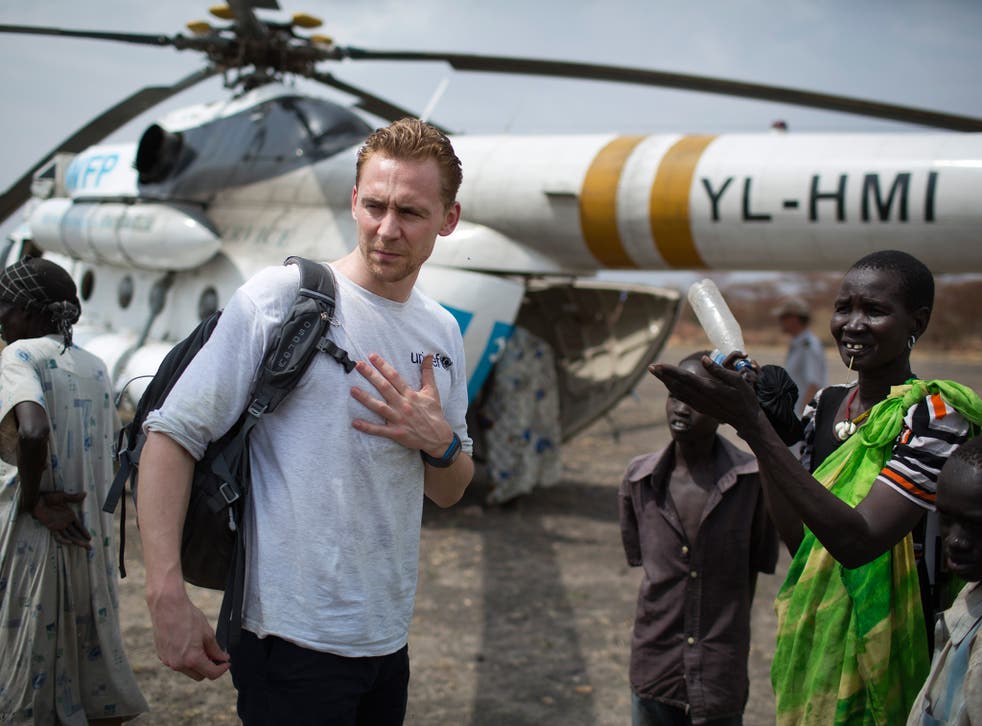 In conflict and crises, it is children who are hardest hit. I saw this for myself in South Sudan, on a visit to the country with Unicef earlier this year. South Sudan is a forgotten war, which strikes children with unforgivable brutality. Rape, forced recruitment and attacks on schools are becoming a daily part of their childhood.
South Sudan declared independence from Sudan in 2011, and has been riven by political and civil conflict since December 2013. The major cities have become war zones, with civilians fleeing to relative safety in rural areas. So many people, so many innocent children: displaced, desperate, starving.
The day before I was due to fly to South Sudan – in February this year – Unicef announced that at least 89 boys had been abducted while they were preparing to sit their school exams in Wau Shilluk, in Upper Nile state. These boys, some as young as 13, had been forcibly conscripted into armed militia.
Three days later, I found myself in the very same village, one of the most remote places I have ever seen. Walking around the desolate school, the destruction left in the wake of the militia's violent interruption of the school day the previous weekend was still visible. The playground was empty, school desks had been overturned and doors were hanging off their hinges.
In one of the school-rooms, I met with 15-year-old John*, who had escaped abduction. Sitting on the floor together in the corner, he told me that he feared for his life, that everyone did. He told me: "we have a big problem and worry. The soldiers – they are killing the people". But despite the immense danger, he still wanted to attend school and prepare for his exams.
In South Sudan, around 13,000 children have been recruited and are being used by all sides of the conflict, putting their lives at risk and irreversibly changing the fortunes of these children. I met a Unicef aid worker in the Upper Nile region, who had met with boys desperate to go home, but bound by the fear the militia had instilled in them. Children face an impossible choice – kill or be killed. For some, these children may seem a lost cause. But not for Unicef who, as well as delivering vital water and health care to children in South Sudan, are working to release and rehabilitate children forced to fight.
In Jonglei state, days later, I met hundreds of boys who had recently been released by an armed group called the Cobra faction, living in a Unicef Interim Care Centre, awaiting reunification with their families. They receive shelter, food, education, clothing and basic health care, as well as counselling.
One of these boys, 16-year-old Afrikey*, on the day of our visit was being reunited with his family for the first time in over two years. His conscription had left emotional scars. He had seen things a boy of his age should never have to see. He had the far-off stare of a much older man – a depth in his face. I witnessed him being reunited with his mother: some hope amid the devastation.
To this day, there is no official record of what happened to the 89 boys in Wau Shilluk. I cannot help but wonder where they are, what they are doing, and whether their families will see them again.
It is for these children, for boys like John and Afrikey, that I am backing Unicef UK's new campaign, which calls on the Government to prioritise protecting children from violence in crises. Children, whether those journeying as refugees through Europe or living in conflicts like South Sudan, deserve a chance of a childhood.
For the sake of every child in danger, our leaders must step up and do more. The public can support Unicef UK's call for the Prime Minister to protect children from violence in emergencies at unicef.uk/protect
* Names changed to protect identities
Join our new commenting forum
Join thought-provoking conversations, follow other Independent readers and see their replies