Do the Tories have a death wish? Their fallout over Gavin Williamson could destroy the party
The ferocity and bitterness against him suggests that the basic discipline of the party is breaking down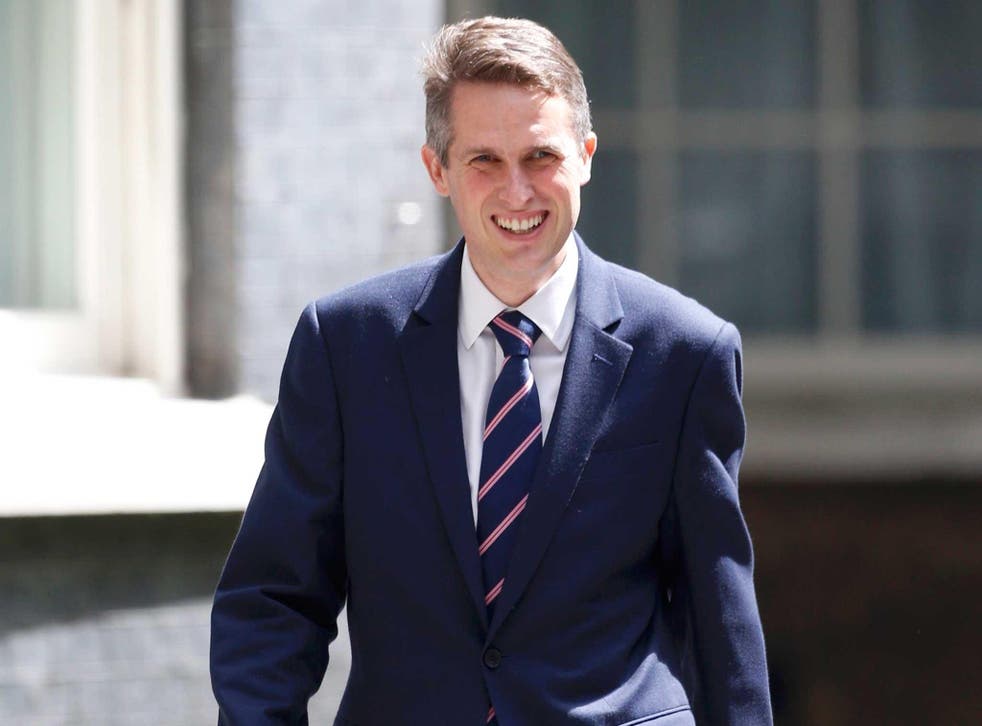 "One flap of a seagull's wings would be enough to alter the course of the weather for ever," Edward Lorenz, the meteorologist, wrote in 1963. Later, he used the more poetic butterfly to describe what became known as chaos theory.
Which is a good way to understand the unpredictability of politics. One of my correspondents this week suggested I should compile a Top 10 list of "political butterfly effects", and drew my attention to an example of which I had been unaware: that the divorce of the actor who played Seven of Nine, the liberated Borg drone in Star Trek: Voyager, led to the election of Barack Obama as President of the United States.
Jeri Ryan split up with Jack Ryan, an investment banker and aspiring Republican politician, in 1999, and the divorce papers were released by a court five years later. She said he had asked her to have sex in public; he denied it. But by that time, Jack Ryan was candidate for Senator in Illinois. He withdrew from the race, and the Democrat with a funny name was elected.
Who is new Defence Secretary Gavin Williamson?
The sexual harassment allegations sweeping Westminster could have similar unforeseeable consequences. The allegations themselves are unlikely to bring the Government down; if ministers are sacked, they remain MPs unless they choose to stand down from the House of Commons. Even then, the Conservatives would have to lose more than seven seats in by-elections for Theresa May to lose her majority.
But it is the unanticipated side effects of the rolling scandal that could be significant politically. Michael Fallon's departure as Defence Secretary may not have damaged the Government, but the fallout has spread in unexpected directions.
No, I don't mean the speculation about whether Andrea Leadsom, the Cabinet minister who is the Government's business manager in the House of Commons, "knifed" Fallon, in retaliation for him calling her a "dud" who should be sacked to stop her blocking a Brexit deal. That is just normal cabinet rivalry, and Leadsom's complaint about Fallon's allegedly lewd comments was not the reason he resigned.
He resigned because of more serious allegations made by at least one other person about his conduct, which he accepted fell below the standard expected.
Brexit: the deciders

Show all 8
What might be more telling for the Government was the extraordinary reaction from Tory MPs to Gavin Williamson's promotion from Chief Whip to Fallon's replacement. They hated it, and said so. Sarah Wollaston and Anna Soubry, two Tory backbenchers, criticised the Prime Minister's choice of Williamson publicly.
Wollaston said the defence job should have gone to someone "more experienced". Soubry said: "It does rather look like he picked himself a plum job." No matter that a spokesperson for the Prime Minister denied that Williamson was involved in discussions about Fallon's replacement, one unnamed minister told Beth Rigby of Sky News: "She is so weak she has allowed the inexperienced Chief Whip to appoint himself."
I suppose that they must have been watching too much House of Cards (season 7 of which, ironically, has been cancelled amid sexual harassment allegations against Kevin Spacey), and simply assume that a Chief Whip is a devious, calculating politician who must have forced Fallon out so that he could take his job.
As far as I know, this is completely untrue – but the anonymous comments of other ministers, reported by reputable journalists, were just as vitriolic: "An appalling appointment. He's never stepped foot in a department and now he's running one of the most important." Another: "She's gone mad. It's real 'end of days' stuff. He's a real slimeball, with his own leadership team in place." (A politician who wants to be leader? Whatever next?) Another minister emerged from the Commons tea room describing it as "the most unpopular political decision I have ever known".
This is an exaggeration, but, apart from reminding us how status-conscious MPs are, it bodes ill for May. And they are status-obsessives. Williamson as Chief Whip, making sure Tory MPs vote for the Government (except when Labour looked as if it might win, in which case he told them to abstain and pretend they hadn't lost), has never spoken from the despatch box. He has no military experience. His main qualification for the post is that the Prime Minister knows and trusts him.
So we could dismiss this week's outpouring of mostly anonymous bitterness as the whine of the unpromoted through the ages, but there was a ferocity to it which suggests that the basic discipline of the party is breaking down. "The real damage is that impression of weakness," said the minister to Rigby, "the limited [pool of] people she can trust and a lack of vision. Deadly."
The balance of forces that holds May in position has not changed. Brexit looks more difficult than ever. The Tory party doesn't want a leadership election. It certainly doesn't want a general election. And there is no alternative Prime Minister who would assuredly be better than her.
But at some point, the contempt of her own side will do her in. The Harvey Weinstein story, which set off the wave of allegations in Westminster, could be the flap of a seagull's wings that leads to Theresa May's downfall.
It won't mean that Jeremy Corbyn will be Prime Minister soon, but we may reach the point sooner than I thought possible, when almost any Conservative would appear to be a better Prime Minister than the one they have got.
Join our new commenting forum
Join thought-provoking conversations, follow other Independent readers and see their replies