The Independent's journalism is supported by our readers. When you purchase through links on our site, we may earn commission.
Houston's mayor was right to not evacuate – it would have caused more deaths
During the Hurricane Rita evacuation in 2005, some 130 people died, more than have ever perished in a hurricane in Texas' history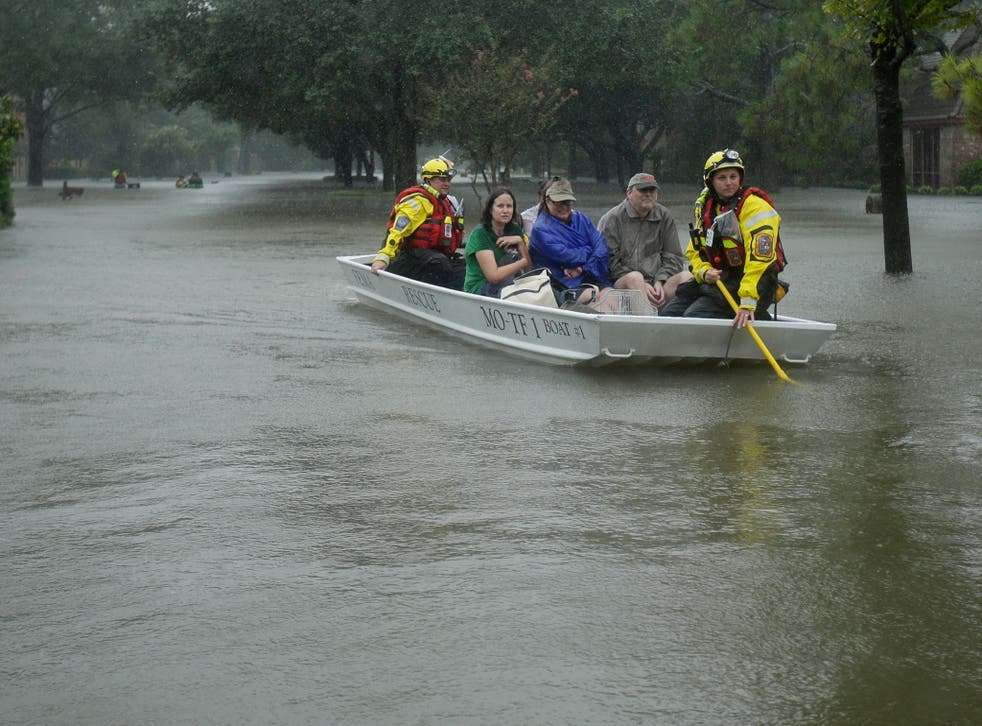 As the rains from tropical storm Harvey continue to pound Houston, stranding thousands of people in their homes, a question has emerged: should local officials, particularly Mayor Sylvester Turner, have ordered mandatory evacuations?
The answer is absolutely not.
It is logistically impossible to evacuate millions of people from low-lying coastal areas ahead of a major hurricane. The disastrous evacuation in preparation for Hurricane Rita in 2005 proved the case.
Hours before the hurricane hit, 2.5 million Texans fled town at the same time, according to The Houston Chronicle. This caused enormous, daylong traffic jams. While stranded on highways, people were injured or killed from heat stroke. Others got in fights. And a bus that was transporting elderly people from a nursing home exploded, killing 23 people.
Footage shows dramatic rescues in Houston after Hurricane Harvey flooding
In total, some 130 people died in that evacuation, more than have ever perished in a hurricane in the state's history, with the exception of the 1900 Galveston storm. Of those deaths, about half occurred before the storm hit Texas.
After Hurricane Rita, I served on a governor's commission that studied what went wrong in the evacuation. In 2005, I headed a regional task force that held hearings for hundreds of hours, for nearly a year. The work of that commission became the basis for new evacuation plans that proved reasonably effective for the Hurricane Ike evacuation in 2008. I can tell you from that experience, any attempt to evacuate Houston ahead of tropical storm Harvey would have made the situation much worse and almost certainly resulted in more deaths.
I narrowly lost in a runoff to Turner in the December 2015 mayoral race. While he and I certainly have our political and policy differences, the current suggestion in the news media that he should have called for an evacuation of Houston is absurd.
Attempting to evacuate areas that might be affected by localised flooding because of rainfall is an entirely different problem from evacuating areas in danger of flooding by storm surge, the rise in seawater level caused by a storm's winds pushing water onshore. We can predict with reasonable accuracy what areas will be flooded by storm surge based on the forecast and elevations. But flooding from rainfall is highly unpredictable and variable based on the dynamics of each particular rain event. Rarely will we know days in advance which areas will be flooded.
An evacuation of the entire city is a logistical impossibility. There is simply not enough roadway, gasoline in inventory or facilities in nearby cities to transport and house 2.3 million evacuees. Any such misguided attempt would have resulted in the same disaster we saw with Hurricane Rita, with thousands of disabled cars on the freeways and hundreds of thousands trapped on the road in the weather conditions we now endure.
While we do not have any hard numbers yet, my guess is that we will eventually learn that something less than 10 per cent of the homes in the Houston region have been flooded by this storm. Had a general evacuation been called, 90 per cent of the people would have evacuated for no reason.
The aftermath of Hurricane Harvey

Show all 19
Once the rains have passed and the waters have receded, there are plenty of legitimate questions that need to be asked about whether our regions are prepared for this kind of localised flooding. What plans were in place for high-water rescues? Why weren't more rescue boats and high-water vehicles positioned, especially considering that we had several days' warning that catastrophic rainfall was headed our direction?
Why were volunteer rescue organisations not activated earlier? Why are we having 100-year and 500-year floods every few years? Why, in this age of virtual networks, is our 911 system not expandable to handle a spike in calls? Why are we still licensing nursing homes in flood-prone areas? How is it that such a facility gets inundated with several feet of water and local officials learn about it on social media?
We should, and must, ask these questions at the appropriate time so that we do better next time. And trust me, there will be a next time. But second-guessing or speculating that Mayor Turner and other local officials should have called for mandatory evacuations is nonsense and betrays a fundamental ignorance of evacuation dynamics.
Bill King is a former columnist for The Houston Chronicle. This piece originally appeared in the New York Times
Register for free to continue reading
Registration is a free and easy way to support our truly independent journalism
By registering, you will also enjoy limited access to Premium articles, exclusive newsletters, commenting, and virtual events with our leading journalists
Already have an account? sign in
Register for free to continue reading
Registration is a free and easy way to support our truly independent journalism
By registering, you will also enjoy limited access to Premium articles, exclusive newsletters, commenting, and virtual events with our leading journalists
Already have an account? sign in
Join our new commenting forum
Join thought-provoking conversations, follow other Independent readers and see their replies