12 days of Trumpmas: The president's most unbelievable moments of 2019
From 'total EXONERATION' to $2m in charity payments, the leader of the free world gave us so much to work with this year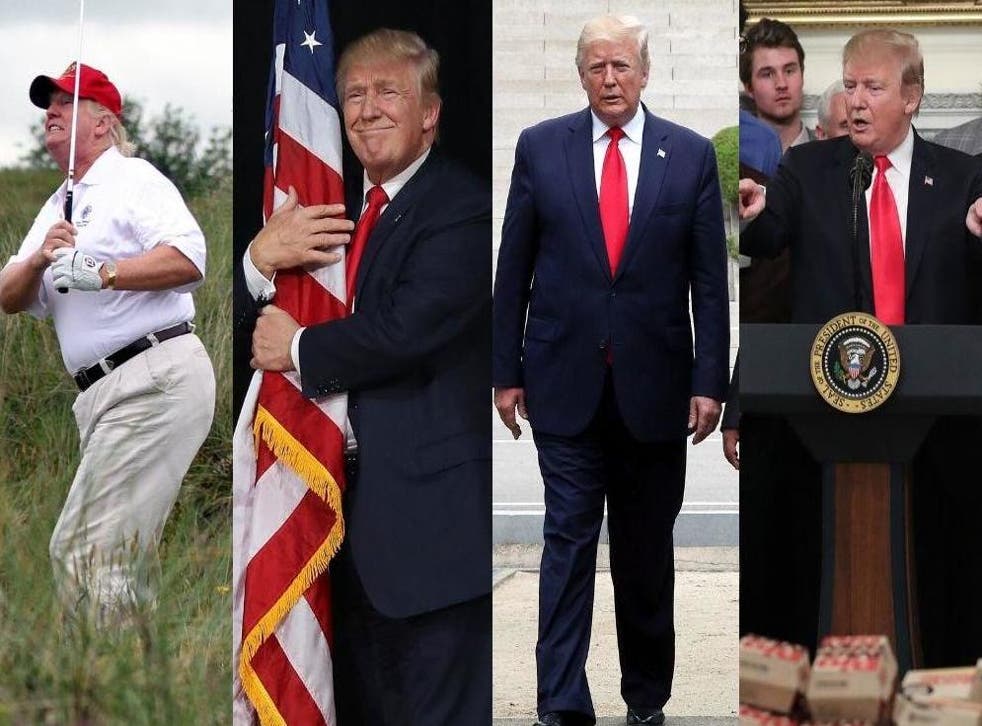 It truly is the most wonderful time of the year. The decorations are up, the car is full of presents for people you haven't seen 12 months, and Donald Trump is hurtling towards a Senate impeachment trial.
As the rest of us reflect on the highs and lows of 2019, Trump will no doubt be sitting in the Oval Office, ice-cold Diet Coke in hand, patting himself on the back for another triumphant year. I mean, who wouldn't be proud of what he's achieved? Potentially irreparable damage to environmental policy, a(nother) sexual assault accusation, attempting to buy Greenland, holding a rally while the House impeached him, and a whole load of xenophobia.
Naughty or nice, it looks like Trump will get what he wants this Christmas – a divided nation becoming even more frustrated with its politicians. So let's all raise a glass of eggnog to the mighty POTUS and his greatest accomplishments this year.
On the first day of Trumpmas my true love gave to me...
A crossing of the Korean border
Past me probably thought a US president crossing the North-South Korean border would be one of the biggest moments of any year. In reality, Donald Trump has managed to bury this – albeit controversial – achievement in oh so many ways since he took that historic step in June.
Since the meeting with Kim Jong-un, relations between North Korea and the US have fluctuated more than ever, hitting historic highs as well as seeming historic lows. Missile testing has yet again resumed, with the dictator recently saying he will give America "a Christmas gift" if it doesn't start taking North Korea seriously again (and I'm going to guess that gift isn't world peace like we all asked for).
Cutting NATO spending
Trump has never been a big fan of NATO. I'm sure that's absolutely nothing to do with the alliance acting as a defence against an emboldened Russia and has everything to do with member states falling behind on their commitment to spend 2 per cent of their GDP on defense by 2024.
By cutting US funding, Trump has truly shown he cares about fiscal responsibility, and if that purely symbolic drop in support is perceived as failing to adequately oppose Putin's military expansionism, that's just an unfortunate coincidence.
Everyone Trump has fired or forced out

Show all 13
"Total EXONERATION"
Remember the heady days of spring? Liam and Miley were together, I was still pretending to use my gym membership and we were all obsessed with the Mueller report. In March, Trump claimed "total exoneration" with regards to the investigation into alleged corruption in the 2016 election. In April – after the release of the report – this "total exoneration" was actually "total bulls**t", according to POTUS. This ultimately led to Trump claiming the constitution says he can do whatever he likes anyway. Yep, that's definitely what the founding fathers meant.
But who even cares about Russian interference in the 2016 election when we've got the Ukraine saga to celebrate?
A load of impeachment chaos
Forget "climate emergency", "they" or "existential" – my word of the year for 2019 is obviously "impeachment". Donald Trump is now the third US president in history to be impeached after a heap of expert witnesses claimed he abused his power and obstructed Congress.
The cherry on our Christmas cake is, of course, the House voting this week to officially impeach Donald Trump, ascending the case to a Senate trial next year. Sure, he probably won't be ousted by a Republican Senate, but we can take a small piece of joy in the process managing to reach this stage. Putin isn't on board with the whole thing, though, just in case you were wondering.
Putin backs Trump over impeachment and calls historic proceedings 'far-fetched'
A sexual assault accusation
Writer E Jean Carroll accused the president of sexually assaulting her in 1993. Trump says this can't be true because she's "not his type". I'll just leave that there.
Oh, and then there's that defamation lawsuit from Summer Zervos, a former Apprentice contestant, who says she faced unwelcome advances from Trump - which the president denies. Both of these will rumble on into 2020.
A racist feud with The Squad
One of the most quintessentially Trumpian moments of the year was the president attacking congresswomen Alexandria Ocasio-Cortez, Ilhan Omar, Rashida Tlaib and Ayanna Pressley – aka The Squad. And why not? They're all freshman and women of color — natural types for the leader of the free world to concentrate on taking down!
In one especially standout moment, Donald Trump literally told these representatives to go back to where they came from, which is just so 2018 of him.
Trump's most ardent supporters chanted "send her back" at his rallies whenever he mentioned any of the congresswomen (let's just remember they are all American citizens, not that it should matter). Oh, and he posted an edited video of Ilhan Omar alongside distressing scenes from 9/11.
An ongoing war with the press
Christmas wouldn't be Christmas without threatening attacks on the media! People don't tend to have much sympathy for journalists these days, but even a mistrust of reporters won't stop history looking back at Trump's treatment of the media with disgust. Things hit an especial low in 2019 when he shared an edited video of him on a killing spree against the media, banned reputable publications from the White House, and dismissed the UN's request for an FBI investigation into the death of Jamal Khashoggi.
Destructive changes to climate policy
Greenlighting controversial pipelines, rolling back vital regulations, promising to reignite the coal industry (which currently employs less people than Arby's and has no chance of making a comeback, according to virtually all industry experts), appointing people who basically say climate change isn't real to senior EPA positions (Rick Perry literally once said he wanted to dismantle the EPA), drilling, fracking, some more off-shore drilling (because why not?), taunting child activist Greta Thunberg. It would all be something to worry about if climate change was real, but it's fine. Trump says it's nothing to worry about.
It's those pesky windmills giving us all cancer that we need to be more wary of.
Allowing an alarming rollback of women's rights
Who needs reproductive rights, anyway?
Dodgy private businesses
Donald Trump is giving $2m to charities this year — isn't that nice of him? Sure, a judge ordered him to do it after reportedly abusing the tax status of the Trump Foundation to serve his own interests, but still, what a good guy.
A booing at the World Series
One thing we learnt in 2019 was that people really, really love to boo. The president was on the receiving end of this fun pastime on numerous occasions: at World Series games, while visiting El Paso shooting victims, at an MMA fight in New York, at a Veterans' Day Parade — even Melania was booed at a school event about the opioid crisis. Boooooooo.
Donald Trump booed at baseball game amid 'lock him up' chants
A barrage of racism
After getting to this point – in life and the article – you're hardly going to be surprised that Donald Trump said even more racist things than we already mentioned in 2019. But I'm not going to let that stop me from reminding you.
He says he's "the least racist person in the world". I guess that's fair, since he's only made offensive comments about Native American people, Muslim people, Latinx people, Jewish people and black people this year. Violent hate crimes have reached a 16-year high in the US, with soaring attacks on Hispanic people.
In El Paso, Texas, 22 people were killed and another 24 injured. The gunman told police he was targeting Mexicans.
It's also a terrible shame when the least racist person in the world is in office. If only people would follow the president's lead.
A campaign of hatred at the border
Children are dying in US custody at the border. Immigrants are living in fear of being taken away from their families. People are being wrongfully held by ICE.
But according to Trump and those in charge of making this "zero tolerance" policy a reality — such as literal white supremacist Stephen Miller — none of this even happened! How amazing is that? As long as Donald Trump gets that wall, then I'm sure we'll all sleep easy this Christmas. Even if Mexico doesn't actually pay for it.
Join our new commenting forum
Join thought-provoking conversations, follow other Independent readers and see their replies